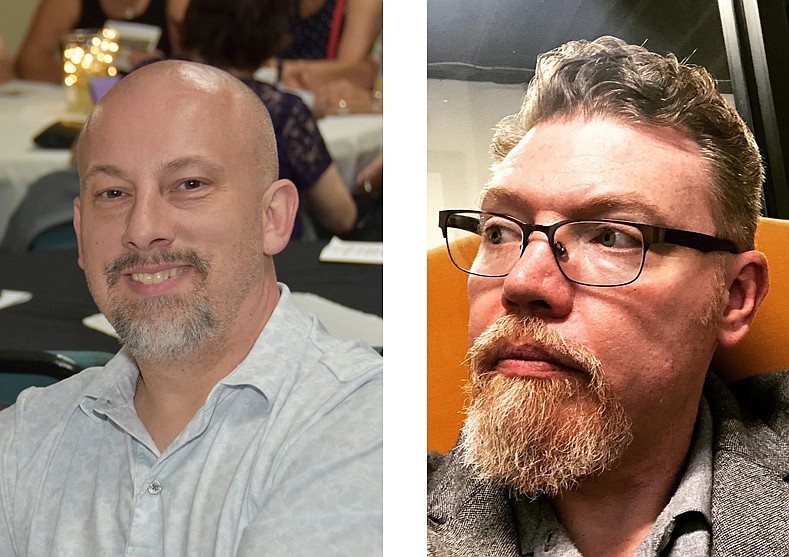 James Kendall, left, and Seth Louton. Submitted photos
EDITOR'S NOTE: This is the second of a two-part series of interviews with candidates for the District 3 seat on the Hot Springs Board of Directors.
James Kendall and Seth Louton are two of the four candidates running for the open District 3 open seat on the Hot Springs Board of Directors.
The candidates spoke to The Sentinel-Record about how they would address three issues, if elected: The fate of the former site of the Majestic Hotel, which the city owns; whether the city should take action on a Confederate statue located on private land downtown; and how to fund repairs to the district's roads.
For additional election coverage, visit https://www.hotsr.com/news/votegarlandcounty/
Kendall, 48, is an IT security manager and a volunteer board member of the Pocket Community Theatre. Louton, 46, is the assistant manager in charge of online sales at Pak Plaza Pawn Shop.
In regard to the Majestic Hotel site, Kendall said he would want to place something in the area that brings tax revenue into Hot Springs, and at the same time has a use for locals.
"One of the things that I was really a fan of was the proposal for thermal pools; if we can bring in, as the plan is today, bring in a hotel or something on the property, and still be able to have pools for the residents of Hot Springs, then I think that would be a win-win," Kendall said.
Louton said, on behalf of the people in District 3, the area should not be used for another hotel, but instead open for "public use," catering more to locals.
"For the people that are in my district, most of them don't really look at the Majestic property as a place for a hotel; they want it to be more open for public use," Louton said. "I understand that the city is trying to maximize its ... (focus) on tourism, and it isn't focusing on necessarily the needs of the people.
"So I have heard from my constituents that they would prefer something like a splash pad or a park in the area, and that's what I would advocate for."
While not located in District 3, the Confederate statue downtown became a polarizing issue citywide following the George Floyd protests.
Kendall and Louton both said they think the statue should be relocated, but don't think the city should be the driving force behind the decision.
"My personal feelings is the statue needs to be moved to the Hollywood Cemetery where the Civil War section is, but I don't want to see taxpayer moneys to do that; it needs to be a private investment," Kendall said. "That statue divides; it divides this community.
"Whether you're for or against, it divides the community, and the place that it needs to be is with the Civil War section of the Hollywood Cemetery."
Louton said the issue is at a standstill due to the fact it is a privately owned piece of land, and while he "definitely" thinks the statue should be relocated to the Confederate section of Hollywood Cemetery, he said it would have to be a decision ultimately made by the landowners.
"What I do propose doing, though," Louton said, "is there's a vacant lot by the ... Title Loan building; I would suggest bringing in and having a mural put in dedicated to unity of our city so we could bring in and make it clear to everyone who comes and visits that we don't necessarily support the Confederacy."
Both candidates agreed that road repair was one of the most significant issues facing District 3.
"That's one of the biggest issues within District 3, especially when you look at areas like Hobson and parts of St. Louis Street and Garland Street," Kendall said. "There are just so many areas that have been lacking attention.
"You know, the Amendment 1 is up for review in extension. I'm on the, leaning right now towards, being for that, as long as we can see accountability with the money being raised, and then that money being played forward as part of the roads and streets.
" ... Right now, I know that the board of directors today has said that they are looking to double the amount that they are allocating toward road work next year, and I think that's a great start. ... I know that from a people in the community perspective, this is very important. So we need to figure out how to expand the budget to allow more work on the streets."
Louton said he is always for infrastructure and for making it safer and easier on people traveling.
"I think that every quarter, for the last two quarters, we've noticed there's been an increase, there hasn't been a decrease, in the amount of money coming in from taxes," Louton said. "So we do have money in the general fund, I believe, that should be used to focus on that; specifically in my area off of Hobson Avenue, where I live, road repair would be a huge first step in revitalizing the area; also over there off Albert Pike by the E-Z Mart, that would be a fantastic place to start thinking of either sidewalks or road expansion over there to help alleviate some of that congestion."
EDITOR'S NOTE: James Kendall and the staff writer on this article, Cassidy Kendall, are not related.
Sponsor Content
Comments