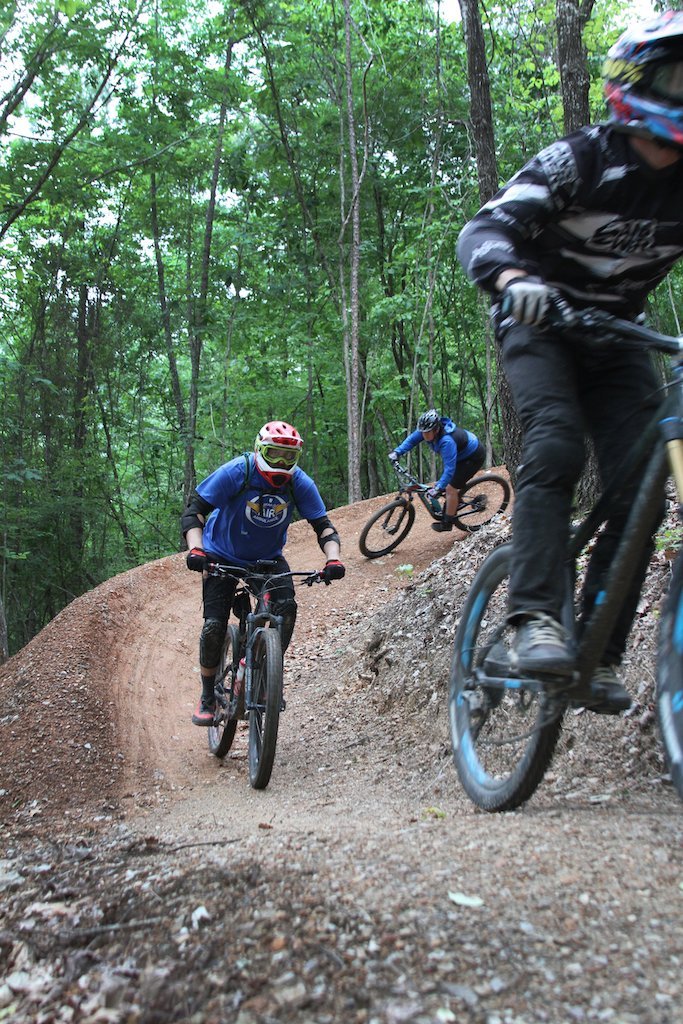 From back, Rodney James, Mark Lovett and Traci Berry, trails coordinator for Visit Hot Springs, ride Ragnarok trail in the Northwoods Trails System in May 2019. - File photo by Jami Smith of The Sentinel-Record
A mural will be installed over the next month in the Northwoods Trails system as part of a new initiative to install 12 pieces of public art across Arkansas, according to Visit Hot Springs.
The work is part of ARkanvas, a partnership of OZ Art, The Unexpected and JustKids, and will be created across Arkansas during October and November by 12 artists.
The initiative will create public artworks in Bentonville, Rogers, Springdale, Fort Smith (Chaffee Crossing), Conway, Little Rock, Hot Springs, Pine Bluff and Stuttgart.
Artist Camille Walala has been commissioned to do the mural at the Northwoods pumphouse. Walala is a "multidisciplinary artist working across the fields of art, architecture, textile art and graphic design, and is a perpetual purveyor of positivity, expressed through vibrant color and bold patterns," Visit Hot Springs said in a news release.
The installation was chosen to bring color to the Northwoods pumphouse and help bring inspiration to the artists and individuals in and around Hot Springs for years to come. Completion is anticipated during the first week of November, said Traci Berry, trails coordinator for Visit Hot Springs.
"We are extremely excited to have been chosen as one of OZArtNWA's mural sites," Berry said in the release. "Outdoor recreation and art are two areas that can do much to improve the quality of life for a community. We are creating -- and want to continue to create -- a sense of place for our community and visitors at Northwoods Trails. Now not only will our residents and visitors be able to enjoy our world-class trails, but they also will be able to enjoy world-class art."
"We are pleased and grateful for OZ Art's addition to our city's increasing number of public art installations," Hot Springs City Manager Bill Burrough said in the release. "The ARkanvas mural will be a wonderful enhancement of the experience at the Northwoods Trail System for Hot Springs residents and visitors to our city."
Mary Zunick, cultural affairs manager for Visit Hot Springs, said after having been involved with the planning of several murals in Hot Springs over the past few years, it is "great to be a part of the ARkanvas project that will add this incredible mural by Camille Walala."
"Having seen the dynamic colors of her other murals, I know this is going to be a vibrant new addition to the Northwoods -- a great way to bring art to nature and will bring art lovers out to enjoy the natural beauty of Northwoods."
The theme of the ARkanvas initiative is "Unite," a tribute to being united through shared outdoor and art experiences across the Natural State, the release said. A "virtual experience" will be launched at http://www.Arkanvas.com and @OZArtNWA on Instagram and will feature videos of the art, artists, and communities.
"We wanted to do something to celebrate the arts, support artists, and create some excitement in our communities during this incredibly challenging time," Olivia Walton, who is leading the project along with Elizabeth Miller, OZ Art manager, said in the release. "We love that murals bring art to everyone, and we hope that these projects will inspire, spark conversation, and promote civic unity."
"Hot Springs brought us the opportunity to bring together two investments important to this family -- art and nature. By painting the pumphouse, which is at the trailhead of the Northwoods trails, mountain bikers will be exposed every day to art by a world-renowned artist," Miller said.
"Participating artists include renowned contemporary figures whose body of work re-imagines public spaces. The ARkanvas initiative will create artworks that range from murals to immersive installations. To curate and produce this initiative, OZ Art appointed Justkids, an award-winning, multidisciplinary, and women-led art platform specialized in public art. They actively collaborate with cities, community organizations, sensible brands and institutional spaces internationally, the release said.
"ARkanvas will offer Arkansas residents and visitors a joyous visual escape," Charlotte Dutoit, founder of Justkids, said in the release. "We are thrilled to be collaborating with OZ Art and Unexpected to help communities come together through art and cherish their home region's natural beauty."
"The Unexpected, another partner on the initiative, brings free and accessible art, education, and programs to Arkansas and Fort Smith. Produced by the nonprofit 64.6 Downtown, they create opportunities for a healthy and sustainable creative economy. The Unexpected and 64.6 Downtown have been recognized for their excellence in programming, including the Governor's Arts Awards for Community Tourism Development and Community Arts Development," the release said.
Sponsor Content
Comments