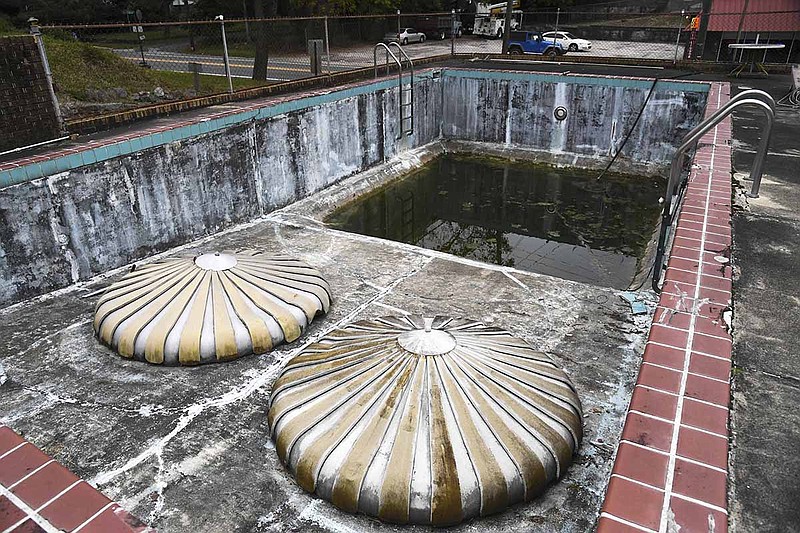 The empty pool at Perry Plaza, 1007 Park Ave., is part of the property purchased by Realtor Chris Rix. - Photo by Grace Brown of The Sentinel-Record
A local Realtor's "passion project" to restore a historic, vacant court motel once left to decay on the corner of Park Avenue and Bloom Street will be open to the public for a pre-restoration viewing and a "Champagne Open House Christening" on Saturday.
"Of course, everybody is wanting to know what's going on, especially our immediate neighbors, and community members that I know," said Realtor and owner Chris Rix. "We've all been trying to figure out what to do with this (property) for a while. Thank God I was able to put my team together and get this nailed. I'm so thankful and excited for this opportunity.
"Everything will be open for people to go through. No one's been through this property, I mean a lot of people have been through ... but everything, the debris will all be removed. It'll be swept, all the apartments will be clean and tidy. Save one," Rix said.
Rix noted one room, featured as the cover photo for his event on Facebook, will have its "original debris."
For more than a year, Rix said he has been working to negotiate a way to obtain the property with owners in California. Once the property came on the market, he swooped in.
"I saw this as a really problemed property in the Park Avenue community, and I've done a lot of work here. I've spent a lot of time, energy, and personal resources on this neighborhood and the revitalization, saving the architecture was my thought with this project," he said.
On Oct. 8, Rix invited Diana Hampo, whose father, Granger McDaniel, is believed to have been the architect for the building when it was constructed post World War II, to tour the building for the first time.
Interestingly, the name of Hampo's grandfather, Irven D. McDaniel, who was also an award-winning architect, is on the building's paperwork as the architect, but Hampo says her father was actually the architect of several buildings that had her grandfather's name listed on the permits and related paperwork.
Hampo was able to go through each room and learn about Rix's plans, as well as share her thoughts on the restoration.
"It hurts to see his buildings, actually any significant buildings with architectural significance neglected and let go down," she said. "I could see the lines and I knew the bones were good and the design is so inspiring. I'm just so proud of Chris and so happy with what he's doing. It's a godsend.
"Chris is old Hot Springs too. He is coming to the rescue of a building that deserves to be rescued. The fact he appreciates my dad's history, and the importance of his work means everything."
The "Champagne Open House Christening" takes place on Saturday at Perry Plaza, 1007 Park Ave. The event is open to the public from 3-6 p.m. This will be an opportunity for the public to "check out the moderately cleansed, completely broken down Historic Perry Plaza Motel," according to the event's page on Facebook.
Guests can tour the building at will and closed-toed shoes are highly recommended. Per COVID-19 guidelines, masks are required and social distancing will be practiced at the mainly outdoor event.
"Champagne will be served to christen the rebirth of the study in industrial architecture by Irven D. McDaniel. I am glad to present the beginning stage of the preservation of one of Arkansas's nearly lost pieces of history. Come see the demise and abuse, then come back for the rebirth. Bring your camera," Rix said on Facebook.
Realtor Chris Rix, left, and Diana Hampo talk during a tour of Perry Plaza on Oct. 8. Rix recently purchased the property for a restoration project. - Photo by Grace Brown of The Sentinel-Record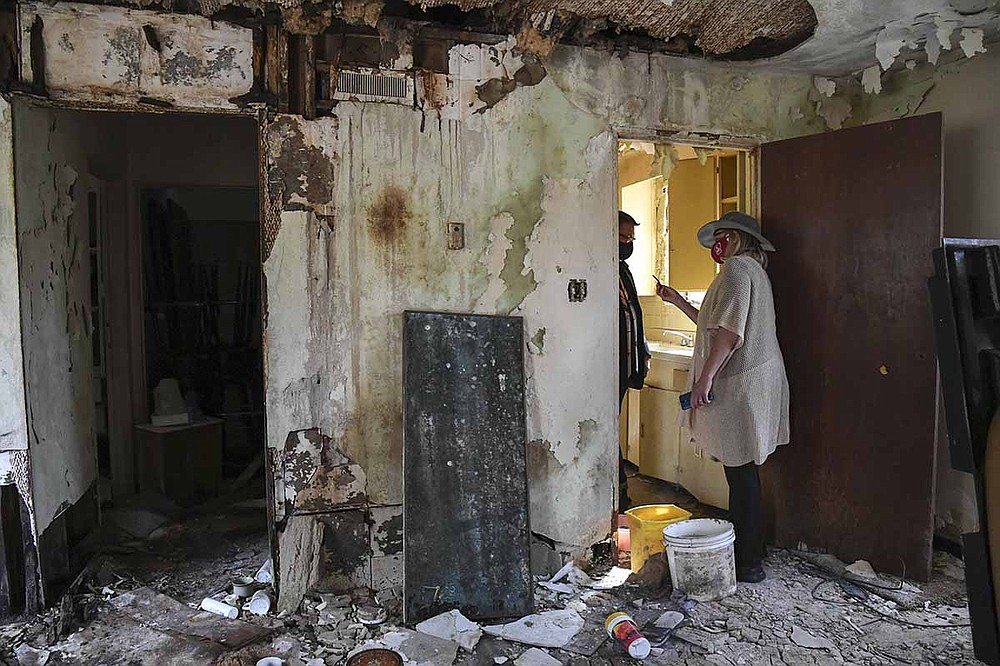 Realtor Chris Rix, left, and Diana Hampo explore one of the rooms at Perry Plaza on Oct. 8. - Photo by Grace Brown of The Sentinel-Record
Sponsor Content
Comments