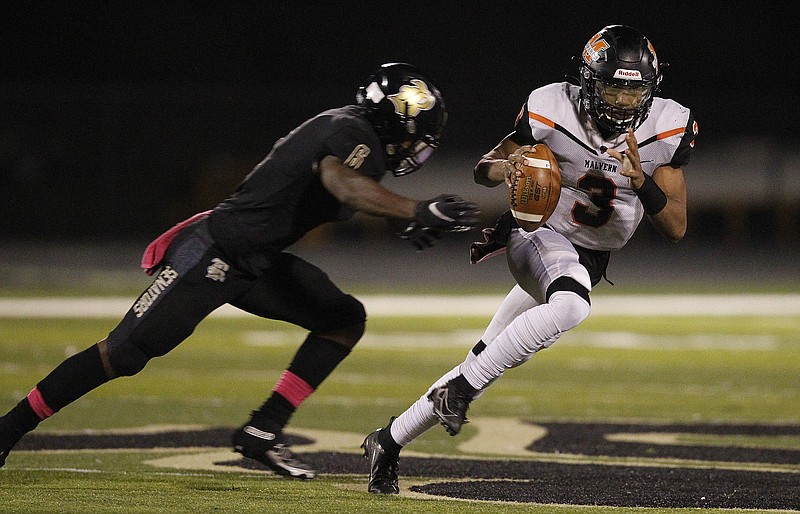 Malvern quarterback Cedric Simmons (3) slips away from Joe T. Robinson's Hunter Smith (6) during the third quarter of Robinson's 35-13 win Friday at Robinson High School in Little Rock. - Photo by Thomas Metthe of Arkansas Democrat-Gazette
LITTLE ROCK --Senior quarterback Buddy Gaston threw three touchdown passes and rushed for another as Joe T. Robinson pulled away after enduring 14 first-half penalties to beat Malvern 35-13 at Charlie George Stadium.
Robinson (4-3, 3-1 4A-7) ended a two-game losing streak, and did so against a Malvern team that found out Thursday night it would have to leave 15 players -- including four starters on the offensive line -- at home in quarantine.
"We were shorthanded, and I thought we fought as hard as we could," Malvern coach J.D. Plumlee said. "We just flat ran out of bodies."
Plumlee's quick defensive front discombobulated Robinson's explosive offense in the first half, forcing the Senators into 120 yards of penalties, many of them holding on the offensive line.
Robinson had a 77-yard touchdown run by Hunter Smith called back for holding in the first half, along with several other chunk plays.
Forcing Robinson into mistakes was part of Malvern's plan, which included resting its two-way players on offense and trying to turn the game into a slugfest.
"Our defensive line, we're not the biggest but we're quick," Plumlee said. "We know we can cause some issues with our ball get off. I thought our kids played their guts out."
Robinson coach Todd Eskola said he appreciated Malvern's effort on the field and its willingness to play the game despite a depleted roster.
All of it contributed to Robinson's first-half struggles, which included getting stuffed at the Malvern 1 on the Senators' opening drive.
Robinson's only score in the first half came at the 2:43 mark of the first quarter on 22-yard pass play from Gaston to wide receiver James Jordan, who excelled on offense, defense and special teams.
Jordan returned two punts for 63 yards to get the Senators prime field position, and he also intercepted a pass on defense.
"They grind on you, they lean on you, and their playmakers are going to make plays," Plumlee said. "Third quarter, we just kinda ran out of gas. They kept doing what they do, and they're good at it. They're hard to tackle. They got loose on us a little bit, and we just ran out of gas."
Eskola said there were no major adjustments at halftime.
"Just control what you can control," Eskola said. "We can't control what penalties are called. We've got to overcome adversity and how to overcome adversity as a football player."
Eskola said getting stopped on the opening drive was nothing new for the Senators and didn't really set the tone for the game.
The penalties did.
"I think having so many setbacks in the first half sort of stunted us from ever getting in a groove," Eskola said. "They couldn't ever really get the momentum going. In the second half without the penalties, we were able to get some momentum going and we stretched it out."
Robinson scored twice in the third quarter to take control, scoring first on a 10-play, 38-yard drive after a 43-yard punt return by Jordan.
Smith completed the drive with a 1-yard run on a direct snap on fourth and goal with 4:45 to play in the third quarter.
Robinson scored again with 1:09 to play in the third quarter on an 11-yard swing pass from Gaston to Smith, and Robinson led 21-6.
Gaston scored with 9:08 to play in the fourth quarter on a 1-yard run to put the Senators up 28-6.
Each team would score again -- Malvern on a 70-yard Carter Martin interception return of a Gaston pass to make it 28-13 with 6:40 to play.
Robinson came back moments later and scored on Gaston's third touchdown pass, a 53-yard play to Desmond Wilkins.
"They're learning to play with adversity and trust one another," Eskola said. "I thought that was a marked improvement for our kids. Our kids never wavered. They never once thought they were going to get beat."
- Jeff Krupsaw, Special to the Democrat-Gazette
Arkadelphia 54, Haskell Harmony Grove 19
ARKADELPHIA -- Quarterback Buster Thomas compiled over 300 yards of offense for Arkadelphia (4-0, 1-0 4A-7) in the team's first game in over a month for a decisive win over Haskell Harmony Grove (0-7, 0-4).
Thomas was 16 for 19 for 240 yards passing with two touchdowns and an interception while rushing six times for 63 yards and two more scores. Jaishon Davis had seven carries for 78 yards and two scores, and Preston DeMorrow and Alex Loy both had touchdown receptions. Kalan Jones returned a kickoff 70 yards for a score, and Latonnieo Hughes had a 69-yard return for a TD.
"We made quite a few mistakes on both sides of the ball," said Arkadelphia head coach Trey Schucker. "Just first game back, it's been over a month since we've played a Friday night game. And so, you know, we kind of knew there was going to be some mishaps and mistakes, and just there's almost a sense of newness back to it. But, you know, we played well and executed our plays, for the most part."
Bauxite 23, Fountain Lake 21
BAUXITE -- Devin Jones' 7-yard touchdown run in the fourth quarter lifted the Miners (3-4, 2-2 4A-7) over Fountain Lake (2-3, 0-3).
In the third quarter, Bauxite quarterback Hunter Ferrell connected with Braden Arnold on a pair of touchdown passes that left the game tied heading into the fourth.
A 27-yard field by Bauxite's Garrett McCallister gave the Miners a momentary lead in the fourth quarter before Fountain Lake's Steven Dearmon scored on a 25-yard touchdown run that put the Cobras back in front.
Jones' touchdown run gave the Miners the lead for good.
The score was tied 0-0 at halftime.
Bismarck 42, Horatio 13
BISMARCK -- Senior Braven Golden and junior Braden Efird combined for four touchdowns as Bismarck (2-5, 1-3 3A-5) cruised past Horatio (0-6, 0-3).
After a bit of a slow start, the Lions managed to get their offense rolling, taking a 32-0 lead at halftime.
"We took a little while to figure it out," said Bismarck head coach D.J. Keithley. "We were a little off our game to start with, you know, just guys missing assignments, getting confused about play calls and whatnot, but after that we figured it out. ... We missed our first extra point, got blocked. One of our kids let a guy get inside and blocked it. Second time we tried to go for two to get it back when we scored again, but after that, you know, we kind of just rolled through that."
Gurdon 49, Magnet Cove 20
MAGNET COVE -- Gurdon (5-1, 1-0 2A-5) put up 42 points in the first half to take the win over Magnet Cove (3-3, 0-2) at Kenneth W. Hammonds Stadium Friday.
"Gurdon is one of the front-runners for a state championship," Magnet Cove head coach Caleb Carmikle said. "They're a very good football team. They have a lot of seniors (and) a lot of three-year starters. They came out and took care of business. I was very impressed with how physical there were, how athletic and well coached. I thought our guys competed, didn't back down. We were just outclassed a little bit; it happens. They fought hard. Some good things we can build off of carrying into the bye week this week and get ready for our last two conference games."
The Panthers' first score of the night came with 12 seconds left in the second quarter when junior quarterback Evin Ashcraft connected with sophomore Kizer Kidder on a touchdown pass. Coming back from halftime, senior Landon Stone found his way into the end zone and Ashcraft spotted McClellan for a TD in the third.
Lakeside 42, Hope 10
HOPE -- The Rams (4-3, 2-1 5A-South) jumped out to a 35-3 halftime lead en route to a decisive road victory over Hope (1-4, 1-2).
Magnolia 52, Hot Springs 33
Hot Springs (3-3, 2-1 5A-South) was held to 313 yards as Magnolia (4-2, 1-1) scored five touchdowns in the second half to ruin homecoming for the Trojans.
The Panthers rushed for 349 yards and four scores and passed for 190 and two more TDs while limiting the Trojans to 5.1 yards per play, compared to 10.2 for the Panthers. Magnolia also was penalized 11 times for 94 yards while Hot Springs lost 65 yards on 12 flags.
Magnolia's Garrion Curry and Derlyn Williams combined for 248 rushing yards and a TD each while quarterback Dalen Blanchard was 3 for 7 passing for 190 yards and two TDs. Curry had two catches, both touchdown receptions, for 141 yards.
Hot Springs quarterback Isaac Shelor was 19 for 32 passing for 194 yards and a touchdown with Kaimani Gray with eight catches for 127 yards and a score. Devin Johnson had 11 carries for 83 yards and two TDs, and Shelor had the team's other score.
Poyen 42, Mount Ida 21
MOUNT IDA -- Poyen (8-0, 3-0 2A-5) scored three touchdowns in the second quarter while holding Mount Ida (3-5, 1-2) to one in each of the first three quarters to top the Lions.
With the score tied a 7-7 at the end of the first quarter, the Indians scored on the ground and in the air for a 21-7 lead. The Lions passed for a score, failing on the conversion before Poyen scored once more for a 28-13 lead at the break.
Both teams scored in the third, Poyen missing their conversion while Mount Ida converted their extra-points play to pull within 34-21 after three, but the Indians put the game away with another TD in the fourth to set the final after the successful conversion.
Sponsor Content
Comments