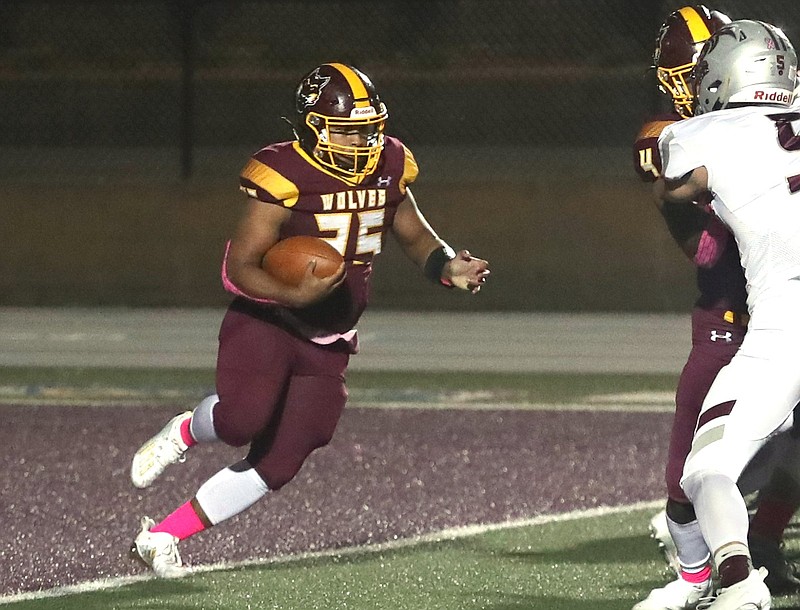 Lake Hamilton junior fullback Tevin Woodley (25) runs the ball during the first half of Friday's game against Siloam Springs at Wolf Stadium. Woodley led the Wolves on the ground with 191 yards. - Photo by Richard Rasmussen of The Sentinel-Record
PEARCY -- Siloam Springs lost three turnovers and had one interception in a game where Lake Hamilton scored on six of nine possessions, taking a 42-19 win over the visiting Panthers at Wolf Stadium Friday night.
Panthers head coach Brandon Craig said when a team turns the ball over that many times, mostly inside the 5-yard line, it is hard to recover.
"It's just one of those things that you can't do in high school football, especially against a good football team," he said. "They're very good football team. We knew that going in. So bottom line is we didn't play our best game, they did and they put a whipping on us."
Wolves head coach Tommy Gilleran said that the turnovers were key to the win.
"That made a big deal -- getting that fumble, and getting that other one and, you know, getting that interception," he said. "You know, I thought, you know, defensively we're getting better. We've just got to clean up some back end stuff and do, you know, a better job covering. You've just got to get better and better each week, so we can prepare for a chance to win the conference. And so we'll work on those things and watch film on Sunday and try to get better and get ready for Van Buren."
From the outset, the Wolves (5-0, 3-0 6A-West) took control. On the first play from scrimmage, junior running back Owen Miller found a hole for a 51-yard breakaway touchdown.
"We came out, defensively gave a big play right away," Craig said. "That kind of set the tone for the night. We didn't do a great job defensively of reading our keys and making our fits. They're a Wing-T team, so you really have to do a great job of reading your keys and being where you're supposed to."
Miller went on to score two more touchdowns in the half, including a 62-yard run that saw him break three tackles.
Gilleran was pleased with his team's overall performance in the game.
"I thought we finally played a complete game offensively," he said. "You know, I thought our kids blocked well, and we played well up front for the first time this year. And I think, you know, even defensively we played better."
Junior quarterback Hunter Talley dominated the field for the Panthers (3-4, 1-3), both passing and in the ground game, accounting for 329 of the team's 427 yards of offense.
"He's a kid that's a competitor, ultimate competitor for us," Craig said. "He's going to do anything to try to help us be successful, and I just love the kid."
Talley's top target was junior receiver Christian Ledeker, who reeled in four catches for 112 yards, including the team's two passing touchdowns.
"They put us in some one-on-one situations we knew we were going to be able to take advantage of if we could just protect," Craig said. "They don't stunt a lot, so we knew we're gonna be able to protect pretty solid and have some time, and that gives us some ability to throw the ball down the field. Plus their safeties were so far down to the box, you know, trying to stop our run game that we knew we were going to have some play action stuff over the top."
Gilleran said that senior quarterback Layne Warrick is expected to return for their Oct. 30 game at Benton after breaking his collarbone during the Wolves' benefit game against Arkadelphia on Aug. 17, but he is impressed with the way junior quarterback Grant Bearden has taken up the mantle.
"I thought Grant's done a really good job of running the offense," he said. "And, you know, even that one pass, they were holding our tight end. He got rid of it, which was a good deal. And so I was proud of him for making that play."
The Wolves will host Van Buren (3-4, 1-3) Friday at 7 p.m. The Panthers will host Mountain Home (3-4, 1-3).
1Q2Q3Q4Q--F
Siloam Springs06013--19
Lake Hamilton1414140--42
First quarter
LH--Owen Miller 51 run (Alex Hurtz kick), 11:41.
LH--Grant Bearden 1 run (Hurtz kick), 3:01.
Second quarter
LH--Miller 7 run (Hurtz kick), 7:37.
SS--Hunter Talley 1 run (kick fail), 4:00.
LH--Miller 62 run (Hurtz kick), 3:07.
Third quarter
LH--Kendrick Martin 66 run (Hurtz kick), 8:09.
LH--Tevin Woodley 3 run (Hurtz kick), 0:55.
Fourth quarter
SS--Christian Ledeker 21 pass from Talley (Ronald Mancia kick), 5:29.
SS--Ledeker 30 pass from Talley (pass fail), 4:26.
SSLH
First downs1718
Total yards427440
Rushes-yards40-19342-440
Passing2340
Comp-Att-Int12-19-10-1-0
Punts-yards0-01-21
Fumbles-lost4-32-1
Penalties-yards2-153-27
Time of Possession22:2825:32
Individual statistics
Rushing--Siloam Springs, Hunter Talley 15-95, Jeff Phizema 19-73, Elijah Coffey 1-22, Camden Collins 4-5. Lake Hamilton, Tevin Woodley 14-191, Owen Miller 14-171, Kendrick Martin 5-81, Izic Clenney 2-5, Grant Bearden 4-3.
Passing--Siloam Springs, Talley 12-18-1-234, Collins 0-1-0. Lake Hamilton, Bearden 0-1-0.
Receiving--Siloam Springs, Christian Ledeker 4-112, Daxton Moody 2-58, Coffey 4-52, Jonathon Graves 1-7, Nathan Lee 1-5.
Sponsor Content
Comments