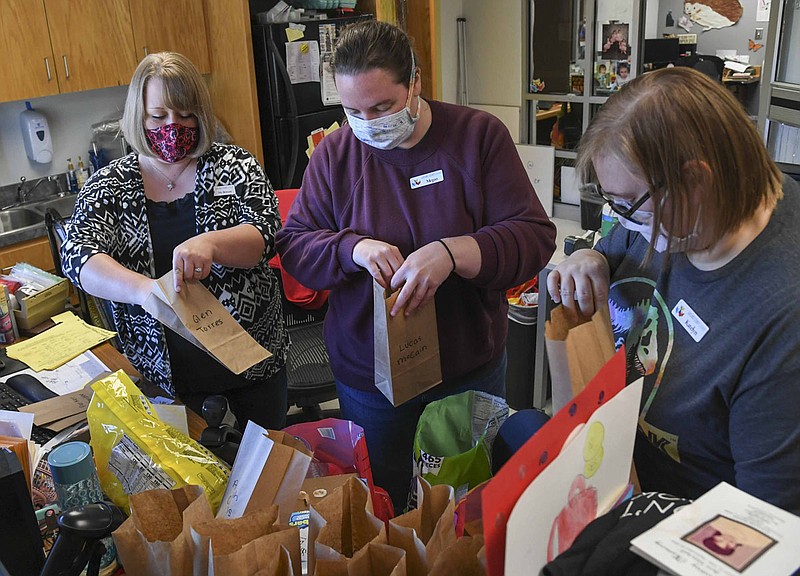 Young adult librarian Brittany Chavez, left, helps Megan James and Katelyn Holmes put together candy bags for a library outreach program at the Garland County Library on Wednesday. - Photo by Grace Brown of The Sentinel-Record
Brittany Anne Chavez, young adult librarian at the Garland County Library, received the Ann Lightsey Children's Librarian Award from the Arkansas Library Association during its virtual conference on Friday.
"It's not surprising at all, knowing Brittany. I mean, she's just a wonderful asset for our community. It does make me incredibly proud because that's two of our employees now who received the Children's Librarian of the year award and I don't know if there are many libraries in the state who can say the same," said Adam Webb, Garland County Library director.
Chavez received the award based on a recommendation from a teacher at Fountain Lake School who recognized her hard work when it came to outreach to area schools.
"Anne Lightsey was a librarian who dedicated her life to children and reading. The Ann Lightsey Children's Librarian Award is awarded annually to a librarian to recognize notable service in librarianship within the State of Arkansas. Brittany Chavez works with the community and the public school to provide programming and encourage reading to children," the ArLA said in a news release.
Chavez said the award is given to individuals who have contributed to the improvement of children's programs in Arkansas libraries.
"I was pretty excited about it," she said. "I might have screamed whenever I got the news. ... My husband came in asking if we had won the lottery. He didn't, but I did.
"I just feel so honored. That's not what I do it for; I do it for the kids because growing up, I didn't have anything like that. You know, our librarians were the shushing kind. We didn't have cool stuff like that happening at our libraries."
"Our programming numbers for children and young adults consistently are at the top of the state," Webb said.
Chavez has worked at the Garland County Library since shortly after graduating from Texas Women's University in 2012. Before the pandemic, Chavez and the other librarians would visit each school in the county, but that quickly came to a halt this school year.
"Post COVID, outreach kind of slowed down for the older ones. Right now, I'm working on doing Halloween treat bags ... We are doing Zoom outreaches with classrooms and I'm doing prerecorded videos for them about services and book talks," she said.
Although it was Chavez who received the award, she credits her success to the support of the team working in the young adult and children's sections of the library.
"I could not do my job without the support of both the library director and the children's services director, and just the staff over here in the children's department plus the adult department. We're so blessed to have a great staff that will back us up no matter what we have going on. I have all sorts of craziness going on, as you can tell. At any given time, our staff just jumps in and is willing to help. I don't think they know how much that means to me, that they actually support me on a daily basis," Chavez said.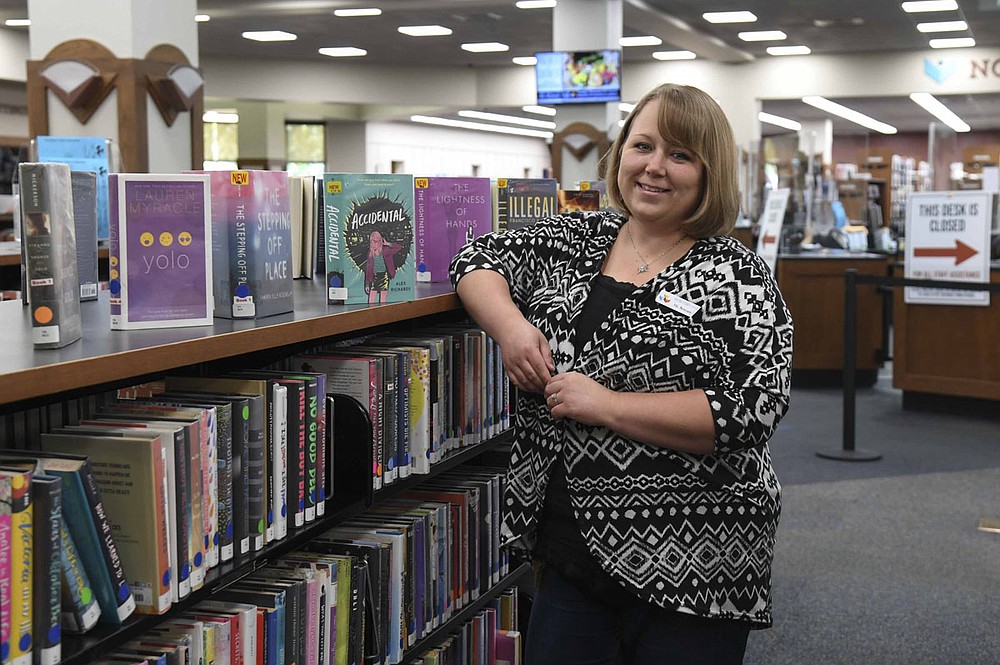 Young adult librarian Brittany Chavez, shown in the young adult section of the Garland County Library on Wednesday, recently received the Ann Lightsey Children's Librarian Award. - Photo by Grace Brown of The Sentinel-Record
Sponsor Content
Comments