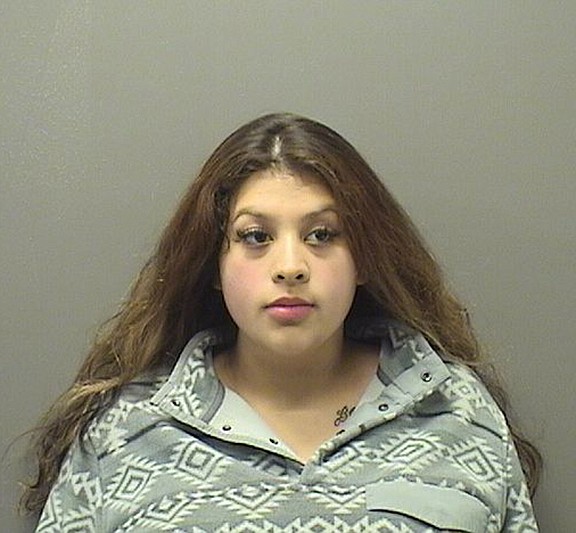 Damaris Zuniga-Herrera - Submitted photo
A local teen who is allegedly one of three suspects who forced their way into a woman's home and smashed her television in August was arrested Tuesday.
Damaris Zuniga-Herrera, 18, who lists an Amity Road address, was taken into custody shortly before 2:30 p.m. and charged with a felony count of residential burglary, punishable by up to 20 years in prison.
She was later released on a $10,000 bond and is set to appear Nov. 2 in Garland County District Court.
According to the probable cause affidavit, on Aug. 8, a local woman reported a burglary to her house on Musket Street, stating she was inside the residence with her mother and a male witness when a white female forced her way in, causing $100 in damage to the front door.
The first female was followed by two more females and she noted none of them "hid their faces or attempted to hide their identity." She said the three pulled down her 55-inch television, valued at $500, and began stomping on it while making threats to her.
She said her mother came out of the bedroom and threatened to call the police and all three females fled from the residence and were seen leaving in a white Chrysler 200 and the victim was able to get the license plate number.
The vehicle was registered to a local woman, 31, and on Aug. 14, the victim reportedly picked the woman out of a photo lineup and identified her as the first woman who came through the door.
On Oct. 14, Garland County sheriff's Investigator John Crow interviewed the male witness from the residence who stated he knew the first woman personally from having dated her previously and confirmed she was the one who forced entry into the house.
He stated he knew the other two females and identified them as Zuniga-Herrera and another suspect, 20, and noted it was the first woman and Zuniga-Herrera who actually pulled the television off the wall and stomped on it while the third suspect chased the victim to the rear of her residence.
He also stated the three fled the residence and left in a car belonging to the first woman. A warrant for Zuniga-Herrera was issued on Oct. 12. Neither of the other two suspects has been arrested in connection with the incident as of Wednesday and it was unknown if warrants for their arrest have been issued.
Zuniga-Herrera has no prior felony history, but pleaded guilty on Sept. 15 in district court to a misdemeanor count of theft of property under $1,000, involving Walmart, and was sentenced to one year in jail, with all of it suspended, six months' probation, and fined $700.
Sponsor Content
Comments