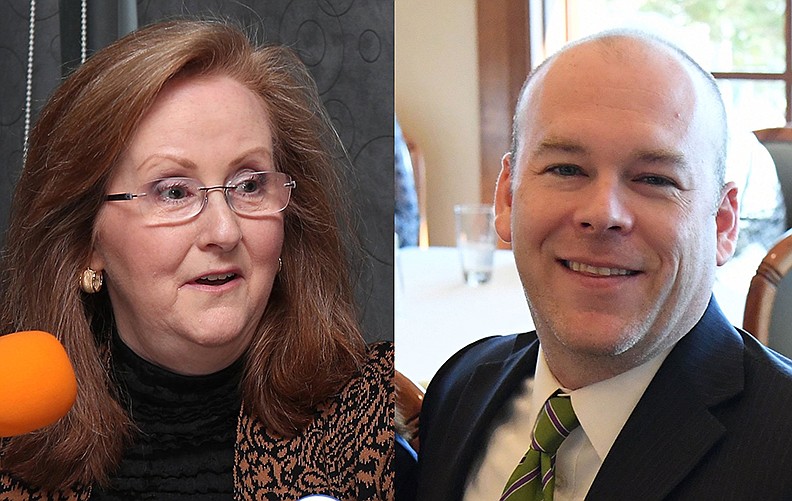 Cecilia Dyer, left, and Circuit Judge Wade Naramore. - File photo combination by The Sentinel-Record
In the runoff for Division 2 circuit court judge, both the incumbent, Wade Naramore, who is seeking a second term, and his opponent, local attorney Cecilia Dyer, cite their years of experience as a selling point to voters.
The two had previously faced each other in a runoff in 2014, with Naramore coming out on top, but in the March 3 nonpartisan election Dyer came out ahead with 35.7% of the vote followed by Naramore with 33.7% and a third candidate, attorney Brian Johnson, pulling 30.5%, forcing a repeat runoff between Naramore and Dyer on Nov. 3.
"I've been doing this for six years, presided over more than 6,000 cases. I know the law, I know the work, I do it every single day. I have the knowledge and the ability. I do the de-escalations every day, I do the probate every day, I do the juvenile delinquencies every day, I do the FINS (Families in Need of Service) cases every day," Naramore said.
"I handle with some regularity the conflicts, civil and criminal, that come over. Last year I had a three-week medical malpractice jury trial. Those are not easy to do. This is a job where you have to be able to do really everything at any given time," he said. "Over all those cases I have presided over, I have only been reversed one time."
Naramore said the numbers "speak for themselves in that regard," but the main thing is "I love the job. It's a stressful job, it's challenging, but thankfully it's also rewarding. You're purveying justice, you're fair and impartial and you're making decisions based on those principles and the law and the facts in the case and I enjoy doing that."
Naramore said he particularly enjoys the juvenile work, which is "about half of what I do and definitely the most challenging," noting he also does over half the divorces and domestic relations such as child custody, orders of protection, domestic abuse and "things of that nature," a quarter of the probate cases, and many of the civil and criminal in addition to the juvenile justice work.
The juvenile work is "emotional and dynamic, but at the end of the day you really get an opportunity to point children in the right direction. You can help them up, help them out and help guide them to hopefully becoming successful and productive adults. That's what it's all about," he said.
Noting she has been practicing family law for 29 years in Garland County, Dyer said she feels she is "highly qualified" for the position, which covers 55% of all cases filed under domestic relation jurisdiction, including divorce, custody, child support, visitation and "a whole wide range of things" that falls under it.
With those years of experience "under my belt," Dyer said, "I've literally been practicing twice as long as my opponent. My entire career has been dedicated to family law, especially issues pertaining to children, and that's what this position hears. Most new lawyers want to run away from family law and don't like dealing with it, but instead of running from it, I've always run to it. I've always felt like this is where my calling is, where my passion lies and my years of experience makes me qualified."
Dyer said she also feels qualified because of her "life experience," having raised three children to successful adulthood.
"You haven't lived until you've lived with three teenagers under your roof. But I survived that and you learn so much as you travel down life's path. It's one thing to deal with it on a professional level, but it's a whole other thing when it's your children and you're dealing with it on a personal level," she said.
"Now I'm a grandmother to two precious little boys so I bring the perspective of not only having raised children, but now the perspective of being a grandparent which is the same, but it's different. Today, we're seeing so many grandparents taking over the primary responsibility for the care and nurturing of children," she said, noting she can relate to their experiences being a grandparent herself.
Dyer noted she was in private practice for 17 years centered on family law and has been the attorney for the Division of Children and Family Services for the last 12 years handling matters pertaining to the abused and neglected children in Garland County.
"I took that position because I wanted to have more of a direct involvement with the children of our county," she said.
She also noted that 25% of cases handled in Division 2 are probate, including guardianships, adoptions, estate matters and other issues. In her work with the DCFS, she said she handled countless guardianships and adoptions and in her private practice she handled countless probate and estate cases, as well.
Asked about Dyer's experiences raising three children, Naramore said, "We help raise hundreds here, every single year, day in and day out, all year long. Thousands of children come through these doors with every kind of issue you can possibly imagine. I'm not going to say we've seen it all because as soon as I say that something bizarre will crop up, but we have seen a tremendous variety of issues and been able to help across the board."
Asked about the county's dependency and neglect cases, which Naramore is prohibited from hearing by an Arkansas Supreme Court order, Naramore said all those cases are still being assigned to Division 3 Circuit Court Judge Lynn Williams.
The prohibition followed Naramore's 2016 arrest on a misdemeanor negligent homicide charge involving the death of his 18-month-old son, Thomas. Naramore was acquitted of the charge and reinstated as judge after a yearlong suspension, but it was conditioned on him not being assigned dependency-neglect cases.
"Judge Lynn Williams is still doing them," he said. "That's the administrative plan that's in place now. Of course, it can change every two years. We've got, I think, a year and a half left on the current plan. You try to let well enough alone. If everybody is happy with the allocation being what it is and everybody is good with what they've got, then as judges we're happy. We're trying to be fair with each other."
Dyer said Naramore's situation is "very awkward to talk about, however, sadly it is what it is. I just want to stick to the facts and how it affects this position. As a condition for coming back to the bench, my opponent is restricted from hearing any cases involving the abuse or neglect of a child. Those cases are under juvenile jurisdiction so as a result, it caused a shift in caseloads that affected other judges. I think Judge Williams has done an incredible job."
She said one important thing to consider is that "when a child comes into foster care, there is a whole lot of federal law and state law that applies," noting that if the child is qualified as 4E eligible, the federal government pays 75 cents of every $1 to keep them in foster care.
Dyer said the process is "highly regulated" and there are certain findings the court has to make at each stage in the case, which may last "anywhere from eight months to 22 months. It's not one hearing and you're done." One mistake during the course of the case could jeopardize the child's 4E eligibility and if the child loses it, then the state has to pick up 100% of the cost, she said.
"If we mess up on the front end, even with the first order to have them removed from custody of the guardian, if it doesn't have the magic language needed, they will lose eligibility and the state has to pay. Us taxpayers have to pick up the cost and it could potentially be millions of dollars," she said.
"If I'm elected, Williams may want to continue, but anything can happen. He may become ill or want to take a vacation or decide to retire. If he has someone on the bench who is well versed, he may decide to let them take (those cases) back over. You never know," Dyer said. "I can provide relief for Williams if he needs relief. I can provide the judiciary with more options in caseload distributions and potentially save taxpayers millions of dollars because you don't want a novice in there. You want someone who knows this area and the appropriate thing to do."
With the onset of the COVID-19 pandemic, "the country basically shut down in March and a lot of courts shut down across the state and country," Naramore said. "One of the things I am most pleased with is that we were able in just a couple of weeks to get court back up and running via Zoom. It was hard and took a lot of research and time, trying to make sure everything is secure and to understand the platform. It took time to get that done, but two weeks in, most of the state had no access to justice and were unable to have their cases heard, but we were hearing cases and I think it's so important that we were able to keep that going. We just kept plowing through the docket where many across the state just stopped."
While they have resumed live courts, using all the required precautions and restrictions, such as masks and distancing, to keep everyone safe, Naramore noted they are still doing about 25% of the cases remotely and keep that as an option.
"We've had some very contentious cases we did via Zoom that went very smoothly," he said. "It has some drawbacks, but it's been good."
Dyer said she has also adapted to life with COVID, noting, "I'm in court every week." She said back in March, almost immediately after the primary, the Arkansas Supreme Court issued an opinion "encouraging all judges to use electronic means to keep court going and we've been having Zoom court all over the state."
She said until just a few weeks ago, she had not been in an actual courtroom, but "never missed a beat. We adjusted. I have handled every kind of hearing, including adoptions, guardianships, termination of parental rights, and done it all electronically. It's been interesting. The most interesting challenge has been the handling of exhibits, but where there's a will, there's a way and we've all worked it out. I have managed not to get behind and I have a feeling a lot of the things we've learned navigating through the COVID environment we'll continue on with."
Dyer said she is hopeful that those who supported Johnson in March will vote for her, noting, "There are only two ways to run. Unopposed or scared, so you can imagine which way I'm running: Scared. I don't take anything for granted. I just want to put my best case forward and convince the voters why it would be best to elect me."
"I want to thank everyone that's helped us," Naramore said. "It's an amazing experience every time I run. We have a tremendous amount of support. The opportunity to serve is an honor and a privilege. It's a real blessing. I encourage everyone to vote, whoever you vote for. And I would appreciate their consideration for me when they go to the polls."
"Voting is such a sacred honor," Dyer said. "I hope everyone gets out to vote and exercises that sacred privilege."
Sponsor Content
Comments