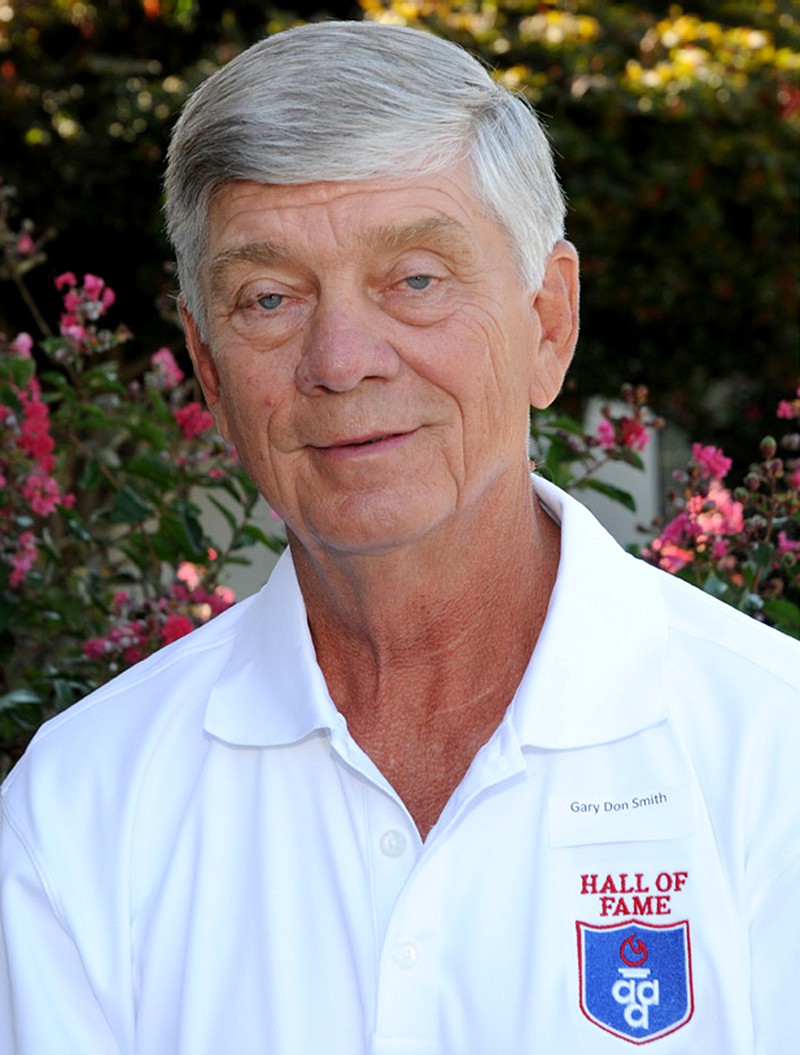 Gary Don Smith - Photo courtesy Arkansas Activities Association
Former Lakeside coach Gary Don Smith was one of several honorees inducted into the Arkansas High School Coaches Association Hall of Fame at Horner Hall Saturday night. His career spanned over 42 years and involved basketball, softball and golf.
"My wife and daughter and I were sitting in the living room," Smith recalled. "All of a sudden I looked at my phone for some reason and saw I missed a call from Joey (Walters, deputy executive director of the Arkansas Activities Association) -- he's the one that calls everybody. It got me the jitters, wondering if that's what it was about because I've been on the All-Star committee for 24 years working with them. ... I was nervous. I called him back, and he told me I'd been selected with my wife and daughter there. It was emotional. It was humbling; it teared me up. You just don't really have any expressions for you to really recognize what's going on.
"After that, we got to talking about it and everything. It's a great honor. I know a lot of friends who are great coaches that I get to join, and it's just a great honor for my name to be mentioned with all those names that I think of. It gets in the back of your mind when you see all your friends making it, but you just never know. It's a humbling affair. It's hard to explain when you get to talking about it. I'm just super happy I made it -- me and my family. What gets you there is the players. Your ability, to me, is just handling the players the right way. If you handle the players the right way, they're going to play for you."
After graduating from Waldo High School in 1972, Smith went on to pursue a bachelor of science degree in physical education at Southern State College (now Southern Arkansas University) in Magnolia.
"Me, my momma and my uncle (were sports lovers)," he said. "I worked with my daddy in the hay fields every summer, and I wanted to (get) away from that. ... I loved basketball. It was the only sport Waldo had. When I got in college, that's all I was thinking about then -- trying to be a coach. A couple of my coaches at Waldo sort of influenced me. It was their actions, and I could see how they were handling kids and stuff like that."
Union High School in El Dorado was Smith's home for 25 years. He was the athletic director, junior high and varsity girls basketball coach, varsity boys basketball coach, boys and girls golf coach and varsity boys baseball coach. The high school girls basketball team picked up 551 wins and a state championship while the junior high tallied 354 wins.
During his time at Lakeside, the girls and boys golf collected 24 conference championships and 13 state championships combined.
"I remember when I was coaching at Union, I won the state championship," he recalled. "That was special. In 2003, my youngest daughter was playing, and we made it to the finals of state that year. We upset three different teams and then an upset over Marmaduke was special for me. We didn't have much time to get ready for them, and they were runner-ups for state the year before. ... It was a big deal. My daughter was point guard, and she ran off the floor, and I looked behind me, and she had jumped up and wrapped herself around my son -- crying and everything. It teared me up to see them two like that. I only got to coach my son one year. We had a good year. ... I always wanted to coach him, and then I coached some baseball and softball and coached them there. I had three kids, and I got to coach all of them."
Smith's children have all found careers within the school system, following in the footsteps of their parents as Smith's wife Pat was a teacher in Malvern. His oldest daughter, Christie, is a second grade teacher, Josh is the varsity girls basketball coach at Hot Springs, and youngest daughter, Julie, is an occupational therapist at Lake Hamilton.
Smith mentioned that his wife was a significant source of support for all of those years.
"It's tough on a family with dad being a coach because we're not at home much at all during the seasons," Smith said. "My wife would ride the bus and take the kids with us on the bus. Even when the youngest was a baby, she'd be on the bus with her, and she kept the family together by following us and being a big part of it instead of sitting at the house. I've got a wonderful wife. It was really enjoyable that we did that as a family instead of me coming home and trying to tell everybody about every single time. She was at most of the games."
Among the AHSCA inductees were Buzz Bolding of Conway for football, Danny Ebbs of Blytheville, Parkdale and Stephens for basketball, Mike Malham of Cabot for football, John McMurry of Monticello and Hamburg for football, and Carl Ramsey of Lamar for basketball.
The honorees initiated into the Arkansas Officials Association were Gerald Jones of Sherwood, Jim McGee of North Little Rock, Huey Pugh of Maumelle, Grayling Wheeler of Searcy, Mike Willyerd of Leachville and Robert Yelder of Jacksonville. The new members inducted into the Arkansas High School Athletic Administrators Association were Rodney Echols of Forrest City, Annette Scogin of Springsdale and Janet Wood of Mountain Home.
Sponsor Content
Comments