EDITOR'S NOTE: This is one in a continuing series of articles in October relating to "spooky Spa" legends leading up to All Hallows' Eve.
The Malco Theatre has sat at 817 Central Ave. since being rebuilt after fire damaged it in 1935, and since Magician Maxwell Blade began managing the building in 1996 he has witnessed countless eerie happenings -- something he said no "old theater" is immune to.
"What old town have we not been to where an old theater has stories of ghosts, etc., and we are not immune to that," Blade said. "After being here in this building for so many years, we have experienced odd things. Have I seen a ghost? Maybe not, but I think I've heard a ghost a couple of times."
"Years ago," he said he was exiting the main theater of the building one night, alone in the dark, when he heard one of the theater seats folding up and down right before looking to see a "shadow figure" crossing the exit.
"Yes, I did leave quickly and did not return a bit in the dark," Blade said.
"But my daughter," he said, "who was about 3 at the time -- she's 22 now -- always stood at the staircase in the front lobby area, and she would say to me, 'Daddy, who's that little boy up there?' There was a little boy obviously at the top of the stairway."
Blade said while he has heard legends of some things that might have happened to a little boy in the upstairs bathroom of the theater in the early 1970s, none can be confirmed.
"I've had my coat pulled open numerous times backstage just before I turned on one of the lights," he said, "and it got to be so often I would simply just let it happen. A ghost? I don't know, perhaps."
But Blade and his daughter are not the only ones who have witnessed hauntings in The Malco. He said he has had people become so frightened before one of his magic shows they have left, and two audience members have been so frightened while in the building that they have literally wet themselves.
"In 1999, I left this door open on the top balcony. I was called by the police, I came here," Blade said. "There were six police officers here going through, because it's quite large, to see if someone was in the building.
"They were not, but there were two police officers out back that said to me 'I will never go back in that building as long as I live -- ever.' And I said 'Why?' And they just shook their heads and walked away."
Having now spent about 24 years with The Malco, Blade is convinced it's haunted.
"Why do I think it's haunted? Why wouldn't it be?" he said. "It's the perfect spot. ... There's been four people who have died in this building ... so why wouldn't they stay here? It's a fun place. Matter of fact, when I go, this is where I want to hang out -- catch me here."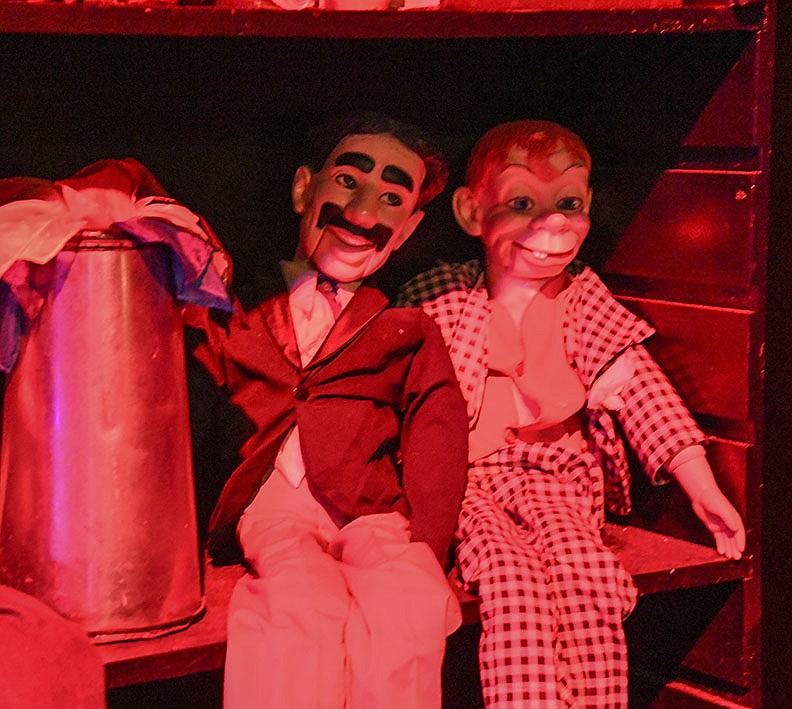 Unsettling props are shown at the Malco Theatre, 817 Central Ave., on Wednesday. - Photo by Grace Brown of The Sentinel-Record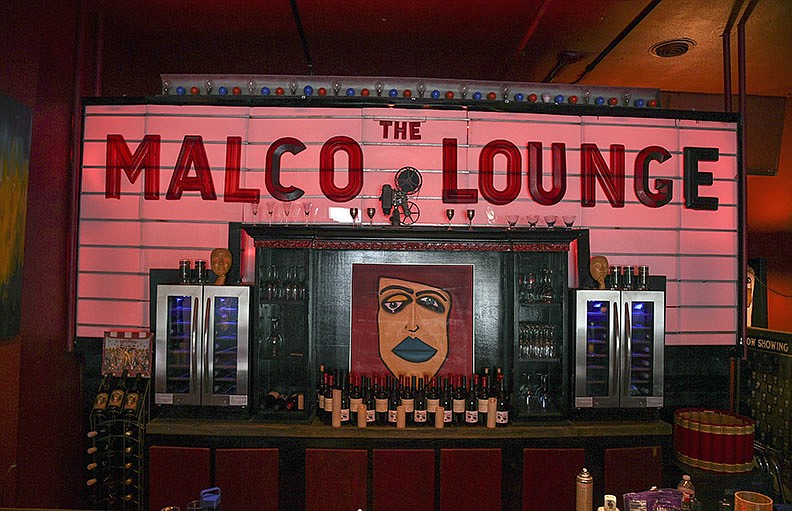 The original repurposed marquee of the Malco Theater, 817 Central Ave., is shown in the new Malco Lounge on Wednesday. - Photo by Grace Brown of The Sentinel-Record