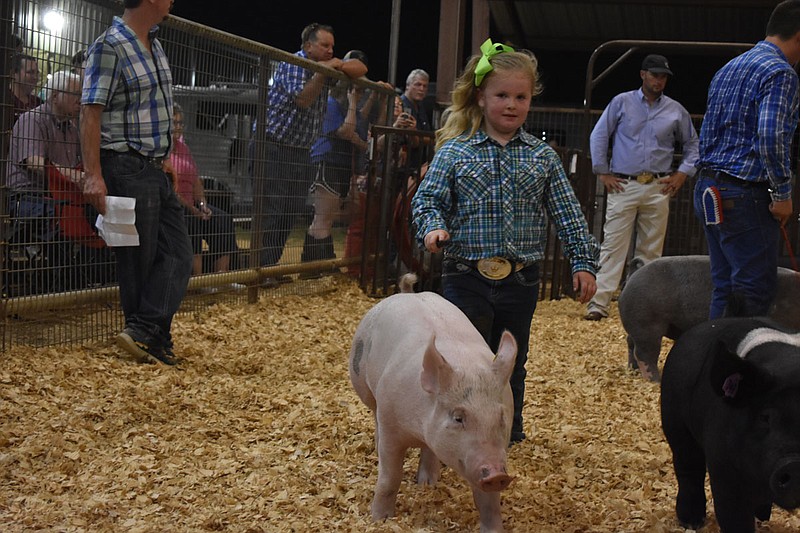 Junior Livestock exhibitor Milli Radley, daughter of Nikki and Randy Radley, shows her hog during the 2019 Junior Livestock Exhibitor show at the Garland County Fair. Over 100 youths from area schools will again be competing for prizes and money with their livestock. - Submitted photo
The Garland County Fair will be open this year, although it will be different because of COVID-19.
The Garland County Fair begins Friday and continues through Sept. 19 at the fairgrounds, located at 4831 Malvern Road. The Demolition Derby will be Friday and Saturday at 7:30 p.m. The second weekend will include the rodeo, 7:30 p.m. Friday, Sept. 18, and Saturday, Sept. 19. Unfortunately, the county fair will not have a carnival, creative arts, horticulture, pageant, and educational/commercial exhibits for this year.
Garland County youths will showcase their projects during the week of the fair. The primary purpose of 4-H is to educate and develop youths. One of the ways we develop youths is through 4-H livestock projects. There are several "life skills" 4-H'ers learn while doing projects: decision making, planning, implementing and evaluating, communicating, teamwork and record-keeping. The youths also develop skills as they "learn by doing." They gain knowledge and learn to accept responsibility by caring for their projects. They gain self-esteem and a sense of accomplishment.
The fair marks a high point in a year of hard work and dedication in producing a livestock exhibit. These students spend many hours and dollars preparing for the livestock shows at the county, district, and state fairs. Each year, the county fair serves as a showcase for the junior livestock projects in the county for each exhibitor. One of the ways the youths get rewarded for their hard work on their livestock projects is through the Junior Livestock Auction. Cash contributions that are given help defray their costs in raising the animals. Many of these young people not only use the money to pay their debts but use it for continuing their education. Premium sale contributors are listed on a sponsor board displayed at the fairgrounds and are recognized in the county fair catalog. Also, all contributions are tax-deductible.
This year, the auction will be held at the show barn at the Garland County Fairgrounds on Friday, Sept. 18, at 1 p.m. But come early -- all bidders will be treated to a lunch at 11:30 a.m.
Fair entry times and information about the fair can be found at http://www.garlandcountyfair.com. There are many activities going on at the fair that you would enjoy, so check online and plan your week at the fair. Be sure to check for day and times for your entries.
As previously mentioned, the horticulture exhibit is closed for 2020. The Garland County Master Gardeners will still host the 4-H pumpkin and watermelon contest. Entries will be accepted the afternoon of Monday, Sept. 14, and the pumpkins and watermelons will be displayed all week.
For more information, call County Agent Alex Dykes at 623-6841 or email [email protected]
Master Gardener information
Master Gardener meetings are held on the third Thursday of each month online. The meetings are open to the public, and guests are welcome. For more information, call the Extension Office at 623-6841 or email Alex Dykes at [email protected]
EHC information
Are you interested in joining an existing Extension Homemakers Club? EHC is the largest volunteer organization in the state. For information on EHC, call 623-6841 or email Alison Crane at [email protected] Follow Alison on Facebook @garlandEGF and @Garland FCS, and EHC on Facebook @GarlandCountyEHC.
4-H information
For information about Garland County 4-H Club membership or program benefits, contact Carol Ann McAfee at the Garland County Extension office, 236 Woodbine in Hot Springs, call 623-6841 or email [email protected] More information is available at http://www.uaex.edu/garland.
Sponsor Content
Comments