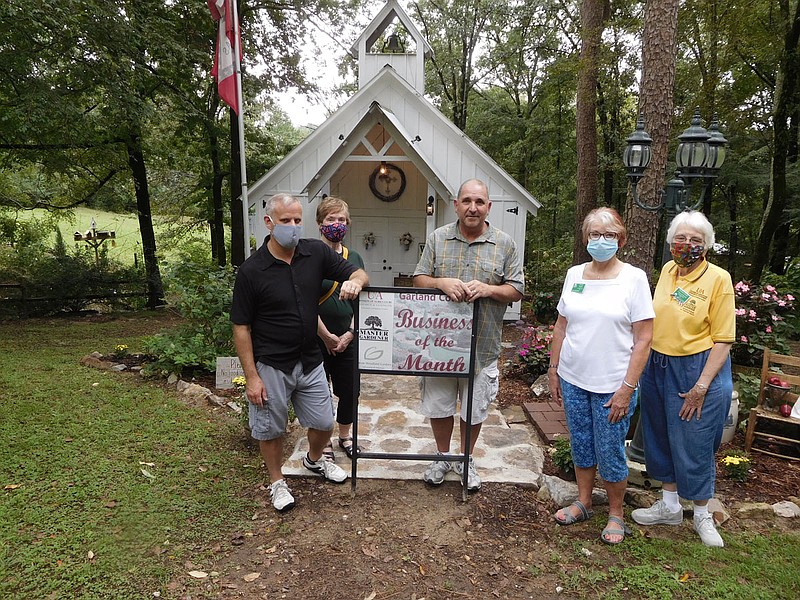 From left are Grace Chapel co-owner John Lantz, Master Gardener Sunshine Spievogle, co-owner Michael McLillie, and Master Gardeners Linda Foglia and Barbara Gaunt. Not pictured are Kristen Mangham, Garvan Woodlawn Gardens special events coordinator, and Master Gardener Carolyn Davis. - Submitted photo
Garland County Master Gardeners has selected Grace Chapel at 235 Pearson Drive as its Business of the Month for September.
"There is an outstanding variety of plants and focal points throughout the property," a news release said. "Starting at the parking area, you will find a tall hibiscus, barrels of begonias and hanging planters of geraniums and Joseph's coat on the white fence. Along the walkway to the chapel, you'll see a lamp post, azaleas, a fountain, elephant ears, begonias, ferns and a sundial with ageratums and vinca flowers. A blue cedar atlas stands in a stately manner.
"Focal points include a wheelbarrow fountain, an antique wagon filled with plants, a variety of birdhouses mounted on a tall pole, and a water tower that are all tastefully decorated.
"Scattered throughout the property are a variety of trees, including rose of Sharon, majestic oaks, maples, and pears. This is truly a refreshing property to walk through."
Sponsor Content
Comments