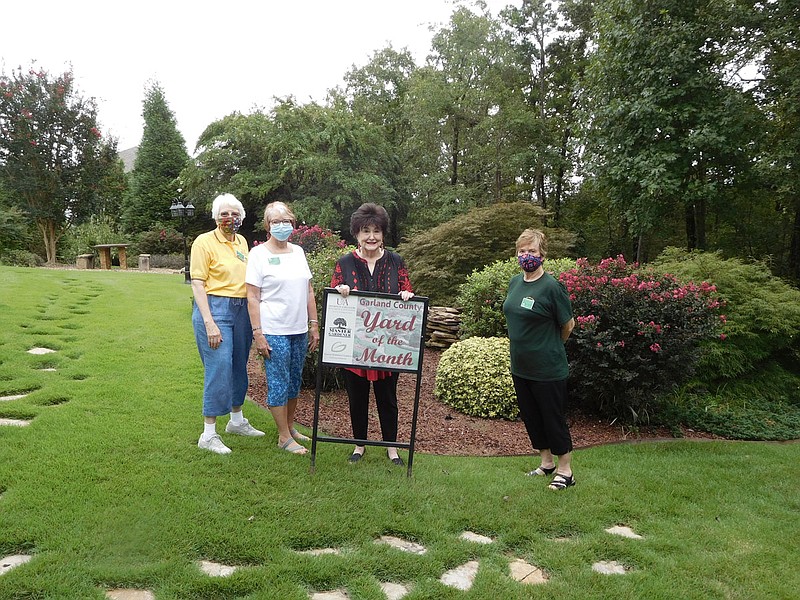 From left are Master Gardeners Barbara Gaunt and Linda Foglia, homeowner Dorothy Morris, and Master Gardener Sunshine Spievogle. Not pictured are Kristen Mangham, Garvan Woodlawn Gardens special events coordinator, and Master Gardener Carolyn Davis. - Submitted photo
Garland County Master Gardeners chose the home of Dorothy Morris at 358 Palos Verdes as September's Yard of the Month.
"The walk to the front door contains a variety of color with quartz rocks, boxwoods, large elephant ears, Japanese maples, pink and red azaleas, creeping Jenny, juniper, variegated holly and a large decorative frog enjoying the setting. Also included are metal decorative art of a crane and flowers in front of spiral juniper. In the side yard to the right are rose bushes, tall pampas grass, loropetalum, dogwood, a large white crepe myrtle and oak trees," a news release said.
"To the left of the home, the yard is lined with garden area, including a number of crape myrtles of varying sizes and colors, encore azaleas, pampas grass, and quartz rocks. That garden continues to the back of the property where there are irises blooming in the spring.
"From the front, there are steppingstones that will lead you to a defined area with a large decorative stone table and benches. Continue on the steppingstones to the backyard and there is a large defined garden with Japanese maples, crape myrtle, and roses all surrounding a flowing water fountain. To the side of that garden is a stone bench to sit and ponder the tranquillity of the garden and yard."
Sponsor Content
Comments