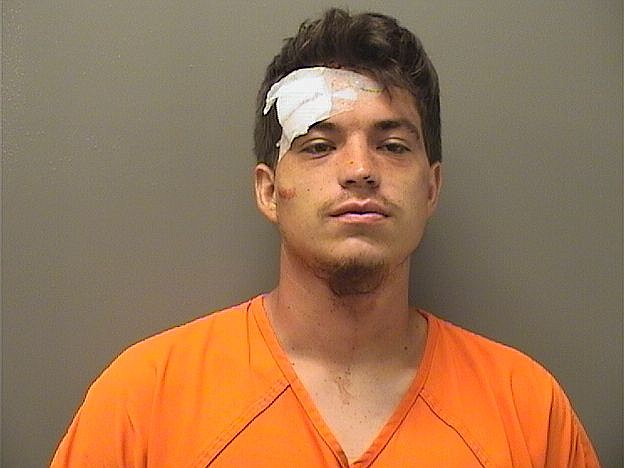 Brodrick Kain Morkes - Submitted photo
An allegedly intoxicated driver who wrecked his truck early Sunday was arrested on felony charges after cocaine and mushrooms were reportedly found in his possession.
Brodrick Kain Morkes, 23, who lists a Slate Creek Way address in Lonsdale, was taken into custody shortly before 3:30 a.m. after being released from CHI St. Vincent Hot Springs and charged with felony counts of possession of a controlled substance, cocaine, punishable by up to 10 years in prison, and possession of a controlled substance, psilocybin mushrooms, punishable by up to six years, in addition to a misdemeanor count of driving while intoxicated, first offense.
Morkes, who was also cited for driving on a suspended license and careless and prohibited driving, was being held on a $7,000 bond and was set to appear Monday in Garland County District Court.
According to the probable cause affidavit, shortly after 12:30 a.m. Sunday, Garland County sheriff's Deputy Matthew Cogburn responded to the 6300 block of Park Avenue regarding a single-vehicle wreck involving a black Ford F-150 pickup truck and was told the driver, identified as Morkes, was possibly intoxicated.
At that time, Morkes was still in the vehicle being extricated by first responders and was put in an ambulance after he was removed. While in the ambulance, Morkes allegedly told Cogburn he had "at least 10 mixed drinks" before driving.
Morkes was transported to CHI and Cogburn went there to interview him further. In the emergency room, Cogburn was met by Diamondhead Police Chief Joel Tyner, who handed him a plastic baggie containing several capsules and a white powder substance. Tyner said the items were found in Morkes' pocket as the hospital staff was cutting off his pants.
Cogburn questioned Morkes a short time later after reading him his Miranda rights and Morkes again reportedly admitted to drinking 10 mixed drinks with tequila. He said he wasn't sure how the wreck happened or where he was at when he was drinking. Morkes reportedly declined to do any field sobriety tests, but agreed to a Breathalyzer test.
After he was taken to the Garland County Detention Center, Morkes provided a breath sample at 3:53 a.m. which registered 0.138% blood-alcohol, well over the legal limit. When asked about the capsules and powder, Morkes allegedly said each capsule had half a gram of psilocybin mushrooms and he also remembered buying 2 grams of cocaine.
The total amount of mushrooms was reportedly 6.2 grams and the cocaine was 1.9 grams. Agents with the 18th Judicial District East Drug Task Force were notified about the narcotics.
Sponsor Content
Comments