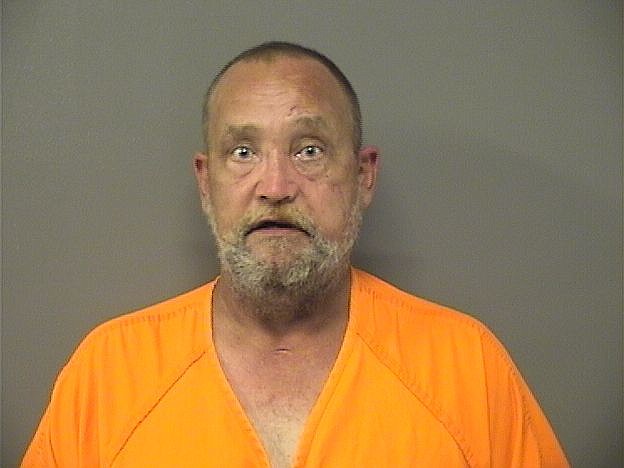 Paul Stuart Wilson - Submitted photo
A felon was arrested Friday night after allegedly hitting his wife in the head with a pistol while intoxicated.
Paul Stuart Wilson, 54, of 1218 Ragweed Valley Road in Royal, was taken into custody at his residence shortly before 7 p.m. and charged with felony counts of possession of a firearm by certain persons, punishable by up to 20 years in prison, second-degree domestic battery, punishable by up to 10 years, and a misdemeanor count of public intoxication.
Wilson was held over the weekend on zero bond and was set to appear Monday in Garland County District Court.
According to the probable cause affidavit, shortly after 6 p.m. Friday, Garland County sheriff's Deputy Kevin Hampton responded to the Ragweed Valley residence regarding a physical disturbance involving a firearm.
Prior to his arrival, Hampton learned a female victim had been struck in the head and was bleeding as she ran to a neighbor's house. As he pulled up, Hampton saw a man, later identified as Wilson, walking in the yard with his hands raised.
Hampton pulled into the driveway and ordered Wilson to raise his shirt and turn around to make sure he didn't have any weapons and then detained him. At that point, Wilson reportedly made a spontaneous comment that, "I put my gun up and it is inside the house."
Wilson also allegedly admitted he struck his wife in the head with the pistol. Hampton noted the victim had a laceration to her scalp from being struck and redness to her right knee "from being thrown to the ground."
Wilson was taken into custody and he stated he had put his .45-caliber pistol in a built-in shelf next to the door. Wilson's wife took Hampton inside and positively identified the pistol on the shelf which was taken as evidence.
Wilson reportedly told Hampton, "I've been drinking a little and I'm sorry for that." Hampton noted Wilson had red, bloodshot, watery eyes, slurred speech and was unsteady on his feet.
Sponsor Content
Comments