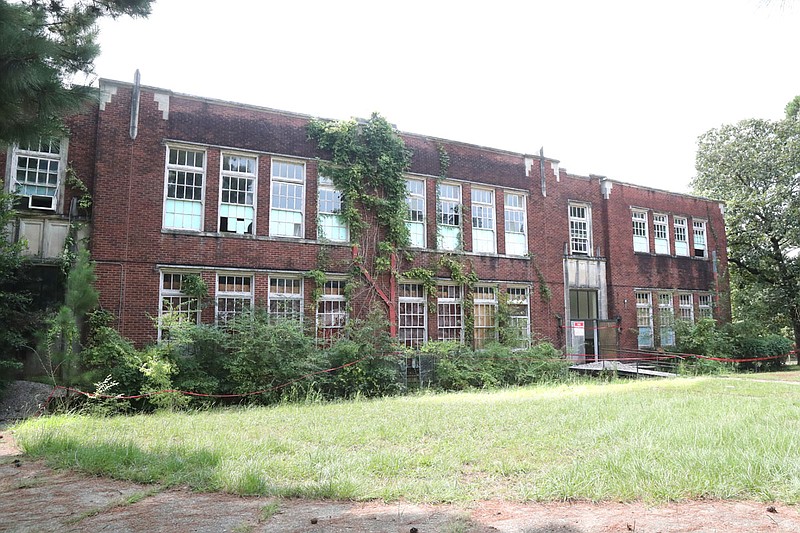 The former Greenwood Elementary School sits covered in vegetation on Monday. A Hot Springs School District spokesman said the historic building is set for demolition. - Photo by Richard Rasmussen of The Sentinel-Record
Demolition of the former Greenwood Elementary School building will start in the near future, a spokesman for the Hot Springs School District said Monday.
Adriane Barnes, Hot Springs School District communications and public relations coordinator, said asbestos abatement is taking place, and demolition will start soon, noting that all buyers have fallen through.
Barnes said the district, for the safety of the community, has made the determination to demolish the building.
"We are working with the city of Hot Springs about plans for the future of the space once the building is demolished," she said.
"We greatly value the history and nostalgia of Greenwood School. Due to the rapid deterioration of the property and the lack of a buyer, demolition of the site is necessary for the safety of our community," Hot Springs School District Superintendent Stephanie Nehus said Monday.
The school was built in 1930 and closed in 1993. According to a written history of the school provided to The Sentinel-Record last year by past principal J.R. Burroughs, in the summer of 1980, Greenwood Elementary and Gardner Elementary were combined into one school zone area. Gardner Elementary became the school for K-2, and Greenwood 3-6.
In 1993, Gardner became one of the three primary schools in the Hot Springs School District for grades K-3 and Greenwood closed and was later reopened as the Summit School.
Greenwood School, 1425 Greenwood Ave., was added to the National Register of Historic Places in 2018. It is a 1930 Art Deco-style building with a 1950 International-style addition, all designed by architect Irven D. McDaniel, according to the Arkansas Historic Preservation Program.
Last October, Nehus said two parties stepped forward, saying they were interested in "doing something with the building."
"We have agreed, per your approval last month, to work with Anthony Taylor (of Taylor/ Kempkes Architects P.A.) and Adrian Imonti (of Westmont Advisors), who were the folks behind the refurbishment of the National Baptist Hotel downtown off of Malvern Avenue. So what we did ask of them last month was to come back to us with a timeline of this process," Nehus told the board last year.
Sponsor Content
Comments