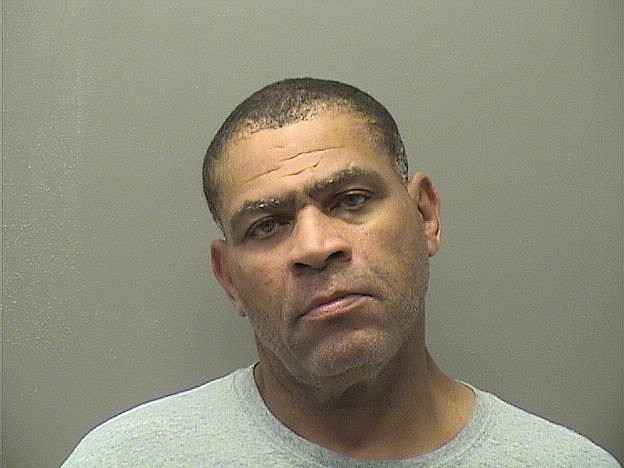 Scottie Lane White - Submitted photo
Hot Springs police on Monday identified the suspect in a shooting at a small private club early Saturday morning that left a local man in serious condition, after an alleged accomplice was arrested Sunday morning.
Scottie Lane White, 54, of 200 Rector St., who is a felon, was taken into custody at his residence around 11:45 a.m. Sunday and charged with felony counts of criminal accomplice to first-degree battery and possession of a firearm by certain persons, each punishable by up to 20 years in prison.
The alleged shooter, identified as Tony Collins, 45, who is also a felon, is being sought on felony warrants for first-degree battery and possession of a firearm by certain persons. He is described as Black, 5 feet, 8 inches, 175 pounds, with black hair and brown eyes. Anyone who knows where Collins is should not approach him but call 911 or the HSPD immediately, police said in a news release.
Anyone with any information about the case should contact the lead investigator, Detective Mark Fallis at 501-321-6789 Ext. 6720, the release said.
White, who was also arrested on an unrelated warrant for misdemeanor third-degree domestic battery, punishable by up to one year in jail, was being held on a $150,000 bond and was set to appear Monday in Garland County District Court.
HSPD Cpl. Patrick Langley, the department's public information officer, said detectives were in the process of getting warrants for Collins Monday morning and were hoping to make contact with him, and get him to turn himself in.
According to the probable cause affidavit, at around 12:20 a.m. Saturday officers responded to 1374 E. Grand Ave., a small private club, about a shooting.
Officers found Robert Johnson Jr., 49, of Hot Springs, inside the club suffering from multiple gunshot wounds to his mid- and lower torso. He was transported by LifeNet to CHI St. Vincent Hot Springs where he underwent emergency surgery and is currently listed in serious condition.
Witnesses at the scene said Collins and White were at the club and were "upset and talking about finding Johnson." Witnesses noted they saw a handgun in White's waistband.
Moments later, Johnson arrived and an argument ensued between the three. During the argument, Collins allegedly pulled out a handgun and fired multiple shots toward Johnson. Then he and White fled the scene.
The affidavit notes Collins is a felon whose last conviction was on Nov. 13, 2018, in Garland County Circuit Court and he is currently on parole. White is also a felon whose last felony conviction was on Oct. 20, 2006, in Craighead County.
According to the affidavit on the third-degree domestic battery charge, on Sept. 4, a woman reported she was visiting a friend at a residence in the 100 block of Campbell Street shortly before 2 p.m. when her vehicle alarm started going off.
She said she went outside and was confronted by her boyfriend, identified as White, who allegedly yelled, "This is how you treat me (expletive)" and then punched her in the mouth before fleeing the area.
The woman told police she and White had been living together for about three months and had been arguing the last couple of days during which White had made threats toward her.
Officers noted the woman had bruising and swelling and a small cut to her upper and lower lips. A warrant was later issued for White's arrest.
Sponsor Content
Comments