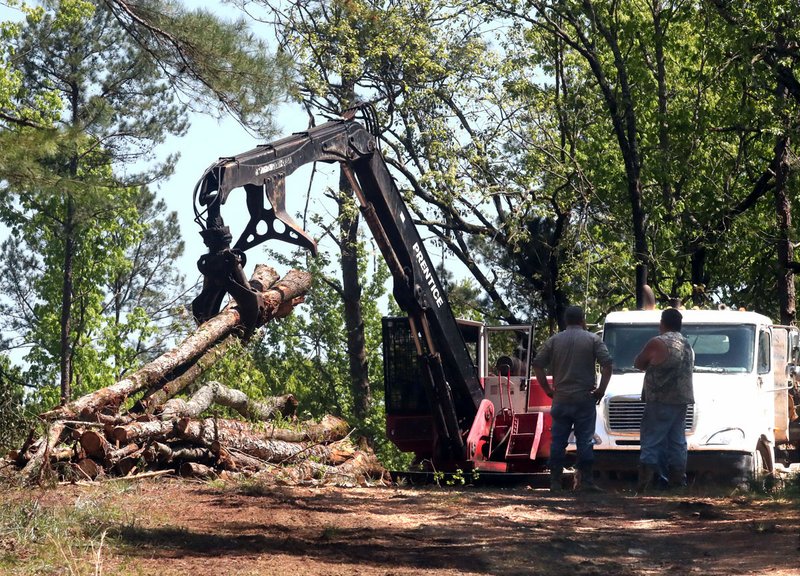 A logging crew loads pine trees onto a truck in the Plum Hollow Boulevard area of Diamondhead in April. - File photo by Richard Rasmussen of The Sentinel-Record
The Arkansas Department of Environmental Quality said logging activity that began last year in Diamondhead is inconsistent with best management practices for soil stabilization.
The assessment was included in the report from the July inspection of property owned by Omni Home Builders, the Colorado developer that in 2018 acquired more than 1,600 lots in the gated community straddling Garland and Hot Spring counties.
ADEQ has received more than a dozen complaints about Omni's activity in Diamondhead.
"Very little effort is being made to employ any structural best management practices and begin stabilization in the construction areas," the report said. "These areas are within areas of steep terrain where the drainage flows to Lake Catherine. ... The only stabilization mechanism is to allow natural vegetation to grow back in place."
Logging began months before ADEQ issued Omni a stormwater construction permit in February. An email Omni's engineer sent ADEQ earlier that month said Omni was told by the agency it didn't need a permit until it began moving dirt. Permit violations listed in ADEQ's report have been referred to its enforcement division, ADEQ said.
ADEQ said Monday that logging that occurred prior to the permit being issued was done with the understanding no construction was planned for the sites, explaining that logging is exempt from the permitting process required by the Clean Water Act.
"This activity was in relation to logging, which is exempt from (National Pollution Discharge Elimination System) permitting under agriculture," ADEQ said in an email. "The site was inspected under a (memorandum of agreement) with Arkansas Department of Agriculture, Forestry. Once it was determined this was a conversion to a subdivision and not a replanting, the operator was required to obtain a construction stormwater general permit for a large site as part of a larger common plan under the terms of that permit. ...
"The silviculture activity does not require a permit, but cutting and clearing to prepare for a subdivision does."
Property owners who filed a class-action lawsuit against Omni and logging companies it hired to clear the lots have said in court pleadings that Omni has no plans to develop its property, asserting that lots are being clear cut at the expense of the community's property values.
The Diamondhead Property Owners Association made a similar claim in the lawsuit Omni filed against it earlier this year.
The class action suit filed last month in Hot Spring County Circuit Court pointed to an argument Omni made in a lawsuit property owners filed against it in Garland County Circuit Court last year. The developer cited the state's right to farm laws in defense of the logging, which it called an agriculture activity protected by state statute.
The class action complaint said Omni owner Mark Lane told property owners in January that the timber harvesting was a means to raise revenue. Phone calls asking Lane for comment on the lawsuit and inspection report were not returned.
The plaintiffs have cited Diamondhead's bill of assurance and other regulations requiring lots to be used solely for residential purposes. The complaint said timber harvesting is an agriculture activity.
"It appears that Omni is operating for the sole purpose of a large profit for Mark Lane, which has resulted in nothing less than a huge loss in property value for the residents of Diamondhead," the complaint said. "What is in store for Diamondhead is slash and burn destruction and a faltering plan for development. It does not appear that Omni has sufficient funds to develop the properties in Diamondhead."
A Sept. 1 letter Omni's engineer sent ADEQ in response to the inspection report said no logging had been done since May, and that only access drives and loading areas need to be stabilized. The letter said straw and seed would be spread by the end of last week.
ADEQ said Monday that it had yet to confirm if the material had been spread, or if the damaged culvert near Independence and Springbrook drives referenced in the report had been addressed. The report said debris from Omni's lot clearing severely damaged the culvert. The resulting flooding and erosion pose a threat to the power line system, the report said.
Omni's permit is for lots in Hot Spring County, but the inspection report said unpermitted lot clearing had occurred in the Mystic Heights area of Garland County. Omni told ADEQ the activity is exempt from the stormwater permitting process as a result of Mystic Heights being outside Diamondhead's platted subdivision.
The Garland County Environmental Inspections Department said Tuesday that the area falls beyond the scope of the county's stormwater and drainage ordinance because it isn't part of a subdivision. Any land-disturbing activity inside a subdivision requires a stormwater permit, the department said.
Sponsor Content
Comments