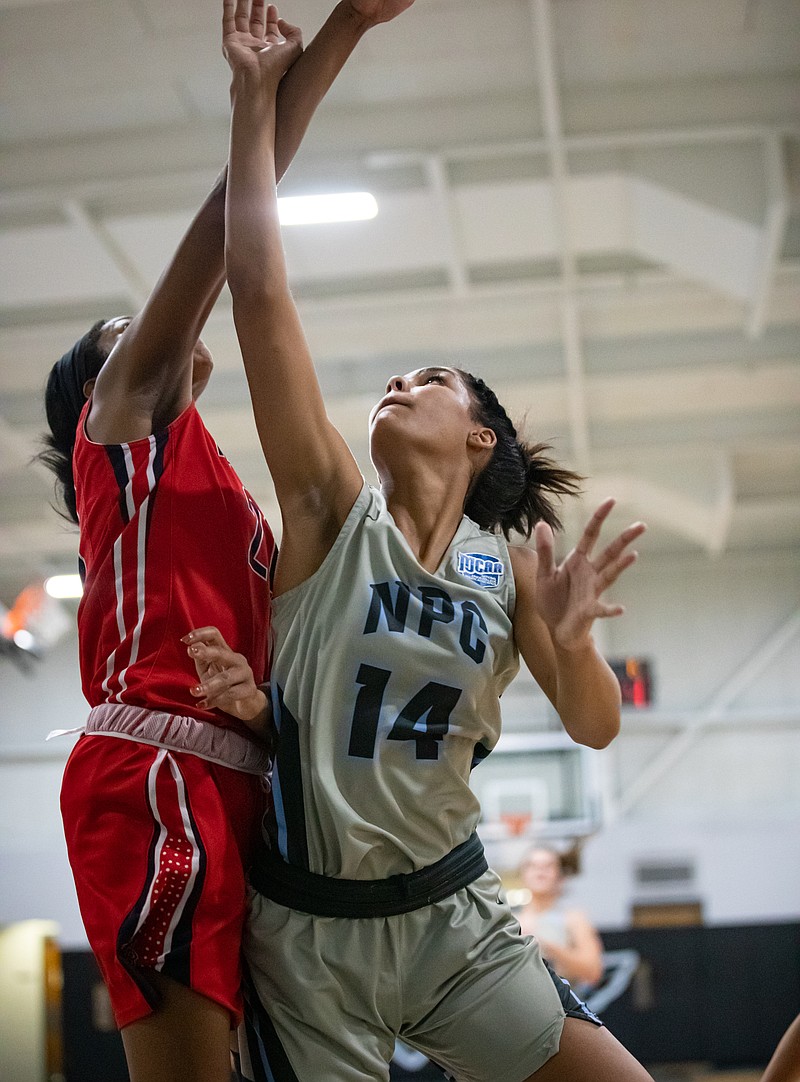 Nya Moody goes up for a shot during a Dec. 6, 2019, game against Arlington Baptist. Moody recently accepted a Division I offer to play basketball at Tarleton State University in Stephenville, Texas. - Photo courtesy of Aaron Brewer
One of the top players from the National Park Nighthawks is working her way through her first semester at an NCAA Division I program.
Nya Moody, a forward who was entering her sophomore year for the Nighthawks, accepted a Division I offer to play basketball at Tarleton State University this winter.
"They told me that I had the offer literally the day before school started down here," Moody said, who will be starting her third week on campus today. "Actually I had just got a job in the bookstore, and I had been going to the athletic meetings with my team that I thought was going to be my team this year, and we all went to FunTrackers to get to know each other, and then, boom, I'm leaving."
Listed as a guard/forward for the Texans, Moody is the seventh member of the team's inaugural Division I recruiting class.
"We're lucky to add an All-Region Junior College player this late in the recruiting process," Texans head coach Misty Wilson said in a news release. "Nya is a versatile talent that gives us size, skill, and athleticism at the wing position. She has tremendous upside and I believe with the resources we provide our student-athletes, she will get better in her three years here."
Moody is the first NPC women's basketball player to accept a Division I offer.
"It's like very honoring because I feel like last year I really worked my butt off to help win games and lead the team, next to Imani (Honey), and just to see that it like actually paid off," she said. "I don't know. It's just like super honoring to be the first from NPC because I love that school so much. So to make history there ... it's really exciting. I love it."
Life in Stephenville, Texas, is "challenging" for the sophomore.
"You have to really work hard, and it takes up a bunch of time," she said. "Like (Monday) morning, I woke up at ... 6 to get to 7 a.m. weights, and I got home around 12 after individuals and practice. And most days we have study halls and then team dinners, it's just a bunch of work. Since it's their first year and they don't really know what to expect, I guess, so they're like really trying to get us to where they think we should be. It's really hard; I'm not gonna lie. Like the running and stuff is all -- I thought I was running last year. No, not at all."
Moody said that team-building is different as well, especially due to COVID-19.
"They were explaining to me the other day, since I'm like brand new, that last year they would have like get-togethers and they'd go places together they do all this fun stuff to bond as a team," she said. "But we can't really do all that because of the COVID, so we all went to our teammate's house this past weekend for a birthday. Our coaches invite us to their houses for dinner sometimes. We really bond; it's just harder, I guess."
Moody is a 2019 Lake Hamilton graduate and helped lead the Hot Springs Lady Trojans to the Class 5A state title in 2018. She earned All-Region Team NJCAA Region 2 honors as a freshman, averaging 15.4 points and 5.4 rebounds per game while averaging 1.8 made 3-pointers per game and shooting 77% from the free throw line. She is the daughter of NPC head women's basketball coach Marvin Moody and Emily Evans.
Sponsor Content
Comments