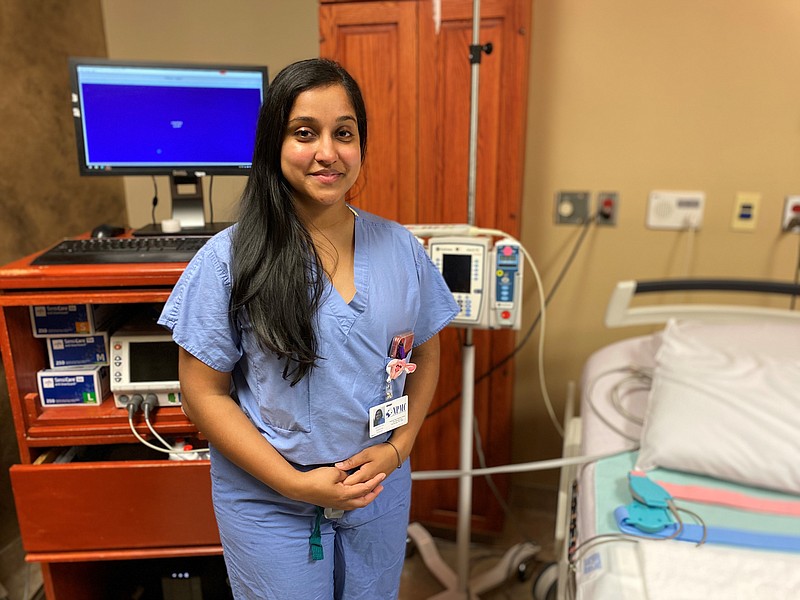 Dr. Suchita Varhade, at National Park Medical Center on Tuesday, recently joined its Physicians for Women staff. - Submitted photo
Dr. Suchita Varhade, who recently joined National Park Medical Center's Physicians for Women staff, says she looks forward to being a dependable OB/GYN for patients on a "long-term basis," as she doesn't plan on venturing from Hot Springs any time soon.
"Right now I'm working as a generalist, so my goals right now are kind of to build up my practice in the community and help women get the care that they need for all of their different GYN and OB issues," Varhade said.
"I'm accepting new patients and ... I'll be here for a long time starting my journey, so I think that's something that can be reassuring: Knowing that your doctor will be around for a while because I know there's sometimes a turnover of doctors."
Having grown up in Pennsylvania, she graduated from Philadelphia College of Osteopathic Medicine, and completed her residency at Newark Beth Israel Medical Center in Newark, N.J., in 2019. Prior to coming to Hot Springs two weeks ago, Varhade has spent the past year practicing in Connecticut as a generalist OB/GYN.
"I was doing a lot of the same stuff (in Connecticut) that I hope to be doing here: Deliveries, surgeries, treating menopause and treating the common stuff that comes up like infections, UTIs; all that kind of stuff; doing annuals," she said.
Varhade's love for a long-term patient base is what landed her in the OB/GYN field.
"I went to med school, I knew I liked science; I did research before med school, but I didn't like bench work as much as I thought I would, and I wanted to be working with people on a more daily basis," she said.
"I knew I was interested in seeing people on a long-term basis, so I was interested in primary care in med school, but when I got to my OB/GYN rotation I loved that I got to do surgery and see patients long-term, and you get to follow patients throughout their whole life. Every day is very exciting, so that's what really drew me into this field," she said.
"I think, in coming here, I want a strong patient base and I want them to feel comfortable with me in terms of their long-term goals, their separate goals and I think just providing the best care that I can."
Varhade is currently accepting new patients at Physicians for Women.
"Dr. Varhade is a great addition to our already very strong group of OB/GYNs," NPMC's CEO Scott Smith said in a news release. "Women's health is an integral part to our organization's mission of Making Communities Healthier. Dr. Varhade's presence and quality of care will help to further ensure that our mission is being achieved."
Sponsor Content
Comments