The Hot Springs Junior Academy EAST team and the Oaklawn STEM Magnet EAST team took home a host of awards for their hard work in competitions and challenges at the virtual 2021 EAST Conference.
The HSJA team won the Go Map Twenty-One-ArcGIS Activity Competition; was a finalist in the Best of Conference: Dress to a Tee Competition; a Social Media Award for #EASTcon21Ready winner; Mapping App Competition winner; a Judge's Choice winner; and a finalist in the Hello My Name Is ... Interview Competition.
"It feels really good because we all put in a lot of effort and a lot of times after school and a lot of hard work into these projects and these competitions, so it feels really good to see that pay off," Michaela Stevens, a freshman at HSJA, said.
Oaklawn STEM was also a Judge's Choice winner.
The Oaklawn EAST team said it was exciting to receive the award because Oaklawn is the only EAST elementary school in the Garland County area.
"It means a lot to us because we're an elementary school. It's really difficult to get the Judge's Choice award. For our age and our age group, it is exciting because not every elementary has the chance to get" this award, said Madison Contreras, a sixth-grader at Oaklawn STEM.
Mimi Reagler, a freshman at HSJA, said that it felt "relaxing" to win a host of awards because it was stressful at times.
She said that she also feels that they won the social media award because of teamwork.
"We were doing 20 other things at once. It really impressed me how we were making a booth and blowing up balloons and doing all this at once," Reagler said.
"We still had team members who were able to make a video ... get featured on the EAST Instagram page," she said.
Video not playing? Click here https://www.youtube.com/embed/i7T4kwKAEy8
"We also had a lot of fun with what we did," said Tessa Rivera, a freshman at HSJA.
Contreras said she feels her team won b because of the detail that they have put into their projects.
Paul R. Miller, Oaklawn STEM EAST facilitator, said in an email that Oaklawn STEM's projects included Bloxels, anti-bullying, public service announcements, and Read Across Oaklawn.
Bloxels is an educational tool for students to build, collaborate and tell stories through video game creation.
"The materials we use are these different colored cubes to make the background, characters, and platforms to the game," the project's script says.
The anti-bullying project allowed the team to collaborate with the school counselor as its community partner. The project has included an anti-bullying coloring book, stop-motion videos, animations, and public service videos.
The public service announcement project covered events and happenings on the school, and the Read Across Oaklawn project included videos of staff members reading their favorite holiday or winter children's book.
Reagler's map competition gave her a good relationship with the Center for Advanced Spatial Technologies program at the University of Arkansas in Fayetteville.
"I want to stay in EAST. I would like to continue to use that relationship for future projects," Reagler said.
"We felt good about what we put out," Stevens said.
Each spring, more than 3,500 students, teachers, parents and community and business leaders attend the EAST Conference, according to the conference's website.
This year's theme, "Homecoming," celebrated 25 years of students from blended backgrounds with "various talents and passions coming together to network with other students, share stories and ideas, and showcase projects that inspire change within their communities," the website said.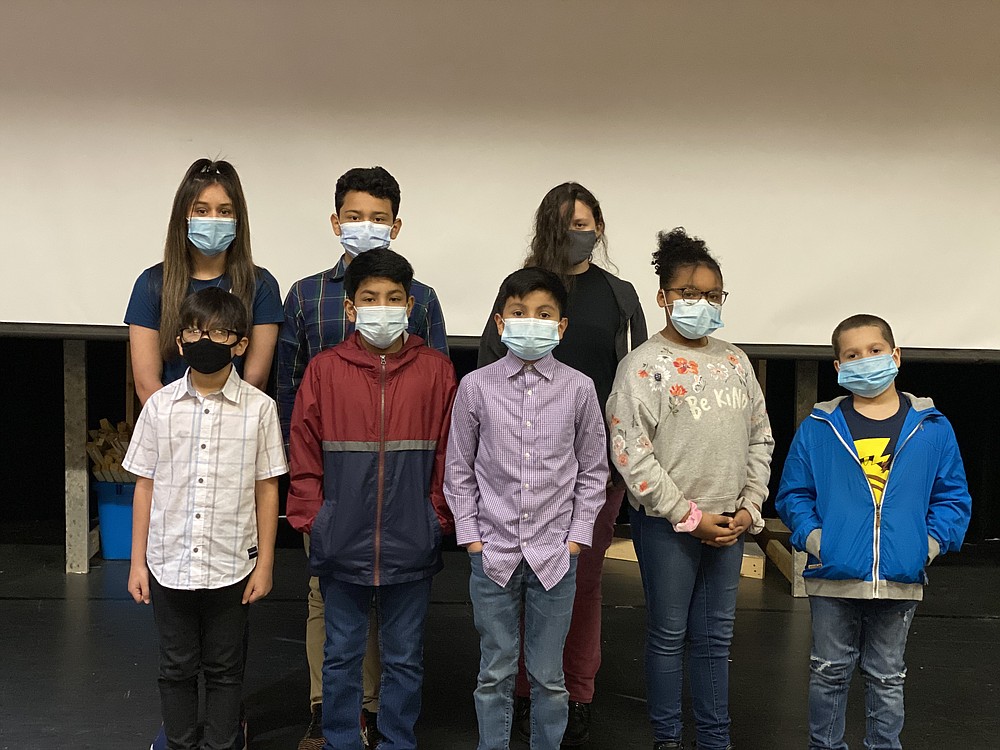 Oaklawn STEM Magnet EAST team won the Judge's Choice award. Back, from left, are Madison Contreras, sixth-grader; James Aguilar, sixth-grader; and Cheyene Beverlin, fifth-grader; and front, from left, are Abimael Acosta, fifth-grader; Irving Flores, fifth-grader; Larry Rios-Ogarrio, fifth-grader; Aubrey Kosinski, fourth-grader; Jaydian Cruz, fourth-grader. - Photo by John Anderson of The Sentinel-Record