Federal law enforcement agencies on Tuesday identified human remains found in a wooded area off Blacksnake Road in Hot Springs National Park on March 27 as a 32-year-old Hot Springs woman and asked for the public's help in solving her death.
"Special Agents of the National Park Service Investigative Services Branch are seeking tips from the public to determine the circumstances related to the homicide of Paige Autumn White, a 32-year-old Caucasian female with a missing right eye and an anchor tattoo on her right foot. White's remains were found off of Blacksnake Road in Hot Springs National Park on March 27, 2021," a news release said.
"The investigation is ongoing and there is no indication that this was other than an isolated incident. National Park Service investigators are working with the Federal Bureau of Investigations (FBI), the Hot Springs Police Department, Arkansas State Police, and Garland County Sheriff's Department to find out more about the days leading up to White's death."
The FBI's Little Rock office also published a website listing the "common behaviors and characteristics" to "be on the lookout" for.
According to the website, there is a "strong possibility the person who did this continues to work and/or live in our community."
"This individual likely has familiarity with the areas in which Paige was last seen and recovered. Individual(s) responsible for, or who have knowledge of, the death of Paige may have exhibited changes of behavior" to include the following:
• Altering of physical appearance (growth or removal of facial hair, change in hair color or cut, etc.).
• Cleaning of vehicles.
• Change in normal routine, which might include missing work, classes, or previously scheduled appointments.
• Displays of anxiety, nervousness, or irritability.
• Intense interest in the investigation, a noticeable disinterest, or an unexplained knowledge of the situation.
• Unexplained injuries (cuts on hands, bruises, etc.) during the period Paige was last seen alive and then recovered.
"Though no further details about this incident are available at this time, investigators are gathering more information every day to move this case forward and the community's continued assistance is appreciated. Sometimes, people with knowledge about an incident may not initially come forward because they do not realize its importance, because of their relationships to people involved, or they have concerns for their safety. However, information from family, friends, acquaintances, or others who may have seen White recently is often very helpful," the release said.
"If you may have information about White or her death – no matter how insignificant it may seem – please contact us. You may remain anonymous. You don't have to tell us who you are, but please tell us what you know."
The public is asked to call or text the ISB Tip Line: 888-653-0009; visit http://www.nps.gov/ISB and click "Submit a Tip"; email [email protected]; or call 911.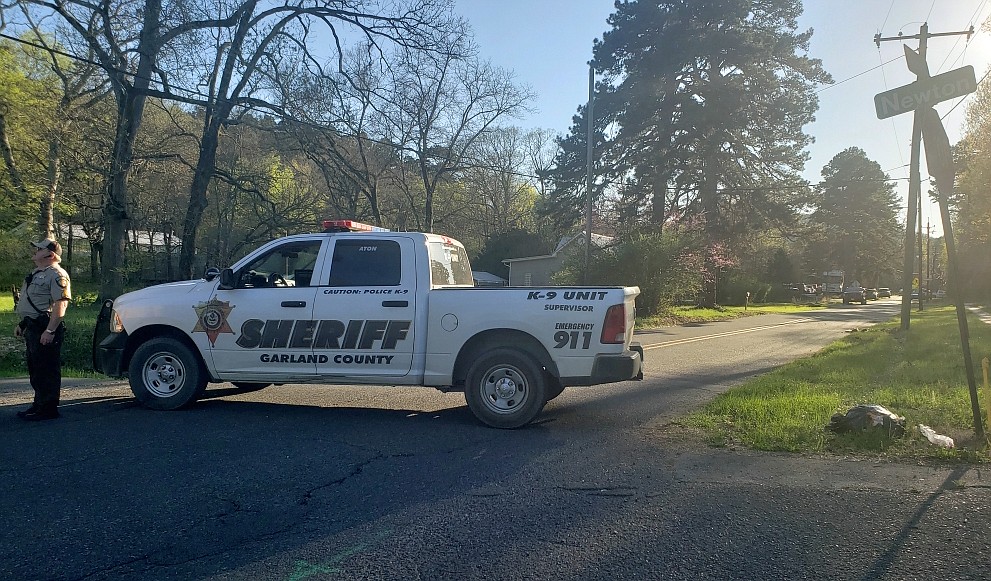 A Garland County sheriff's deputy blocks the Whittington Avenue end of Blacksnake Road at Newton Sunday evening, March 28. - Photo by Grace Brown of The Sentinel-Record
The criminal investigation by the FBI and National Park Service on federal property involved closing a portion of Blacksnake Road for several hours Sunday, March 28, a Park Service spokesman previously told The Sentinel-Record.
"We do have a criminal investigation going on" involving the FBI and the investigative services of the NPS involving "a wooded area" off Blacksnake Road, Alexandra Picavet, NPS public information officer, said shortly before 5:30 p.m. Sunday, March 28.
An FBI evidence response team was involved because the investigation involved an incident on federal land, she said, which is standard protocol.
The portion of Blacksnake Road from Whittington Avenue to Bull Bayou Road runs through land that is part of Hot Springs National Park. The parking area for the Sunset Trail crossing is along that area.
Initially, Picavet said the area of Blacksnake Road was being reopened, but then said it was being kept closed for a little while longer.