Cliff Harris still remembers when he got beat out as the starting quarterback at Hot Springs High School.
Q. Byrum Hurst Jr. was a sophomore while Harris was a junior, but Hurst was named the team's starting quarterback.
"He was first string, and I was second string quarterback," he recalled. "I would only come in on passing downs because he wasn't a good passer. So I came in on passing downs, and then I moved to Des Arc my senior year."
Harris said the move to Prairie County proved to be beneficial due to head coach John T. Rollins running a pro set offense that "helped me later in the pros."
Video not playing? Click here https://www.youtube.com/embed/5eVizaujqDs
That move was one of the first bits of fortune for the two-way high school player that turned into "Captain Crash," the dynamic safety for the Dallas Cowboys who had six Pro Bowl selections and two Super Bowl titles in a 10-year career. He was also a four-time All-Pro selection and a member of the NFL's all-decade team for the 1970s, and on Saturday he will be inducted into the NFL Hall of Fame as part of the league's centennial class of 2020.
Harris got some attention his senior year, but he struggled to get a scholarship offer. Ouachita Baptist, his father O.J. "Buddy" Harris' alma mater, was the only school to make him an offer despite interest from Arkansas, Henderson and State College of Arkansas, now the University of Central Arkansas.
"They tried me in all these different positions," he said, noting that he was hoping to play quarterback. "They, you know, tried me at running back and at quarterback, and wide receiver even. I actually went out for a pass one time, and the safety came across the field and clocked me. And I said, 'I don't like that. I don't want to be wide receiver. I want to be that guy.' So they moved me to cornerback, and I was the only freshman starter."
Under the tutelage of head coach Buddy Bob Benson, Harris learned the "mental toughness" that he would need in his professional career, although things did not go according to plan.
Gil Brandt, the Cowboys' chief talent scout, reached out to Harris to say the team would be giving him a call during the 1970 NFL Draft.
"They were gonna draft me in the top six rounds," he recalled. "So I stayed by the phone all day and all night, and they didn't sign me. They call me right as soon as the draft was over and said, 'We're going to come see you tomorrow in Arkadelphia and sign you to a free-agent contract.' And I was kind of upset and went to talk to coach Benson about it. And he said, 'You know, you should sign with the Cowboys because they're coming up here to sign you. It's going to be a good deal. And you're going to get an opportunity to show yourself.'"
Harris agreed, and the team flew him out to California for training camp, where the next bit of fortune struck due to the NFL players' strike.
"So that delayed the veterans coming into camp, and for about a month, you know. So we had a chance to play several rookie games on the coast. We played against the Chargers, a couple games against the Chargers, a couple of games against the 49ers, and I think we played a couple against the Raiders, just as rookie games. So they got to see game conditions of, you know, me, me playing."
The extra time on the field allowed Harris to catch the eye of legendary head coach Tom Landry, who moved the rookie safety into the starting rotation.
"If we hadn't had all those rookie games, where they're kind of game conditions because you haven't been practicing against the same guys, you know, every time and every day. ... So, you know, it gave the coaches an opportunity to check them under game conditions, you know. So I was very fortunate," he said.
With any athlete, memories of games trend toward their best or worst games, but for defensive players, the memories are more often of missed assignments and losses than big wins. One of those games was on Sept. 27, 1970, against the New York Giants in the Cotton Bowl, where the Cowboys trailed the Giants 10-0 at halftime.
"(Landry) showed his a little bit of his anger, and he said something very interesting to motivate us," Harris said. "He said, 'You guys are not playing like professionals. You're playing like amateurs drawing pay.' And I thought about that, and just knew I could see that he was upset."
The Cowboys turned the game around, scoring 28 unanswered points and Harris picking off two passes for 66 yards in just his second regular season game.
Harris had several strong performances, even earning MVP honors in more than one, before the United States government came calling.
A member of the National Guard, Harris' unit was called into service, and he was sent to Fort Polk, La.
"I left the Cowboys after five or six games, five games I think," he said. "Charlie Waters took my spot. I came back and played on weekends, but I didn't start, and then the next year, I got my spot back and played the rest of my 10 years with the Cowboys."
Harris was deeply disappointed in the team's loss to the Baltimore Colts in Super Bowl V, but as a starter in 14 of the Cowboys' 17 games in his sophomore season, he helped keep the Miami Dolphins at bay in a lopsided 24-3 Super Bowl VI win.
While it took over 40 years for him to get the call that he would be joining the NFL Hall of Fame, he never gave up believing that it could happen.
"I knew that I had the possibility to make that because I had the credentials to do it," Harris said. "But gosh, there's, you know, like (NFL Hall of Fame president) David Baker was saying, you know, 3 million have played football, you know, and there's 360 in the Hall of Fame, and, and I feel very fortunate to have made it. Everything had to work right. I was with the right team; I was with the right coach, the right players. I mean, we had such a great team. And I think, without having all those ingredients that I wouldn't have made it you know, but I'm very fortunate."
Having made a name for himself, Harris makes sure to give back to the communities that made him who he is today. He established the Cliff Harris Award for the top defensive player in Division II, Division III and NAIA colleges and universities, and he hosts two golf tournaments -- one that benefits the Juvenile Diabetes Research Foundation and the annual Cliff Harris FCA Tournament that is held each year in Hot Springs.
"I think that it's one of those things that you need to do in your life, if you've been blessed to have any kind of notoriety or fame, you need to be able to maximize it, if you can," he said.
Harris said that the key to reaching your dreams is to start small and keep your goals within reach.
"You had to be realistic in your goals to achieve the goals," he said. "And, you know, the Hall of Fame is, like 50,000 feet, you know, so I was just kind of taking one step at a time -- making the team, making the starting lineup, making the Pro Bowl, and making All-Pro. Well the next thing, you make enough of the Pro Bowls, you make enough All-Pro, make enough big plays, and the team does well, then there's a chance you can go into the Hall of Fame."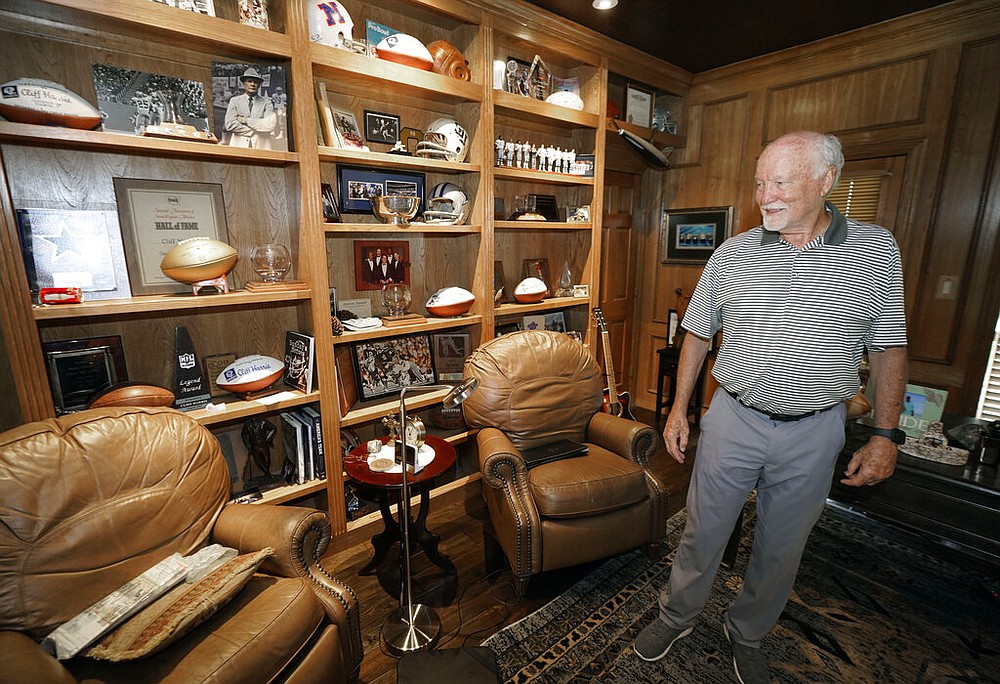 Former Dallas Cowboys and NFL football great Cliff Harris stands in his study during an interview at his home in North Dallas, Wednesday, June 30, 2021. (AP Photo/LM Otero)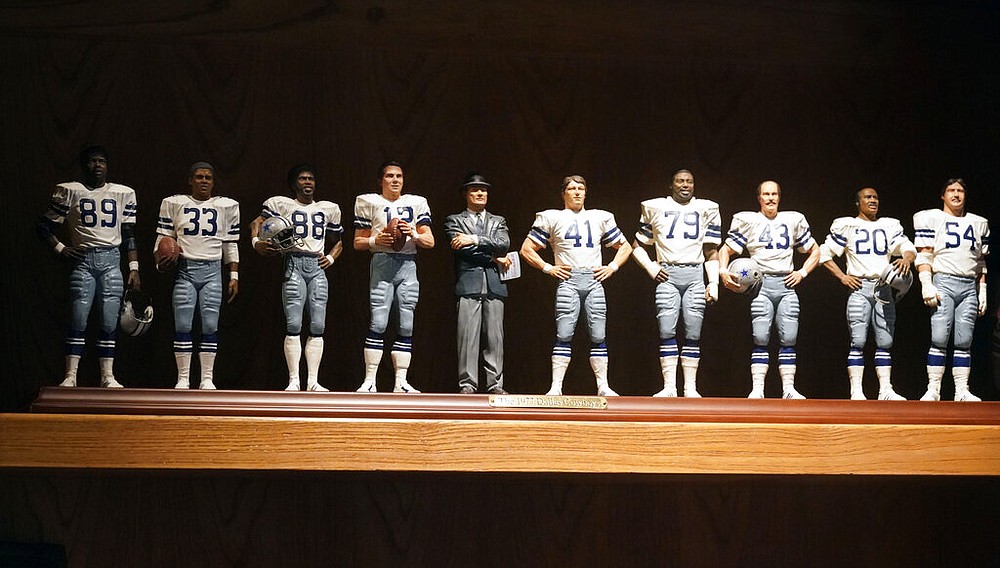 The miniature likeness of the 1977 Dallas Cowboys team is displayed on a shelf at the home of former Cowboys and NFL football great Cliff Harris (43) in North Dallas, Wednesday, June 30, 2021. (AP Photo/LM Otero)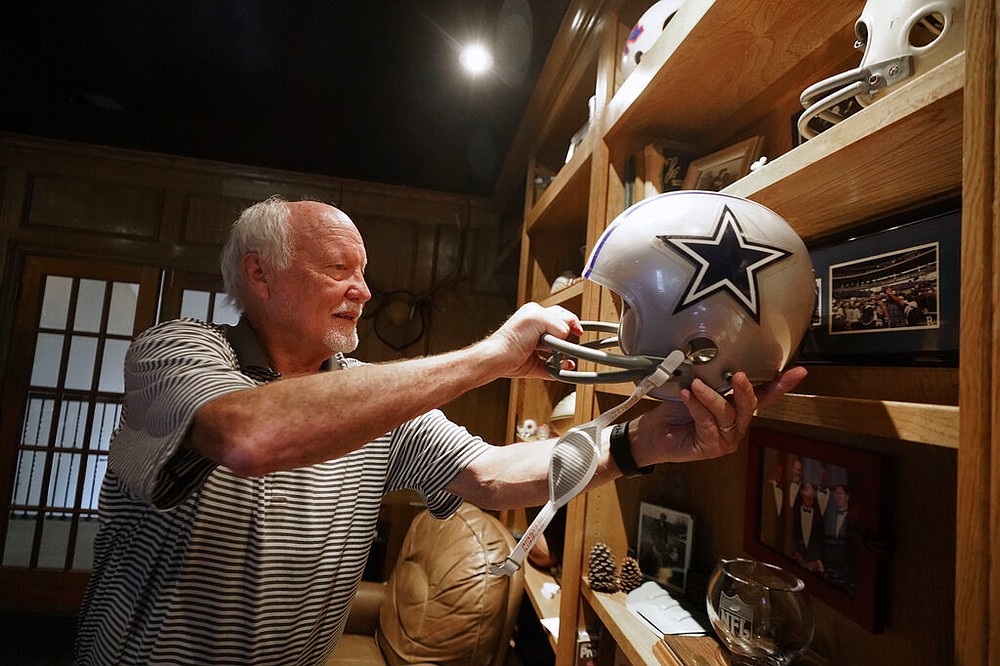 Former Dallas Cowboys and NFL football great Cliff Harris pulls out the helmet he wore during his playing days during an interview at his home in North Dallas, Wednesday, June 30, 2021. (AP Photo/LM Otero)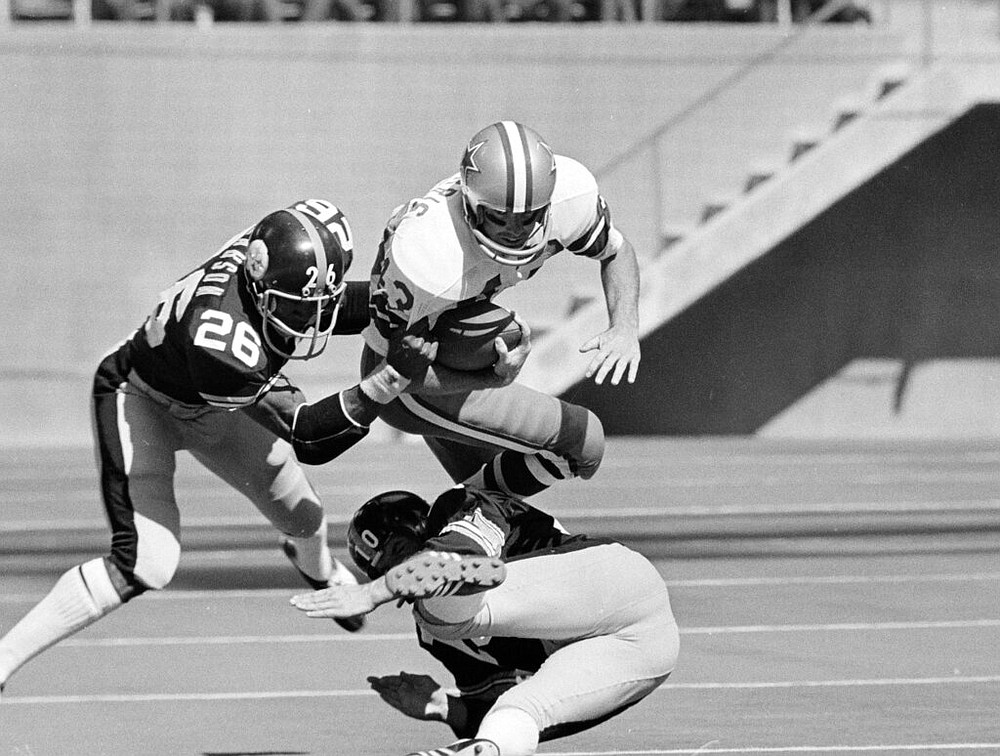 File-This Oct. 8, 1972, file photo shows Dallas Cowboys safety Cliff Harris (43) making a 45-yard return on a second quarter punt Oct. 8, 1972 in Irving, Texas, before being brought down by Steelers' Preston Pearson (26) and Roy Gerela (10). (AP Photo/File)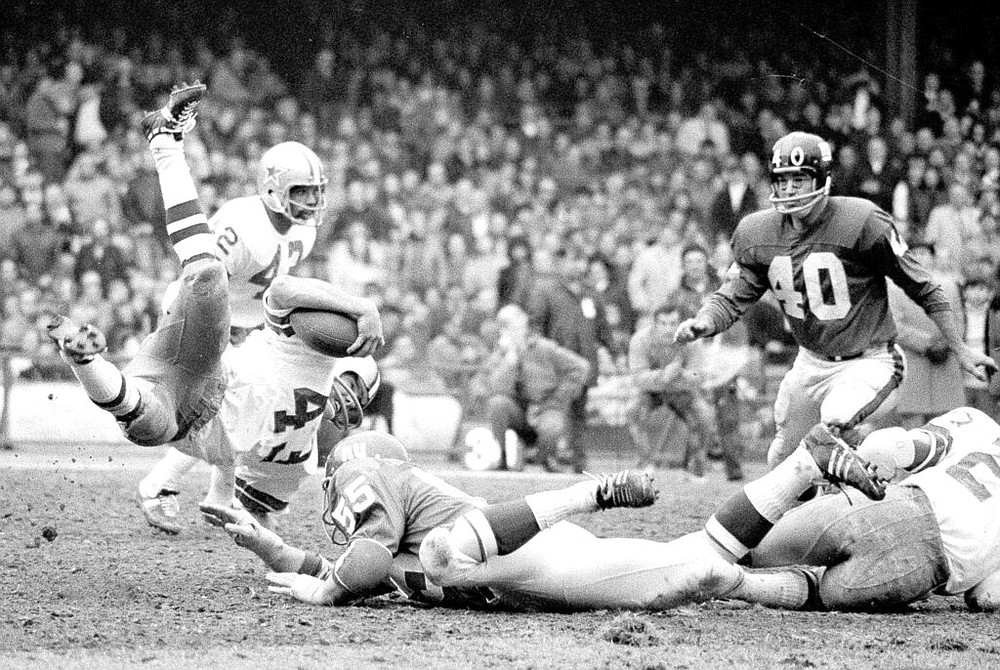 FILE - In this Dec. 12, 1971, file photo, Dallas Cowboys' Cliff Harris (43) is upended by New York Giants' Ralph Heck (55) during a punt return in he second quarter of an NFL football game in New York. (AP Photo/Ray Stubblebine, File)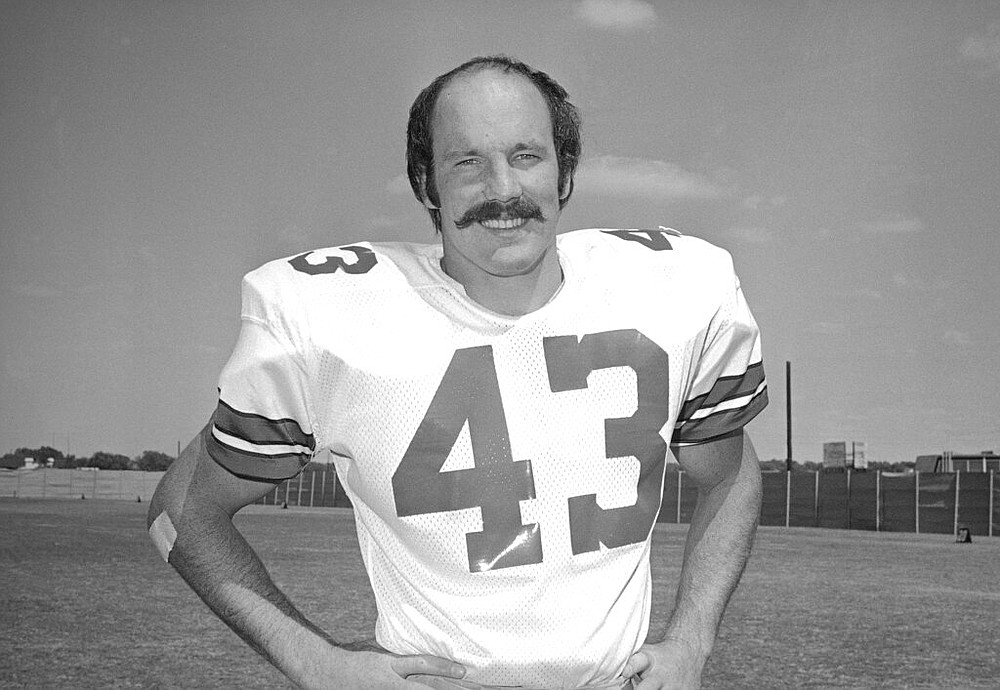 FILE - In this September 1975 file photo, Dallas Cowboys safety Cliff Harris poses for a photo, location not known. (AP Photo, File)