A parking inventory included in the Downtown Hot Springs Parking, Pedestrian and Bicycle Enhancement Plan the Hot Springs Board of Directors adopted in 2016 listed 339 free spaces downtown, with the Exchange Street Parking Plaza's 245 spaces representing most of the free parking.
Monetizing those spaces has been under consideration for a number of years, an endeavor the board has made one of its top priorities in 2022 as part of an overarching parking plan the city hopes to develop for the downtown business district.
Video not playing? Click here https://www.youtube.com/embed/D-LGbrZDcxo
The consent agenda of the board's Tuesday night business meeting includes a resolution appropriating $100,000 from the general fund to hire a contractor that would help the city write a solicitation for a parking service provider and evaluate proposals generated by the solicitation.
The city would issue a request for qualifications from contractors capable of helping it write a request for proposals and evaluate the submissions.
The $100,000 comes from funds set aside in 2017. That year's paving budget was funded from the city's $7.3 million population-based share of the $54.6 million road bond issue Garland County voters approved during a June 2016 special election. The allocation allowed almost $1 million that had been earmarked for paving to be repurposed for parking improvements.
"You're going to have to have a vendor that has multiple ways to charge for parking -- kiosks, pay by space, license plate readers," Deputy City Manager Lance Spicer told the board at its 2022 goal setting/budget priorities work session last month. "There's lots of them out there. It's picking the perfect one for the setting you have.
"Finding a vendor is not going to be difficult. It's going to be finding a vendor that is able to work with what we have to offer. You're only going to get that if you have a good RFP that specifically says this is what we want to see as an end goal."
A paid parking system proceeds from a recommendation from the Downtown Business District Parking Advisory Committee the board formed in 2019.
"We have to go back to the paid parking," City Manager Bill Burrough told the board last month. "I went to Nashville this past month. I was there five days and spent $200 on parking. Not saying we have to have that, but we do have to have some consistent parking fees to where we could obligate those to be able to build a new parking deck. We could pass a revenue bond if we had the revenue."
Burrough told the board he planned to ask for a midyear budget adjustment paying for a cost estimate for a parking structure at Hill Wheatley Plaza. It was thought that the Hot Springs Creek tunnel underneath the plaza made building a parking structure on the site infeasible, but Burrough said it could be engineered to make allowances for the tunnel.
"We didn't think we could build one there, but there is a way to do that by cantilevering over that," he said. "We don't know what it would cost to do that. I do think we'd be wise in bringing in an engineer to tell us what it would cost to build a parking deck. We don't know how much it's going to be."
Burrough said a paid parking system could direct drivers to open spaces via a cellphone app and collect payments electronically, generating revenue that could secure debt to finance the construction of a parking structure.
"The combined attractions of the national park and Bathhouse Row, together with the many fine businesses and restaurants, have and will continue to place pressure on parking infrastructure," the city said in its request for board action. "Investments in new facilities, infrastructure and parking management will help provide long-range prosperity for the city and its residents."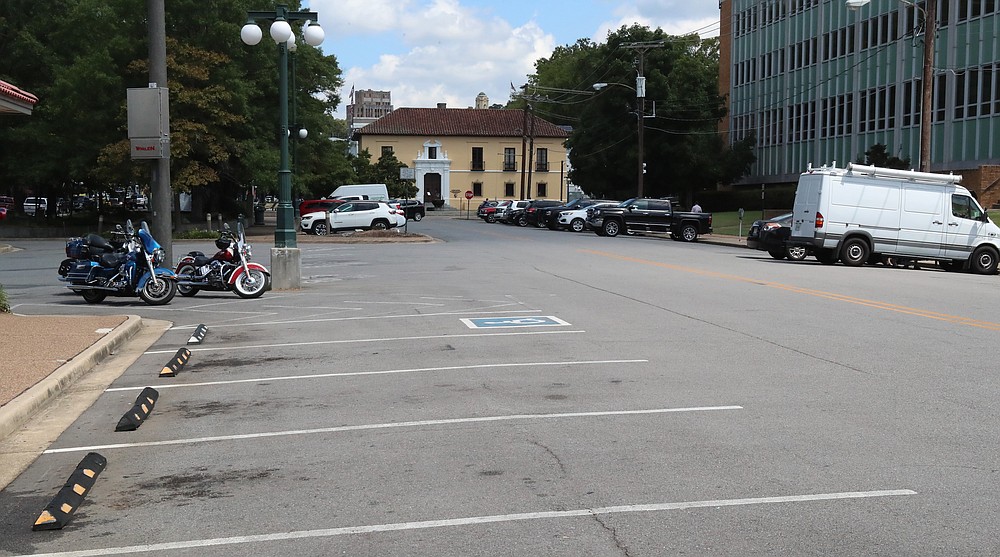 The city plans to seek a cost estimate for a parking structure at Hill Wheatley Plaza. - Photo by Richard Rasmussen of The Sentinel-Record