After being closed for nearly six months, The Ohio Club will reopen at 11 a.m. today with a new and improved kitchen and a prep room.
The restaurant's kitchen was damaged by falling rocks on Feb. 26 following a record-breaking winter storm.
"It was when the snow had melted, we had just gotten back from the snowstorm. We were closed a few days during that," Michael Dampier, the Ohio's kitchen general manager, said.
"The back wall, the foundation, was damaged. One of our freezers was damaged, some equipment was damaged. We went behind the building and noticed about an 8- to 10-foot long block of concrete and brick had slid several feet down the mountain and caused a minor landslide and caused the kitchen to be closed," Dampier said.
"When I walked in, I got a sick feeling in my stomach. Just everything, just, it was very depressing," he said.
Video not playing? Click here https://www.youtube.com/embed/H80_0Y0mCyM
"You're looking at close to a quarter of a million dollars of rebuild and construction, demo, excavation. They hauled approximately 17 dump truck loads of dirt, brick and block out of here by hand, mostly wheelbarrow then a walk-behind little dump truck," Dampier said.
Reopening took "a little longer than anticipated" due to delays caused by COVID-19, he said, noting, "We had hoped to been open back in May, June for sure, and here we are in August."
Dampier said owner Mike Pettey "always dreamed of having a bigger kitchen."
The previous kitchen "just had one fryer, a flattop grill, that's about it," Dampier said. "Now we've got a 16-foot vent-A- hood instead of a 6 foot, we have a 36 inch chargrill plus an 18-inch flattop, 24-inch flat top, a double fryer. Now we have a stovetop and oven."
Dampier said he decided to get a chargrill after having "used flattops for years."
The kitchen also now has "a real dishwasher," he said, noting they have "never had one of these before."
"It's little things we get excited about like a dishwasher," Dampier said.
They also built a new prep room in the building.
"Years ago, when I first hired in here, we would kind of prep in the kitchen and then where the loft is now is where our cooler spaces were, and over the years Mr. Petty acquired the next two businesses, the souvenir shop and the hat shop, and we used the storerooms as a prep room for the kitchen," Dampier said.
"With this happening, were able to get everything, as far as The Ohio Club, under one roof all on our property," he said.
With the kitchen expanding, Dampier said they will have to hire several more people to staff it.
"We are going to have to hire more, because before it would be one cook ... a line person, and a fryer person. Now we're going to have to have two cooks, two line people, a full-time person working on the dish, two, three people working in the prep room, and that's per shift," he said.
Dampier noted the restaurant was able to "keep probably 95% of our crew through all of this."
The Ohio Club is also introducing online ordering and will turn the parking spot in front of the restaurant into a takeout temporary parking spot. "That's going to be a to-go, curbside spot," Dampier said.
"Even though, at the beginning, it was kind of a nightmare -- 'Oh my gosh, what are we going to do?' -- it has turned into a blessing," Dampier said.
In the months since the kitchen was damaged, Dampier and his staff have continued to cook, he said, noting they worked at other restaurants and food trucks while their kitchen was rebuilt.
"I probably have cooked in maybe a dozen other kitchens since February, helping out other restaurants that are short-handed, short-staffed," Dampier said, noting some of the restaurants allowed the staff to "cook our food" such as Drip Drop Food Shop and The Trough Ball Grill.
"I even delivered pizzas for Rocky's one Friday night because they were short-handed," Dampier said.
While he was thankful to work in those other kitchens, Dampier said, "I'm so ready to get back in our kitchen doing what we do."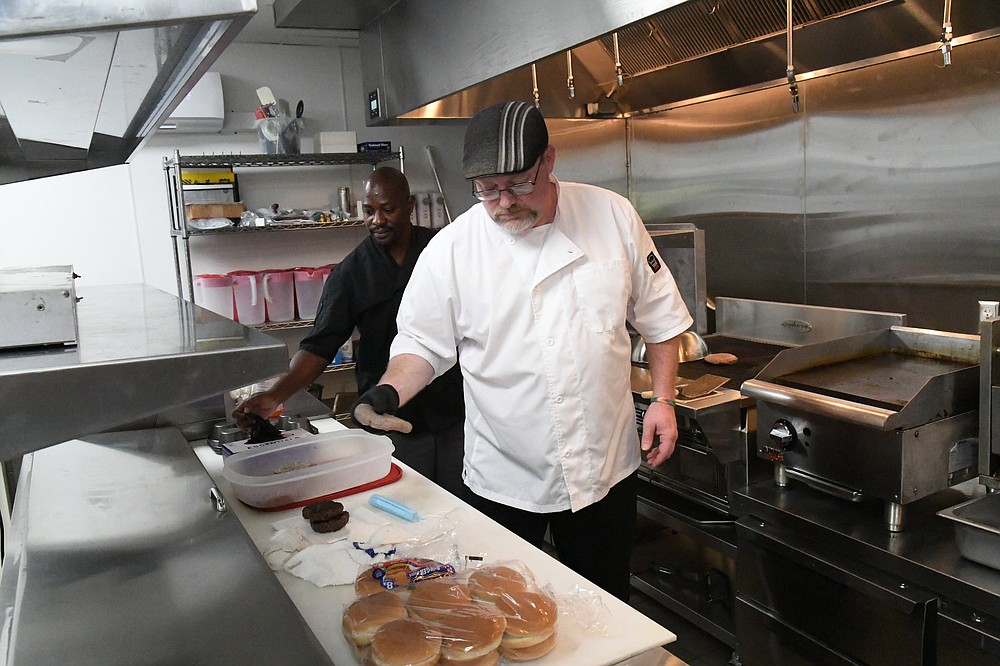 Michael Dampier, Ohio Club kitchen general manager, right, and Adrian Poland, senior head cook, prepare hamburgers in the Ohio Club's new kitchen. - Photo by Tanner Newton of The Sentinel-Record