MOUNTAIN PINE -- After seeing a significant rise in the number of positive cases of COVID-19 among students during its first week of school, the Mountain Pine School District has decided to implement a mask mandate, effective today.
District Superintendent Bobby Applegate said Wednesday that in order to address the high level of quarantines within the district, all students, grades K-12, along with all staff, would be required to wear masks while indoors for the next 30 days until the situation is reevaluated.
Denise Smith, the district's COVID-19 point of contact, said Wednesday morning the district had six new cases of the virus among the students since Sunday and last week, the entire Pee Wee football program, including the cheerleaders, had to be quarantined.
She said there were approximately 125 students quarantined from a positive COVID contact, with many parents keeping their students home, although they're not officially in a quarantine status. Out of the district's approximately 620 students, 27 have enrolled in virtual learning.
Video not playing? Click here https://www.youtube.com/embed/m329NwMCmgg
"We had two cases before school started," she said. "One was a Pee Wee football player and one was a high school football player, so we quarantined the high school football team before school and the Pee Wee teams before school. Since Sunday, though, we had a fourth-grader test positive so we quarantined about 50 in the fourth grade and the Pee Wee cheer team because they all practice together -- and then yesterday I ended up with six new cases of COVID outside of that."
Smith noted a lot of parents are now getting sick, as well.
"Their kids are quarantined with them and then their kids are getting sick," she said. "It's definitely a community-spread situation."
Applegate said the recent uptick is the reason why they decided to implement the mandate. He said the school board voted to give him authority during its last meeting to implement the mandate if and when it became necessary and he realized on Sunday it needed to be done.
"When I came back Monday, I talked to my admin and we, you know ... when you (have) 50 or 60 kids -- that a lot of that could have been taken care of if the kids were wearing a mask -- they wouldn't have to be quarantined. That's when I said, 'OK, we need to start looking at getting the masks.' And after yesterday -- It's time."
The district began quarantining the players and cheerleaders in the Pee Wee football program last week, which Applegate said could have been prevented if people had been wearing masks. This Saturday's scheduled Pee-Wee Jamboree was canceled as a result.
"If any of these people had been wearing masks, a lot of them probably wouldn't have been quarantined," he said. "But the football (players) and cheerleaders are two totally different things, because they don't wear cheerleading masks and they don't wear masks in football. So, you know, that situation's different. But the ones that are coming on now, we're having about six cases of positives that we've had to quarantine some others at the high school and the elementary also."
The district announced the mandate for all staff members the day before, noting in a statement, "Worst case scenario, if cases continue to spiral out of control, we may end up pivoting to online learning for 10 days."
Applegate said it was not the district's intention to move to online learning but that, 'if we don't get a handle on the quarantines, we will be forced to pivot.'
Given the concerns over the pandemic, Applegate said the students are handling it well.
"As for academic-wise, you know, we've had so many quarantined that ... we're trying our best to stay open for school because we feel the kids need to be here to get their best education," he said.
"They need to be on campus. And that's why we're going to do the mask mandate -- so we can start keeping more kids on campus because they need to be here with the teachers. And our teachers feel the same way that I do -- they want their kids here in front of them so they can teach them -- that's the best way that they're going to learn.
"And last year, our teachers did such a great job; you know, they didn't come in and complain about having to be here. They wanted to be here. They felt that's the best thing for our students -- and that they needed to be here and the students need to be here as much as possible," he said.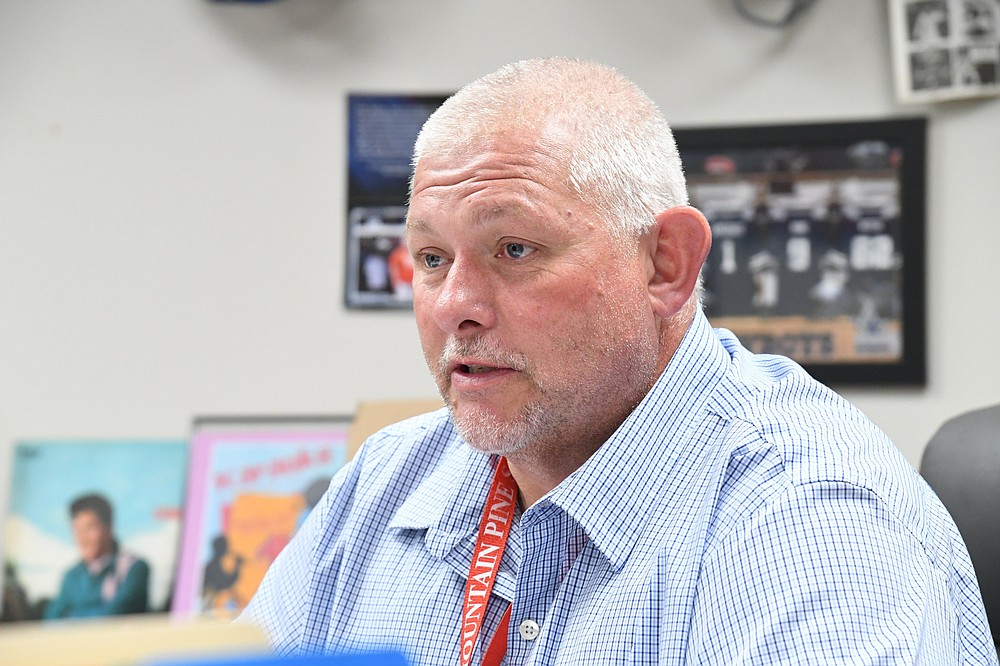 Mountain Pine School District Superintendent Bobby Applegate discusses the number of COVID-19 cases in the district on Wednesday. - Photo by Tanner Newton of The Sentinel-Record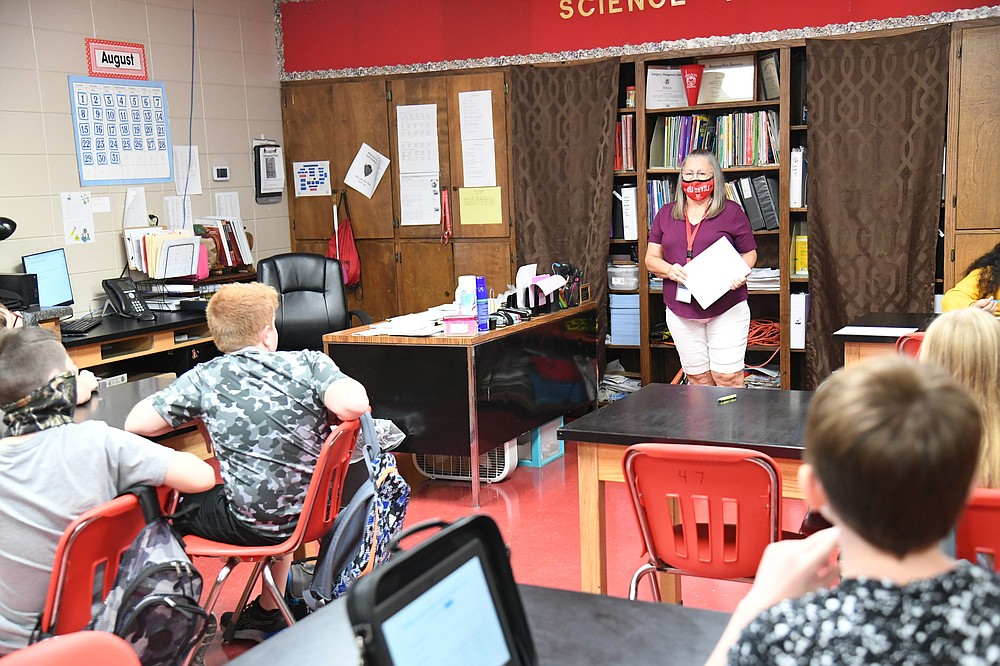 Karen Goff, back, teaches her sixth-grade science class at Mountain Pine on Wednesday. - Photo by Tanner Newton of The Sentinel-Record