Hot Springs Animal Services officials are hoping their Fourth Annual Home for the Holidays adoption event set for Friday night will be as successful as the three previous ones, the shelter's coordinator said Wednesday.
"It's been amazing," Michelle Stone said of the annual event. "Last year, we adopted almost every one of them. With COVID going on, we didn't really open up at nighttime like we had planned, but the two years before that we adopted every single animal we had in the shelter, so it's been quite a success."
The event, which features half-price adoptions, will be held from 6 to 9 p.m. Friday at the shelter, located at 319 Davidson Drive. The adoption fee, $27.50 for cats and $37.50 for dogs, includes spay and neuter, a microchip and rabies vaccination.
The event will also include hot cocoa and cookies and Christmas decorations and Stone said they will have some kind of contest or drawing -- "guess the number of treats in a jar or chocolates, something like that."
Stone said they usually have people who come to the event and "pay it forward," covering the adoption costs for others "so they come in and we can tell them their dog is free." She said some just donate money to help with the animals.


Video not playing? Click here https://www.youtube.com/embed/PgUVAg8U5s4
Deputies from the Garland County Sheriff's Office will be on hand during the event giving out vouchers for $50 off the cost of spaying or neutering for Garland County residents only.
Stone said the cost depends on the veterinarian, but the sheriff's office has "eight or so different veterinarians they work with." She said the deputies also plan to come out earlier in the day Friday to walk some of the dogs and play with them.
The pandemic put a strain on the shelter, she said. "We've received more animals in as a result and it's harder to get them out" and they have been forced to euthanize some animals due to lack of space.
"We would rather get a dog out the front door because you're not just saving one, you're saving two, because that opens up another cage for us to keep one longer," Stone said.
When the pandemic hit, people would bring their animals in "because they couldn't afford the vet bills, couldn't afford food, or they were too sick to take care of them," she said. "We had a lot of surrenders."
She said they also had an increase in strays "where people would just let them go rather than bring them in here because they don't want us to think bad about them. We would rather they bring them in than throw them out on the street because they can't survive out there, but they can in here."
Stone said they hold the animals "anywhere from three weeks to a month and a half, it depends on how many we get in a day. Last Wednesday, we got in 35 in one day. We tell people we get five to 20 animals a day on average."
The shelter's capacity varies depending on if they can house two or more animals together, she said, but they have 37 original kennels and five quarantine kennels, "which are full right now" and their agency assist kennels are also full.
The agency assist animals they keep are "like if the police department pulls somebody over and they get arrested, we hold their animal. We have one we've had since August. We get them from LifeNet, if someone goes to the hospital, we hold their dog for them until they get out of the hospital or find them somewhere else to go. If there's a house fire and there's animals, we take them in."
The shelter's normal hours are noon to 5 p.m. Monday through Friday, although they take calls from 8 a.m. to 5 p.m. Stone said they tried being open on weekends, but "it cost more to have employees here than we made adopting (animals) out."
Stone encouraged potential pet owners to "always think of coming to a shelter before purchasing" one because "shelter animals need a second chance. You walk in here and they look at you and sometimes you just know if it's the right one or not."
She said that sadly, after Christmas, they usually get about 10% of the animals returned. "The kids were out of school, but then school starts back and they realize they can't take care of them. They don't want to potty train them. They start eating up the furniture. Sometimes it takes a while for the animal to get used to the house," she said.
Stones stressed that owning a pet is a "lifelong commitment" for the life of the pet, which could be "at least 15 years."
HSPD Sgt. Chris Adkins, the shelter's director, stressed the importance of microchipping one's pet, noting they offer microchips at the shelter for a $20 donation.
"We pick up a stray and the officer can scan it in the field and contact the owner right away instead of bringing them here where you have to pay a claim fee."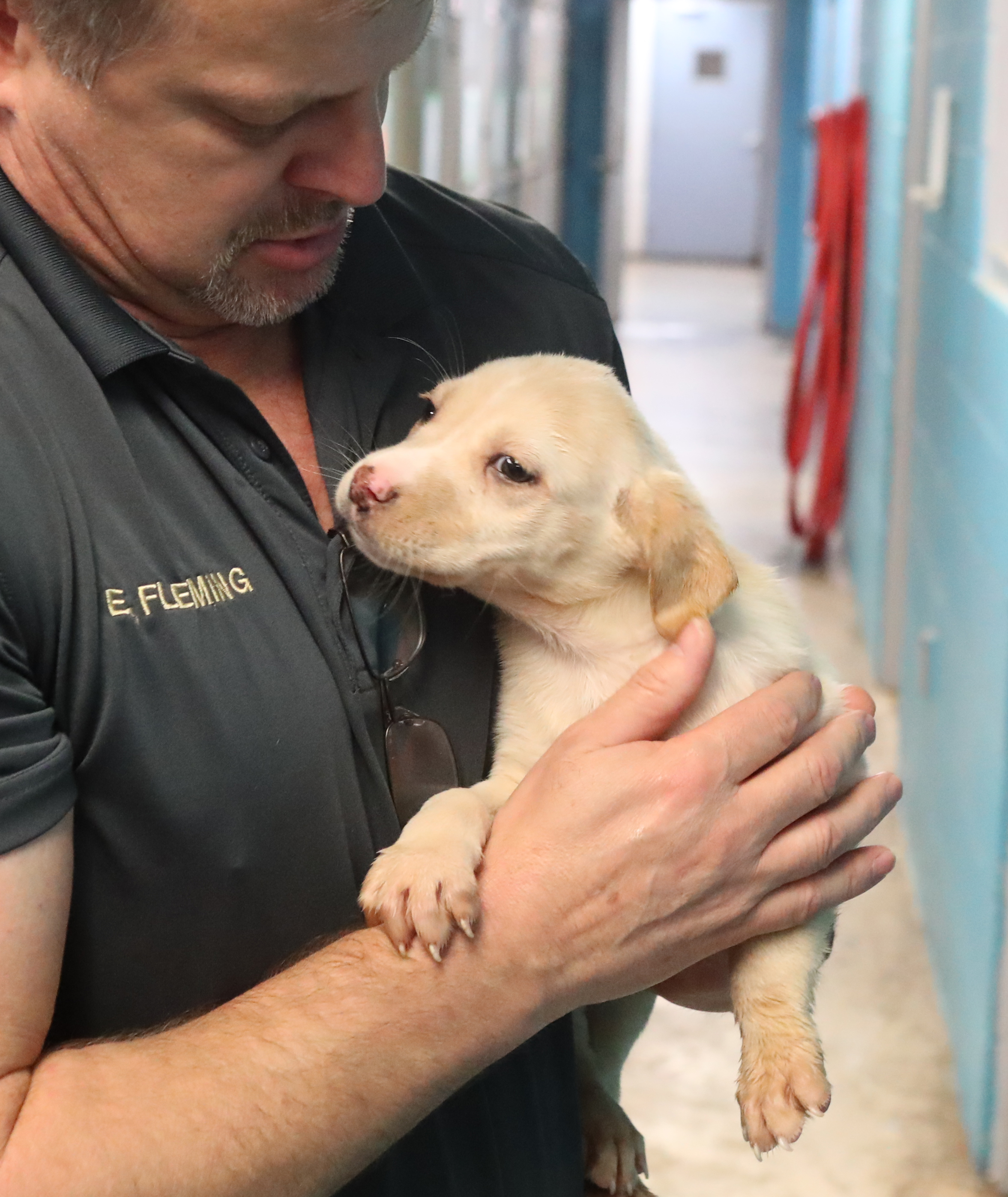 Hot Springs Animal Services employee Eddie Fleming holds one of the dogs Wednesday available for adoption during the shelter's holiday adoption event Friday. - Photo by Richard Rasmussen of The Sentinel-Record