A Hot Springs police officer was able to save a local man and his dog after they both fell through the ice on a neighborhood pond Sunday evening, a police spokesman said Monday.
The man, who was in his 60s, was walking his dog around 6:15 p.m. Sunday in the 100 block of Shale Creek Trail and as they approached a frozen pond near the end of their neighborhood the dog darted out onto the ice and fell through, Cpl. Patrick Langley, the HSPD's public information officer, told The Sentinel-Record Monday.
The man called 911 for help but "he didn't wait" and went out on the ice himself to try to save his dog and also fell through the ice, Langley said.
When Officer Tyler Ward arrived on the scene to help, the man had already reached his dog and was able to push him across the ice toward Ward, who dragged the dog to shore safely, he said.
The man made his way closer to shore and Ward was able to throw one end of his jacket to him "since he didn't have a rope" and pull him up out of the water to shore.
Ward got the man and his dog back to their residence where the man was checked out by LifeNet personnel who had also responded. "He was OK and I don't think he had to be transported," Langley said. "He was just very cold."
The dog was also OK, he said, and didn't require further medical treatment either.
Homeless man staying at shelter dies of medical issue
An unidentified homeless man who was staying at the emergency warming center in First United Methodist Family Life Center became ill and died Sunday night at a local hospital following a suspected asthma attack, city and center officials said Monday.
"We lost one of our homeless individuals last night at the warming center," City Manager Bill Burrough said in a text message Monday. "The gentleman had an asthma attack and paramedics were able to work on him and established a light pulse. Unfortunately, he passed at the hospital."
Warming center coordinator Sally Carder said she thought the man to be in his late 40s, and said he had been at the shelter since it opened Thursday.
"He seemed like a nice guy," Carder said. "We were not as close to this gentleman, as we are to some of our folks. We had not served him as much, and he, of course, was here because of the cold, and seemed to get along with the others well."
The man's name will not be released yet as the city strives to locate his next-of-kin, she said.
"The one thing that I take comfort in is he did not die alone and he was with people who loved and cared about him and he knew that, and he wasn't out in the cold," Carder said.
AVOID TRAVEL, CITY SAYS
The Hot Springs Fire Department and the city of Hot Springs are requesting that all nonessential workers avoid travel and, if possible, stay home until road conditions improve.
"The ongoing winter storm is causing motorists to be in danger due to cold, icy conditions and drifting snow that is causing motorist difficulty during travel," Hot Springs Fire Chief Ed Davis said in an email.
CITY OFFICES CLOSE
The city of Hot Springs offices, including Solid Waste and Intracity Transit services, will be closed today.
Only the dialysis services will run in Intracity Transit.
Solid Waste residential customers are asked to place solid waste containers along the street on their normal route collection day, regardless of the weather conditions. If they are unable to pick up on normal route days, they will collect as soon as possible, weather permitting.
The Hot Springs Fire and Police departments will remain open, as well as the Water and Wastewater treatment plants. The 24-hour emergency on-call number for water and sewer problems is 501-321-6200.
ORIGINAL ARTICLE
The winter storm warning for Garland County and other areas of western and southern Arkansas was extended until 6 p.m. today as sleet and snow moved through the area on Sunday.
In addition to the wintry precipitation, bitterly cold arctic temperatures remained a concern, with the high today only in the low 20s and a forecast low of 4 degrees by Tuesday morning.
A wind chill advisory remains in effect until 9 a.m. Tuesday, with wind chill values from zero to 10 below zero at times through Tuesday morning, the National Weather Service said Sunday afternoon.
A wind chill advisory means that very cold air and strong winds will combine to generate low wind chills. This will result in frostbite and lead to hypothermia if precautions are not taken, the NWS advisory said.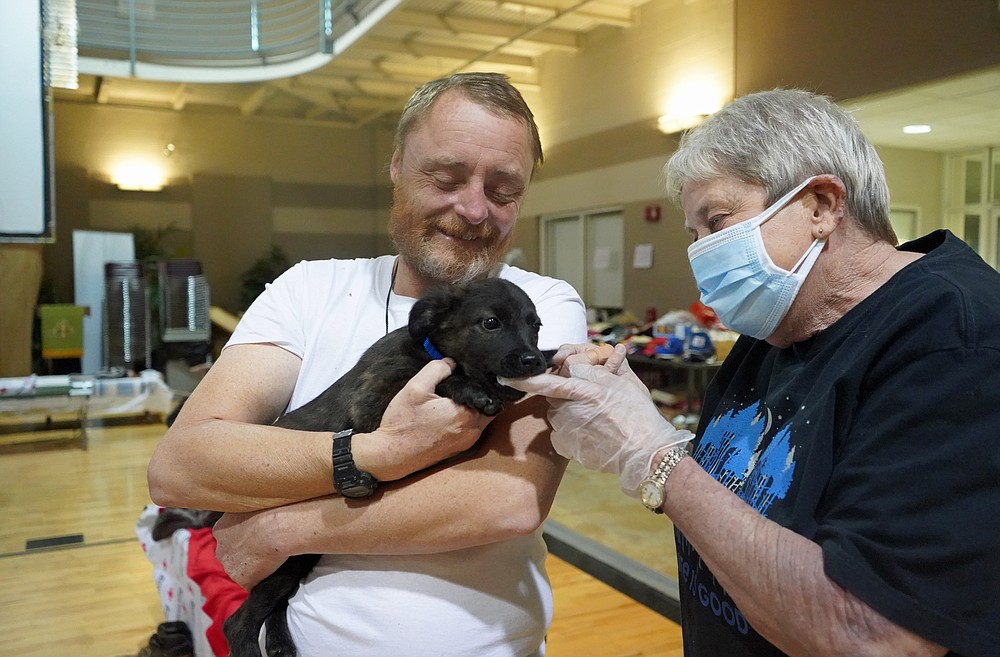 Thomas Ford, left, and Sally Carder play with Ford's dog, Tammy, in the warming center set up in First United Methodist Church Family Life Center on Sunday, Feb. 14. - Photo by Cassidy Kendall of The Sentinel-Record
The NWS also updated its snowfall forecast on Sunday afternoon, saying Garland County could expect from 4-6 inches of snow accumulations Sunday and Monday.
The emergency warming center set up in First United Methodist Church Family Life Center, 1100 Central Ave., will now be open through Saturday morning, Sally Carder, outreach coordinator with St. Luke's Episcopal Church, said.
With the extended stay, they are asking for financial donations to purchase supplies and for volunteers who can get to the center safely in the weather.
Volunteers and monetary donations are needed and are being managed through stlukeshs.org.
Space is currently tight, with more homeless utilizing the center as the weather worsens, but Carder said they will be there to help anyone, and will not be turning anyone away.
In anticipation of high heating demand in response to the extremely cold temperatures, CenterPoint Energy on Sunday asked its Arkansas customers to temporarily lower their thermostat settings to help conserve natural gas.
The utility said in a news release it serves about 400,000 residential and business customers in Arkansas.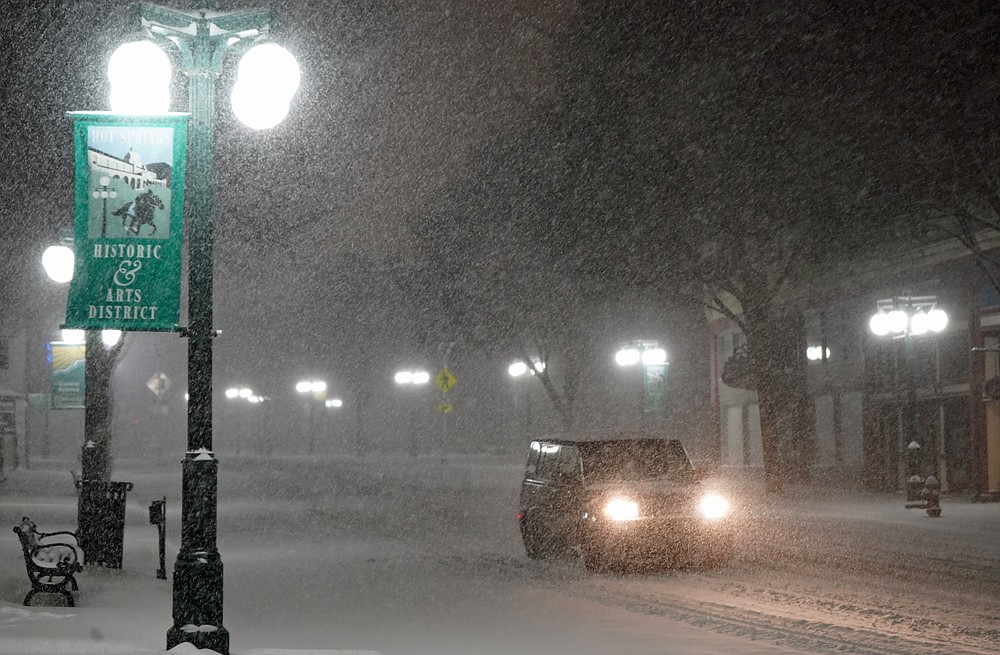 A lone car makes its way down Central Avenue in downtown Hot Springs Sunday night during a steady snowfall. - Photo by Cassidy Kendall of The Sentinel-Record
CenterPoint Energy asked its customers, if possible, to reduce their thermostat settings to 60-65 degrees during the day when at home -- and lower the setting an additional 5-10 degrees when asleep or away from home -- through Thursday.
"This step can help ensure that all customers continue to have gas service to stay safe and warm during the intensely cold weather," the release said.
If a customer experiences a loss of gas service, they should contact the utility at 800-992-7552.
"CenterPoint Energy apologizes for any inconvenience and thanks its customers for all their energy conservation efforts at this challenging time," the release said.
The utility offered these additional energy-saving tips for customers:
• Lower the temperature setting on water heaters and limit use of hot water.
• Open blinds and shades to take advantage of the sun's natural heat during the day.
• Close shades and blinds at night to reduce heat loss through windows.
• Check the CenterPoint Energy website for many more energy-saving tips.
CenterPoint Energy also offered a safety reminder in case of a suspected gas leak: If the "rotten egg" odor of natural gas is detected inside or near a home, leave the area immediately on foot and don't turn any electrical devices on or off, don't use a garage door opener and never use any phone until outside and away. When at a safe distance, report the potential leak by calling both 911 and CenterPoint Energy's 24-hour hotline for Arkansas at 800-992-7552.
Also Sunday, Garvan Woodland Gardens announced on its Facebook page that the botanical garden and its offices would be closed today and Tuesday "due to inclement weather conditions and dangerously low temperatures."