Outdoor writer and photographer Corbet Deary is featured regularly in The Sentinel-Record. Today, Deary takes readers on a journey to Rick Evans Grandview Prairie Conservation Education Center.
Although naturally drawn to mountainous terrain, I occasionally happen upon destinations in the plains of southern and eastern Arkansas that are equally as intriguing as the Ouachita and Ozark mountains.
One day last week, my friend, Kenny Talbert, and I struck out to one such location. Situated in Hempstead County, near Columbus, the Rick Evans Grandview Prairie Conservation Education Center is a location I happened upon several years ago.
I have since returned to get better acquainted with this particular destination several times since my initial visit. However, this would prove my first opportunity to experience what it had to offer in a wintertime setting.
The Rick Evans Grandview Prairie consists of 4,885 acres of Blackland Prairie, and was purchased by the Arkansas Game and Fish Commission in 1997.
The agency recognized the property's rich history and the importance of its resources. Their goal was to improve, protect and restore the habitat while utilizing the grounds as a means of educating Joe Public about the importance of conservation.
Video not playing? Click here https://www.youtube.com/embed/NeC7d7SrSYE
As for its history, the Native Americans called these lands home long before they were referred to as the Grandview. Archaeological finds suggest that the Caddo tribe depended upon the fertile soils and bountiful habitat to sustain their communities.
But studies have uncovered evidence of an era far more primitive than that of Native Indians. In fact, fossil remains have been located within the perimeters of the property lines, some of which are believed to be those of marine life dating back millions of years.
That being said, let's meander forward a few million years, to the time frame after the land was inhabited by American Indians, and when the Grandview Plantation acquired its name.
The land was noted for producing valuable crops and livestock, as well as providing an optimal habitat for wildlife to thrive. In fact, the area was utilized as a cattle farm during more recent times.
The landowner also took advantage of the bountiful environment, opening a private hunting and fishing business. Clients often hunted whitetails. However, hunting enthusiasts also showed up to pursue pen-reared game birds, both native and nonnative.
Fishing enthusiasts also found value in the property, as the small reservoirs were known to produce trophy bass.
Although the cattle farming and the aforementioned outdoor activities likely proved lucrative, the practices were not necessarily friendly to the native environment. In fact, overgrazing was common. And nonnative vegetation was introduced to the property.
The AGFC began managing "Grandview" upon their purchase, and is still focused on the preservation of the native habitat. The Grandview Prairie sported an impressive whitetail herd at the time of purchase. A small flock of turkeys frequented the grounds, the quail population was sparse and other native game species could be found going about their everyday rituals, as well.
Rick Evans Grand View Prairie currently provides a habitat where an array of native critters can thrive. Of course, deer, turkey, squirrels, rabbits and other game-animals can be found browsing. But many nongame species call the property home, as well.
The open fields provide optimal hunting grounds for predators, including birds of prey. Songbirds have ample cover and food sources and insects do not lack in their needed environment.
Let's not forget about reptiles and amphibians. The two watershed lakes within the perimeters of her property lines provide a perfect habitat for snakes, turtles and lizards to thrive. And a variety of migratory waterfowl has been known to stop in, as well.
These reliable water sources, also provide the needed habitat for fish to thrive. In fact, some local anglers gravitate toward these waters to fish for largemouth bass, bream, crappie, and channel catfish.
Hunting is also allowed on the property. However, one should be aware that they must follow rules and regulations that are specific to that facility.
Those who are interested in shooting for sport might also find the facility of interest, as an impressive shotgun range is on-site. In fact, the range provides skeet or sporting clays for a nominal fee.
The range is open Monday through Saturday from 8:30 a.m. until 4 p.m., by appointment only. And those planning to utilize the facility on Saturdays must make their appointments by closing time on Friday.
A 3-D archery range is also located a the Rick Evans Grandview Prairie. Archery enthusiasts will be privy to clean, maintained paths leading them to 25 different targets situated in various terrains. Use of the range is free of charge.
Rick Evans Grandview Prairie also provides hiking enthusiasts with an opportunity to get out and stretch their legs. From the trailhead, one will strike out along a mowed path into a prairie setting.
Although not necessarily colorful during the winter season, one is apt to find a plethora of wildflowers making a showing during the spring and summer seasons.
The trail will make its way alongside a small pond, lending to an opportunity to quietly watch for native wildlife utilizing the consistent water source. The 1-mile loop then makes its way to an intersection to yet another lop that will double the length of the walk.
There are also three primitive campsites situated in close proximity of the beaten path, all of which are accessible via short spur trails. The route eventually ties back in with the original loop.
One can simply take a right at the intersection at the completion of the second loop, and the designated path will meander alongside yet another pond. This is yet another spot where one might consider remaining perfectly still and silent, with hopes of watching unsuspecting wildlife visiting the water's edge.
The trail will continue past the pond and will eventually lead back to the trailhead, where the easy and level trek began.
Now let's address what is perhaps the most important aspect of the entire facility. That's right, I'm referring to the education center. Of course, folks of all ages have the opportunity to increase their knowledge, as several interpretive signs are situated alongside the road and overlooking large sections of land.
But I am most excited that the facility hosts literally thousands of school children on an annual basis. They offer programs pertaining to the area's culture, its natural resources and rich history.
Two structures are located on-site that are designed to accommodate overnight visitors, and special programs are offered by reservation. Self-guided tours are always available and groups are welcomed to call ahead and take advantage of the facility.
The Rick Evan Grandview Prairie Conservation Education Center is truly a jewel nestled in Southwest Arkansas. And it is a destination where I anticipate visiting again in the near future.
To get to the facility from Hot Springs, travel south on Highway 7 south for approximately 26 miles and merge onto Interstate 30 west, toward Texarkana. Go 47 miles and take Exit 30 onto Highway 278, toward Nashville. Travel four-tenths of a mile and turn right onto North Hervey Street. Go 1.6 miles and take a left onto Highway 73. Travel 13 miles and turn right onto County Road 35 north. Go 1.6 miles, turn right and the destination will be on the left.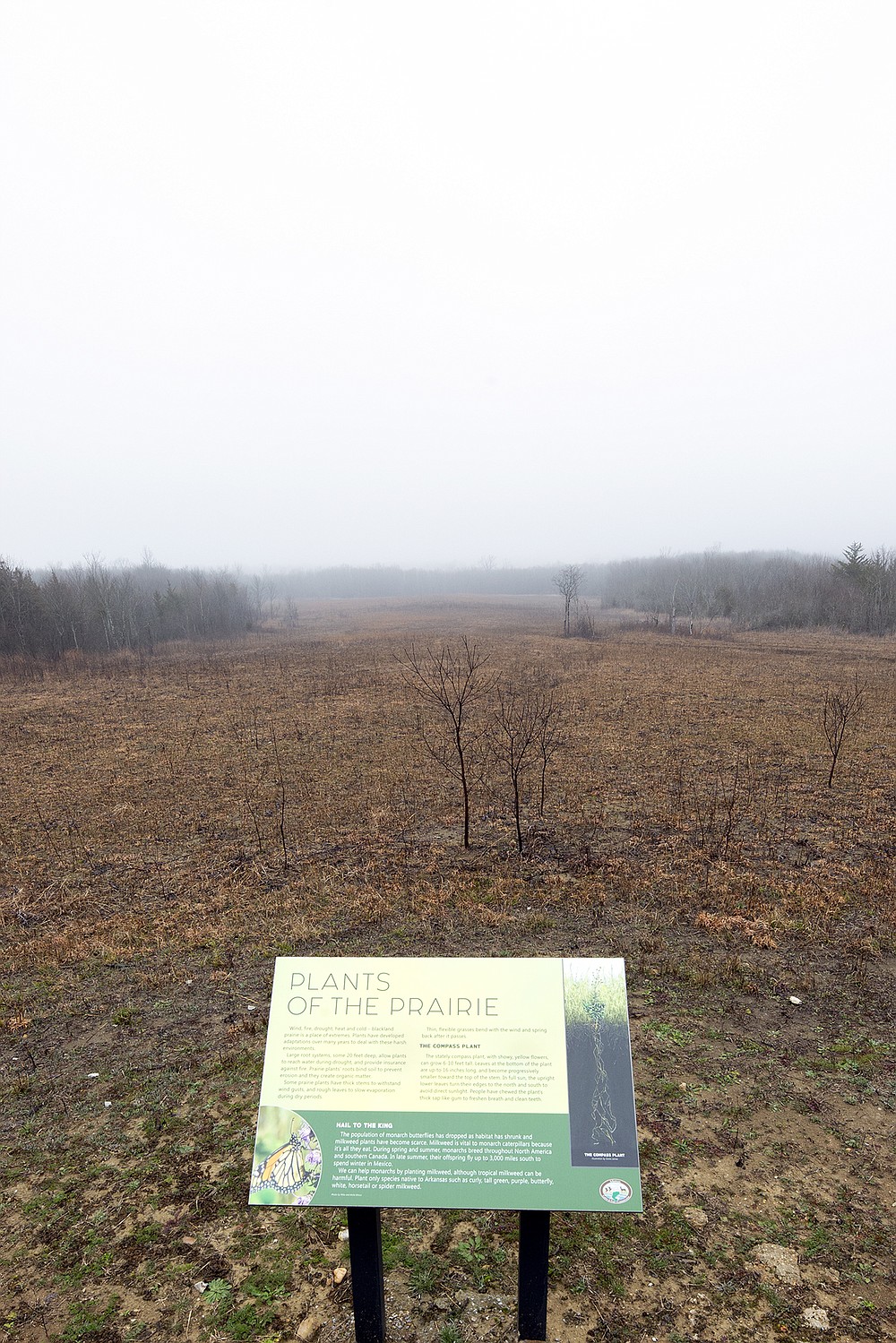 Several interpretive signs are posted alongside the road meandering through the Rick Evans Grandview Prairie Conservation Education Center. - Photo by Corbet Deary of The Sentinel-Record