While last week's snowstorms caused problems for many, one local photographer saw it as a wish fulfilled.
March 4 marks the 100th anniversary of Hot Springs National Park being a national park. To celebrate, photographer Eli Vega has spent almost a year walking around the park, capturing photos for a project where he hoped to show the park in each season.
In January, he told The Sentinel-Record he was disappointed there had been no snow, preventing him from having winter shots for the project.
Vega said he "just jumped for joy," when he saw the forecast, noting he was hoping for snow not just for his art.
"I'm from Colorado, I've been missing the snow," he said. "I heard it was going to snow. I thought 'Oh yeah.'"
Having photographed Colorado's Rocky Mountain National Park, Vega said he knows how to film in cold weather.
"I just put on my gear -- extra layers, ski pants," he said, and used "special tools in my equipment to capture all the snow falling down."
Due to the weather, Vega wasn't able to make it far into the park. "All roads to the park are closed," he said, but he was able to walk down Bathhouse Row, the Grand Promenade and Whittington Park to get his winter photos.
"As long as it's in the park," he said.
Vega got out and took photographs on Tuesday and Wednesday, spending about two hours in the elements both days. He said that there were some other people out on Tuesday, but not Wednesday, noting, "I only saw one other person walking in two hours."
The lack of people getting out in the snow could lead to Vega getting another photo before the snow melts. He said he intends to try to get to the park sign at the intersection of Prospect Avenue and West Mountain Drive and would like to get a "shot of the road covered in snow" with no footprints.
"I want people to see the national park in all four seasons," Vega said.
Over 2020, he was able to get pictures showing spring colors, the green of summer and fall colors, "and now winter shots, so people will be able to what the park looks like in all four seasons," he said.
Prior to the storm, Vega said he had come to terms with the project not going like he envisioned it.
"OK, well, I'll just do the best I can ... boom, here's the magic," he said.
Vega has selected four photos from the two days of shooting that will be added to the project which has 100 photos, and they will be shown on a slideshow on the Garland County Library's Facebook page at 6 p.m. on March 4.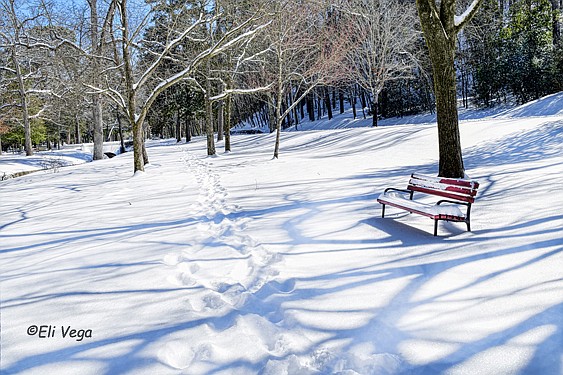 A bench in Hot Springs National Park is covered in snow. Photograph is courtesy of Eli Vega. - Submitted photo