Local artists lacking the space or equipment to create their artwork can now have access to Emergent Arts' studios via a new membership program around the clock.
Kara Gunter, gallery and studio manager at Emergent Arts, said that they have wanted to launch this program for several years, but had not had the time to do so until the COVID-19 pandemic hit.
"We've been looking into it for a while," Gunter said.
Executive Director Erin Holliday said that she has wanted to do this for the past two years, but they did not have the ability to move forward. Finding the time to get the studios ready was an issue.
"Firstly, the time. When we had classes and summer camps, we didn't have the manpower," she said.
"During the pandemic, we didn't have people in here, and we took advantage of that."
Members will have 24/7 access to the various studios in the building. A news release says that members will have access to "a well-appointed black and white darkroom; printmaking station; fiber studio with sewing machines and other tools and equipment; a ceramics studio with kilns and electric wheels; a glass kiln, a jewelry and metals (or 3D) studio, with a jeweler's bench and torch; and the wood shop is in the process of organization."
The program, Holliday said, will be a good resource for artists who learned ceramics in college but do not have the funds to purchase the equipment necessary to continue in that art.
"A lot of people took art in college but don't have (kilns and electric wheels, things they) will never be able to afford," she said.
The program will also be of use for artists who need space and not equipment. Holliday said painters "can do large-scale paintings in the dance studio."
"Some people are really just looking for a place to not have to use their kitchen table," she said.
Holliday also said that less-experienced artists will be able to use the equipment, too. "If someone comes in and they have no experience for ceramics, we can teach them on how to use kilns and wheels, and we offer classes," she said.
Another positive of the program, Holliday said, is that the art created in the studios can create income for the artists.
"We don't take any commission of work made here," Holliday said.
The building has a keypad, and members will be able to unlock the doors with it. "People can come in 24/7, but there will be some rules on number of people in small studios," Gunter said.
Holliday added that the program is only for adults.
"There will be options in the future to give younger artists, but 24/7 (access) is adults only," she said.
Gunter and Holliday said that much of the equipment in the studios was donated by people including Bob Shaw, Beverly Buis, Barbara Munro, Barbara Turner and Rob Saettele, among others.
Memberships are $30 a month, or members can pay $150 for half a year or $250 for a full year.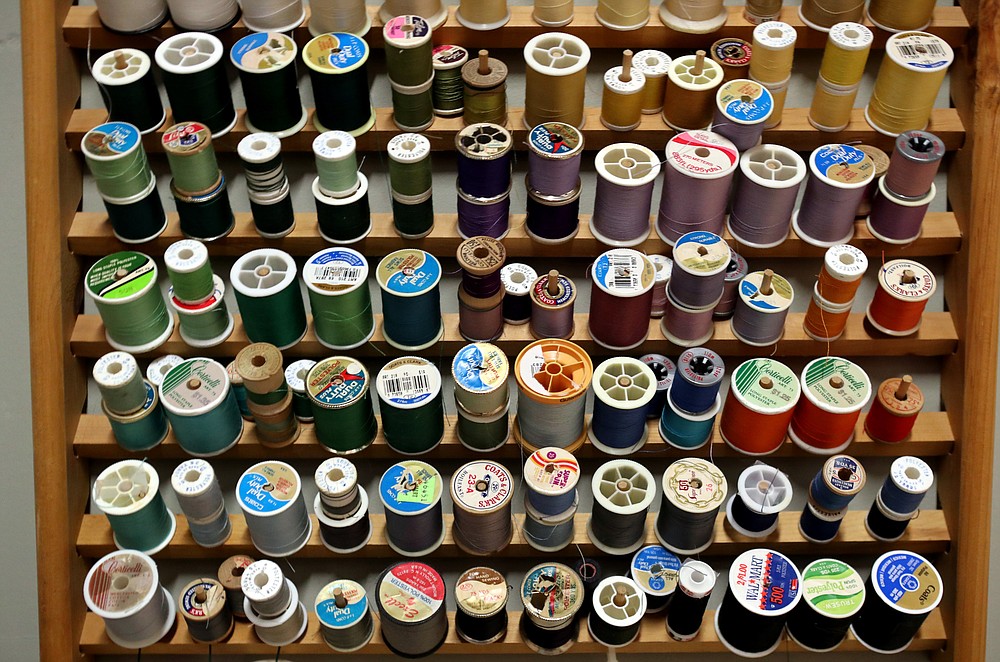 Spools of thread are stocked at Emergent Arts, which will be accessible around the clock to members. - Photo by Richard Rasmussen of The Sentinel-Record