A local sporting goods manufacturing company that weathered the pandemic by supplementing its traditional products with face masks geared toward the needs of athletes has continued to thrive and even been recognized nationally for the high quality of its masks.
Tanners Team Sports, which also manages the in-house brand Vulcan Sporting Goods Co., at 736 Mid-America Blvd., developed and began selling face masks after the coronavirus abruptly ended the spring baseball season, Vince Signorelli, the company's CEO, said.
"Initially we introduced three styles of masks, as masks were viewed as a functional necessity," he said, and their masks were tested and proven to exceed the Centers for Disease Control and Prevention recommendations for protection.
"Very quickly the demand for fashionable masks and more choices grew," Signorelli said, noting they now have about 50 different mask models, in ear loop, head loop, and "gaiters," which is a neck scarf style the Major League Baseball players made popular.
"It's a more macho look, great for skiers and cold weather. The MLB pros adopted the look because it's cool when pulled down around your neck so the kids like it," he said.
Vulcan's masks come in a wide variety of colors "all made with our luxurious performance materials so they are popular among athletes and anyone who seeks protection but also wants comfort and breathability," he said.
"Of course we make our masks under a variety of brands with co-branding relationships, and we make custom masks for all kinds of organizations everywhere, including businesses, government, and all kinds of affinity groups, ordered not just from our normal customers but from organizations outside of our usual distribution channels who hear about how nice they are."
Signorelli said they chose "not to dabble" in any licensing deals to feature sports logos, Disney characters, superheroes, or other "cute designs," noting, "We chose to stay more serious, more reflective of our brand sensibilities which is to serve athletes, rather than becoming exploitive with the mask demand."
A recent GQ magazine article profiling its choices for the top five masks for serious athletes included Vulcan's offerings.
"That recognition is the sort of accolade for which we are proud," he said. "In the limited ways that I've had to travel this year, it's remarkable when I see someone wearing our mask in an airport or at a hotel on the West Coast or East Coast. Seeing that is amazing to me and enormously fulfilling."
The fact Gov. Asa Hutchinson personally ordered custom masks from Vulcan for the press corps who attended his 100th daily briefing was "pretty cool," Signorelli said, while making masks for the state of Arkansas, Visit Hot Springs, Garvan Woodland Gardens, the University of Arkansas, and other high-profile groups in the state "is so rewarding."
Asked how many masks Vulcan has sold, he said he "can't publicly reveal specific mask sales numbers, but internally we are in awe and when I do privately mention the numbers to anybody, let's just say their jaw drops in amazement."
For the company, known for its baseball and pickleball products, the switch to making masks "has been such a blessing for our business and our staff. The incredible demand forced us all to work very hard which distracted us from the bad things going on in the world and kept our spirits high," Signorelli said.
"Just trying to keep up with the ironically overwhelming demand kept us laughing and grateful. We are selling masks all over the country and through our international distribution channels as well. And when we partnered with Rawlings on a co-branded line of masks, sales went through the roof as Rawlings unleashed its very powerful distribution assets. Just keeping up with Amazon demand is a trick," he said.
Throughout 2020, the mask has been among the top 20 bestselling items in the company's entire baseball category.
"I'm not going to say that our mask enterprise saved our business, but it contributed substantially in terms of mitigating losses. The program allowed Tanners to not have to reduce salary pay, and the extra revenue stream allowed us to close out the 2020 year profitably. It is nothing short of miraculous that we didn't lose money in 2020 and we have our masks to thank for that," he said.
In May, baseball was "essentially shut down" and Tanners found itself "a baseball company without spring baseball," he said, noting the second quarter of 2020 was the most damaging in terms of losses forcing them to furlough eight production staff workers while managing to retain everyone else "as we navigated our business through these unknown waters."
He said they worked with their stakeholders and advisers, applied for all the government relief they could to stabilize cash flow and worked closely with their main partner, Rawlings, "to mirror their survival strategies."
Now their business is "back full-on" and they are refilling the eight furloughed positions. In the summertime, baseball "slowly began to return," first with home equipment then youth and recreational activities began to reopen which resulted in an unprecedented third-quarter demand for equipment.
"While we supply all of the MLB teams, these relationships are largely promotional or providing them with tools-of-the-trade for equipment makers instead of a meaningful revenue source," he said. "But MLB creates the underlying promotion and popularity of baseball so their getting back to the field is so important symbolically."
Signorelli said he was personally disappointed the MLB owners and players union did not agree on a return-to-play agreement more quickly, noting, "I think MLB missed a big opportunity to be the first pro sport to return which could have been uplifting for Americans and advanced the popularity of baseball in our hearts as 'America's pastime.'
"To be more blunt, I think MLB rather blew it by being so late to return to play," he said.
The company's Vulcan brand, which offers pickleball products, had soft second quarter sales, but they were not dramatically reduced "since pickleball is most popular when played outdoors during warm weather and players are so enthusiastic that they found ways to keep playing," he said.
Spring tournaments and events were canceled, and most venues to play were closed for a time, but "a very interesting dynamic occurred with enthusiasts playing at home safely, in their garages, on the patio or driveway, and even on neighborhood streets. Cul-de-sac pickleball blew up so the demand for our nets which range from $100 to $200 exploded overnight," he said.
"We sold out six months' worth of nets within a few weeks, and so did the other net suppliers, so every pickleball net in the world was instantly out-of-stock. We were the first to restock and resume shipping in the summertime. The other crazy dynamic is all of the new players entering the sport and learning how to play."
When the professional pickleball tour resumed play in late spring, not with big tournaments but with exhibitions and small venues, Vulcan was one of the top sponsors in the sport, Signorelli said. Pro pickleball "pivoted nicely, creatively letting fans watch the pros play on Facebook Live and with broadcasts on ESPN and Fox Sports as broadcasters were desperate for any sort of live sporting event to show their audience."
In the back half of 2020, Vulcan "zoomed to the top" of pickleball to No. 2 worldwide and is poised to take over the No. 1 spot early in 2021 "if we aren't there already," he said, noting, "We're very proud of that accomplishment."
After a May 17 The Sentinel-Record article on the company's switch to making masks, Signorelli said their website "exploded with orders overnight and kept coming for weeks," noting many people wanted to order and then come pick up so they set up curbside service, "which is so new to us as we are a manufacturer and wholesaler who does not have a retail showroom. Interacting so personally with locals was so much fun for our team."
He said many of the locals were "learning about Tanners and Vulcan for the first time, and they really enjoyed getting to know us and we enjoyed meeting them. I will never forget 2020, and all of the wonderful people that our staff and I got to meet."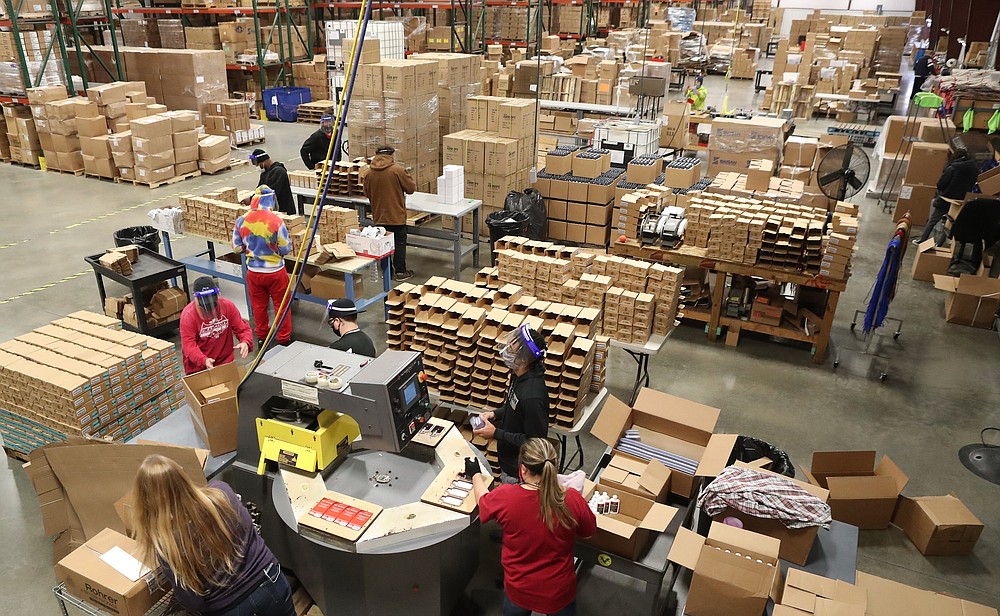 Employees at Tanners Team Sports and Vulcan Sporting Goods Inc., which has stayed alive during the pandemic by selling face masks, work in the company's facility at 736 Mid-America Blvd., on Tuesday. - Photo by Richard Rasmussen of The Sentinel-Record