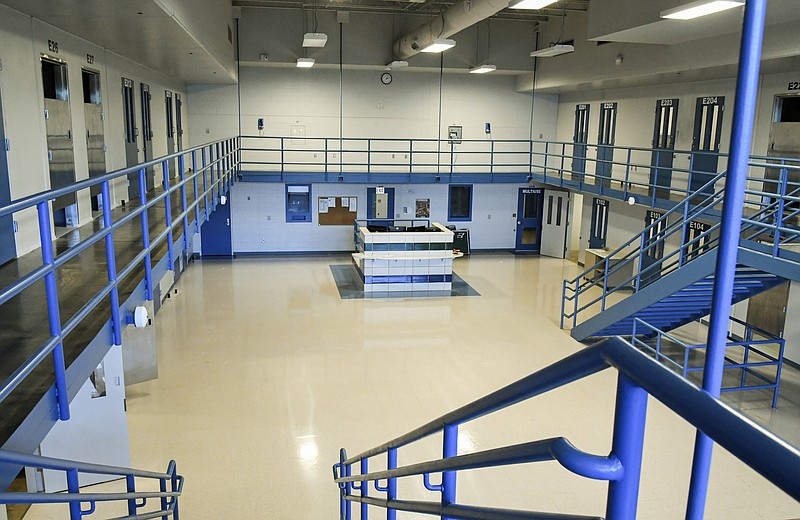 This July 2019 file photo shows the inside of a cell block at the Garland County Detention Center. - File photo by The Sentinel-Record
The first positive case of COVID-19 was discovered Wednesday at the Garland County Detention Center, and as of Friday 12 out of 20 inmates in one unit have tested positive, Garland County Sheriff Mike McCormick said.
"One was showing symptoms so we tested him and upon discovering he was positive we tested the others in his unit," McCormick told The Sentinel-Record Friday, noting eight of the 20 were negative and 12 tested positive but of those "most were asymptomatic and a few had mild symptoms. Nobody is sick."
The facility's health care provider, Turnkey Health Clinics LLC, is providing the necessary medical care for the infected inmates, he said.
"I'm really proud of the fact we made it through almost 10 months without any and now we're seeing just a few cases," McCormick said, noting as of Friday there were a total of 345 inmates in the detention center.
"One inmate expressed that they were having some mild symptoms to one of our detention staff and that's when we contacted medical and they took action," Chief Deputy of Corrections Steven Elrod said Friday.
"A couple of the others had symptoms, too. I'm not sure of the exact number, but eight were fine and didn't even test positive," Elrod said, noting at the recommendation of their medical provider the eight who were negative will remain in the unit.
"With close contact, it might take several days to develop symptoms but they've already been exposed," he said. "If you move them somewhere else you would just be spreading it."
McCormick said the detention center is built where each unit is self-contained and compartmentalized, noting, "If there was a fire, it would be contained to just that one unit."
All new inmates are quarantined for 14 days upon arrival in a separate housing unit before going into the rest of the jail, Elrod said, and the center is no longer taking transfers from other facilities during the pandemic.
McCormick noted they are not making any transports of inmates to the local courts, either using video for court appearances or having hearings postponed when possible.
"We've been limiting transports since this whole thing started," he said, noting the Arkansas Department of Correction is no longer accepting inmates from the counties, either. If someone is sentenced in Garland County, they have to remain here or be transferred to another county facility.
"Some other facilities are still taking ADC inmates and we're still sending some to them," Elrod said, noting Ouachita County is still taking them and is the one they use the most.
"They get the money from the state for holding them until they can go to prison," he said.
McCormick said the detention center staff have followed strict protocols from day one to limit exposure to the virus.
"Right from the start they've been wearing masks, cleaning, etc.," he said. "They've been more compliant than the rest of the community. We realized immediately the high potential for spreading in a closed facility."
Asked how the inmate who tested positive was exposed, McCormick said, "It's possible it was brought in by a staff member who was asymptomatic because that's really your only coming and going. We don't really know and will probably never know."
Elrod noted the virus "supposedly lives on surfaces for so long as well and we have incoming mail. We have so many different avenues where it could still spread."
McCormick said staff "are constantly going around wiping everything down and cleaning." Elrod noted inmates all have access to cleaning materials and are encouraged by staff to clean in addition to the efforts by the staff.
"I think we've done very well considering the ravages of this pandemic that we're just now starting to see positive cases in our facility," McCormick said. "Kudos to the staff out there and Chief Elrod. I think they've done exceptionally well."
Some of the steps taken by the Garland County Detention Center at the recommendation of the Arkansas Department of Health and Centers for Disease Control and Prevention, according to a news release, include:
• Limit access into the facility to include postponing inmate education and self-improvement programs.
• Prescreen anyone entering the secured areas of the facility for symptoms.
• Continue to maintain high levels of facility cleanliness and enhance measures where appropriate.
• Deploy adequate protective equipment to all staff and educate on proper use.
• Make available items to each individual for continuous proper hand hygiene, to include sufficient supply of soap and access to wash basins.
• Wear cloth face coverings.
• Educate staff and inmates on the coronavirus to include practicing good hygiene and social distancing strategies.
• Arrange to quarantine all new intakes for 14 days with efforts to isolate and suppress unknown risks, such as asymptomatic cases, before they enter the facility's general population.
Sponsor Content
Comments