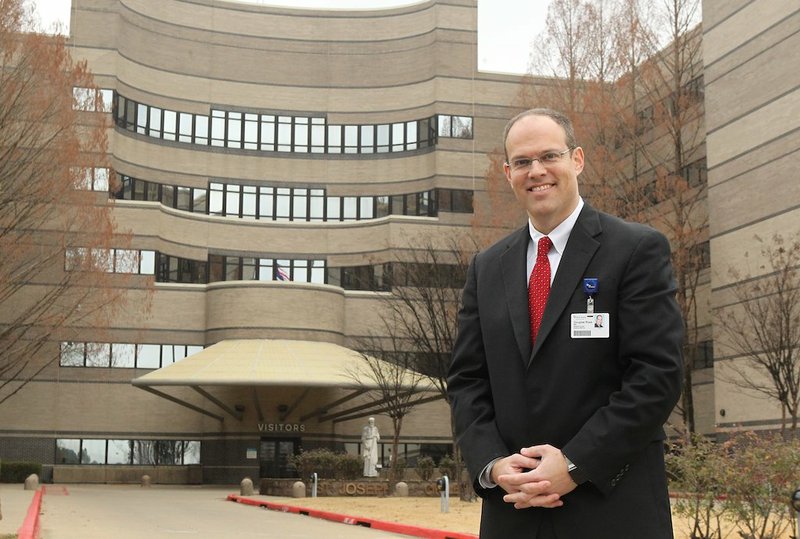 Dr. Doug Ross, president of CHI St. Vincent Hot Springs. - File photo by Richard Rasmussen of The Sentinel-Record
Monoclonal antibody therapy has been adapted to benefit people who have tested positive for COVID-19 and are at risk of suffering severe complications, allowing them a quicker road to recovery while also saving hospital beds that have become precious as the pandemic progresses.
CHI St. Vincent Hot Springs began the therapy on those with COVID-19 over the past several weeks.
Dr. Doug Ross, president of CHI St. Vincent Hot Springs, said the therapy has been used in other areas of medicine like cancer therapy, but with the onset of COVID-19 the therapy was "quickly shifted" to benefit those infected.
"Monoclonal antibodies are man-made versions of the antibodies that our bodies naturally make to fight off certain viruses. So, when someone gets infected with COVID-19 we can actually infuse these antibodies, and the antibodies attack the virus and help the body kill the virus much more quickly," Ross said.
"What the data has shown," he said, "is that when we give this therapy to patients that have COVID and are at high-risk for hospitalization and complications, this therapy has actually lowered or reduced the number of those individuals that actually will require hospitalization.
"So as we are watching across the state as COVID-19 numbers continue to go up, and certainly there's a limited number of hospital beds and a limited number of hospital resources within the state, anything that we can do to proactively give patients this medication and reduce the number of patients that may require hospitalization, will be a significant benefit to us."
Ross noted the therapy is not beneficial for anyone who has already been hospitalized from COVID-19 complications.
"It's not shown to be effective for patients who are already sick enough to be hospitalized," he said. "It's (for) anyone that is at-risk for the most severe complications with COVID. Certainly those 65 and above, those with certain comorbid medical conditions.
"Those individuals, if they are not yet hospitalized, we can give them this therapy in an attempt to keep them out of the hospital where they can be at home and certainly much more comfortable around their friends and family, and as I mentioned before it helps ease the burden and the strain on the number of hospital beds in the state."
The therapy is a one-time infusion, lasting about one hour, with about a one hour hold time afterward. If it's not proven to be successful in a patient, a second infusion would not be administered, Ross said, but noted they have seen "good results" so far.
"We've given it to several individuals and we've been seeing good results," he said. "We've had several of our patients that have received the therapy not require hospitalization. So that's our ultimate goal, is to get folks a quicker road to recovery, keep them out of the hospital and so far we've been seeing fairly positive results with the patients we've given to so far.
"If a patient were to get COVID and is interested in this therapy, we recommend that they connect with their doctor, and their doctor can review that patient's risk factors and work with our pharmacy team here at CHI St. Vincent to order the medication."
The hospital's supply of the monoclonal antibodies is controlled by the Arkansas Department of Health.
"Our number of dosages that we get each week are actually controlled by the Department of Health based on the overall numbers in the state (and) the amount of drug that you already have on hand," Ross said. "There is a fairly limited supply on hand right now. We do have enough to be treating patients currently, and our hope is that we continue to get a steady supply of the medication."
Sponsor Content
Comments