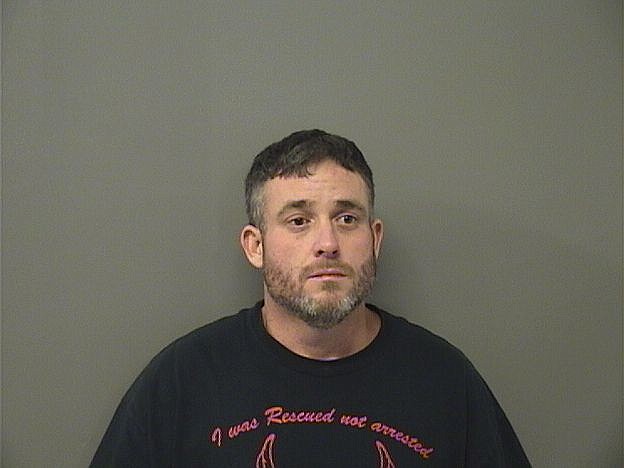 Joshua Shane Presley - Submitted photo
A local felon was arrested Sunday morning after allegedly forcing his way into a neighbor's house while armed with a gun and claiming someone was shooting at him.
Joshua Shane Presley, 40, who lists a Sandstone Street address, was taken into custody around 9:30 a.m. and charged with felony counts of aggravated residential burglary, punishable by up to life in prison, and possession of a firearm by certain persons, punishable by up to 20 years.
Presley, who was previously convicted of three felony counts of possession of a controlled substance in 2011 in Pulaski County, was being held on a zero bond and was set to appear Monday in Garland County District Court.
According to the probable cause affidavit, shortly before 6:30 a.m. Sunday, Garland County sheriff's Deputy Tyler Wagner responded to a residence on Mossman Street regarding a shots fired call.
At the scene, he made contact with a woman who stated that she heard two gunshots outside her residence at around 6 a.m. As she got out of bed, she then heard a knock on the door. When she opened it, she found her neighbor, identified as Presley, standing at her door with a rifle in his hands.
She said Presley told her he needed to get inside her house and that people were "shooting at him." She said she told Presley to leave her property and not come inside, but he pushed her door inward and forced his way inside her house.
Once inside, she said he laid the gun down on the floor and sat down in the kitchen. She described his behavior as "being shaky and paranoid" the whole time she was speaking with him. At that point, she called 911 and deputies arrived a short time later.
Wagner reportedly located a loaded AK-47 style rifle on the floor next to the front door. Wagner and other deputies also located three spent shell casings across the street in the front yard of Presley's residence.
LifeNet responded and transported Presley to CHI St. Vincent Hot Springs where he was treated and evaluated and later taken into custody upon his release.
Sponsor Content
Comments