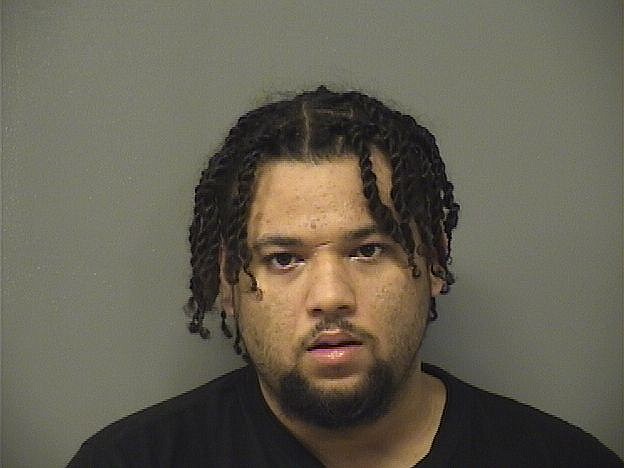 Tre'von Lashaun Gabbard - Submitted photo
A Hot Springs man and a homeless man were arrested Friday night on multiple charges after the alleged armed robbery of two other men about an hour earlier.
Tre'von Lashaun Gabbard, 21, who lists a Frieda Street address, and Michael Dewayne Brown Jr., 22, who lists his address as "city streets," were taken into custody shortly after 8:30 p.m. following a traffic stop. Each was charged with a felony count of aggravated robbery, punishable by up to life in prison, and a misdemeanor count of possession of a controlled substance, marijuana, punishable by up to one year in jail.
Brown, a felon previously convicted in June 2017 in Garland County, was also charged with a felony count of possession of a firearm by certain persons, punishable by up to six years in prison.
Gabbard was also charged with misdemeanor counts of resisting arrest and driving on a suspended driver's license.
They were both being held on zero bonds and were set to appear Monday in Garland County District Court.
According to the probable cause affidavit, shortly before 7:30 p.m. Friday, Hot Springs police Officer Bryan Caldwell responded to a report of an aggravated robbery in the area of Crescent Street and East Grand Avenue and made contact with two men in a vehicle who stated a known suspect, identified as Brown, held them at gunpoint and robbed them.
The men said they were robbed of a 10-mm handgun, two cellphones and about 28 grams of marijuana the one man said he had just bought. Witnesses said they saw a man with the gun pick some items up off the ground and then get into an older model green Ford Thunderbird.
Shortly before 8:30 p.m., Officer Jonathan Smith spotted a green 1997 Ford Thunderbird that matched the description traveling northbound on Third Street, just south of Pond Street, and stopped it at Pond and Flag streets after noting the driver failed to use a turn signal at one point.
As he approached the driver, identified as Gabbard, he noted a strong odor of marijuana coming from the vehicle. A computer check also showed Gabbard's driver's license was suspended. Smith told Gabbard he was going to search the vehicle due to the marijuana odor and Gabbard asked for a supervisor and got out.
Smith said he attempted to take Gabbard into custody and he began physically resisting and closed his door. He was finally taken into custody as other officers identified Gabbard's passenger as Brown from the earlier robbery.
A search of the vehicle reportedly uncovered a loaded 9-mm pistol and two baggies of marijuana, a total of 20.1 grams.
One victim from the robbery was brought to the scene and positively identified Brown as the one who robbed them, the affidavit states, so Brown and Gabbard were both arrested.
After being read his rights, Gabbard reportedly stated he picked Brown up at Crescent and Grand and Brown told him he had just robbed "a couple of white boys for some weed." He said he and Brown then drove around, but he denied being involved in the robbery.
After Brown got in his car, Gabbard said he saw him put a gun and marijuana in the glove box. Gabbard noted he did owe one of the two victims about $100 for some marijuana, but claimed they were friends.
Brown was questioned and denied any involvement in the robbery.
Sponsor Content
Comments