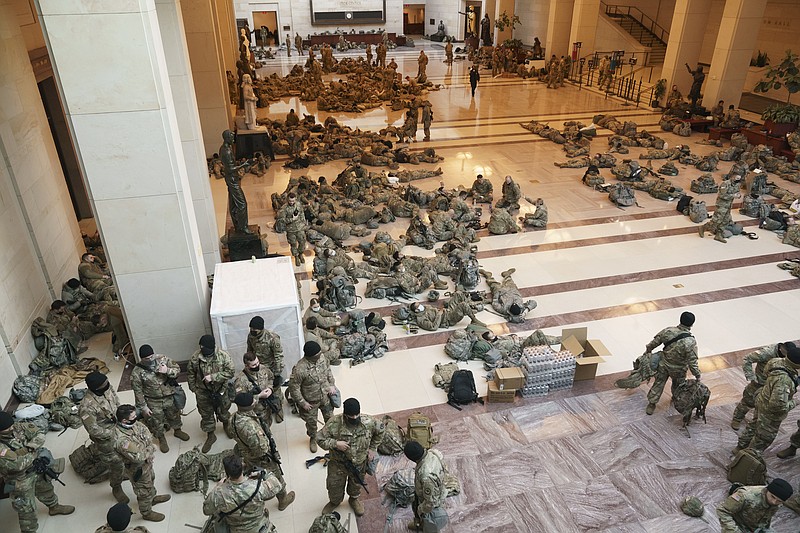 Hundreds of National Guard troops hold inside the Capitol Visitor's Center to reinforce security at the Capitol in Washington, Wednesday. The House of Representatives is pursuing an article of impeachment against President Donald Trump for his role in inciting an angry mob to storm the Capitol last week. - AP Photo/J. Scott Applewhite)
WASHINGTON — A majority of the U.S. House has voted to impeach President Donald Trump for a second time, just a week after he encouraged loyalists to "fight like hell" against election results and a mob of his supporters stormed the U.S. Capitol.
The House vote on an article of impeachment for incitement of insurrection was still underway Wednesday, but the Democratic-led House had secured enough votes to impeach Trump. Some Republicans joined Democrats in voting to impeach the president.
During debate before the vote, House Speaker Nancy Pelosi asked Republicans and Democrats to "search their souls." Trump is the first American president to be impeached twice.
The impeachment proceedings came one week after a violent, pro-Trump mob breached the Capitol, sending lawmakers into hiding and revealing the fragility of the nation's history of peaceful transfers of power. Five people died.
Trump has taken no responsibility for the riot.
President-elect Joe Biden's transition team says it's taking the threat of violence across the U.S. in the runup to the inauguration "incredibly seriously."
It says Biden received a briefing Wednesday on preparations for the event from top law enforcement officials.
In a statement, the Biden transition said senior officials at the FBI and the Secret Service and members of his national security team briefed the president-elect on the "threat picture, and on the preparations being put in place to deter and defend against violent disruptions or attacks." Biden's team will continue to receive daily briefings on the issue before the Jan. 20 inauguration.
Biden's team is "focused on laying the groundwork for a smooth handoff in power that will ensure continuous command and control across the homeland security and law enforcement components."
Security across Washington has increased in the wake of last week's deadly insurrection at the U.S. Capitol, and a number of protests are planned both in Washington and in state capitols and cities across the U.S. in the coming days.
Senate Majority Leader Mitch McConnell has said in a note to his fellow Republican senators that he is undecided on whether President Donald Trump should be convicted if the House votes to impeach him.
McConnell said in the letter Wednesday: "While the press has been full of speculation, I have not made a final decision on how I will vote and I intend to listen to the legal arguments when they are presented to the Senate."
The House is poised to vote to impeach Trump on Wednesday for a second time after he egged on a violent mob of his supporters who invaded the Capitol last week.
Sponsor Content
Comments