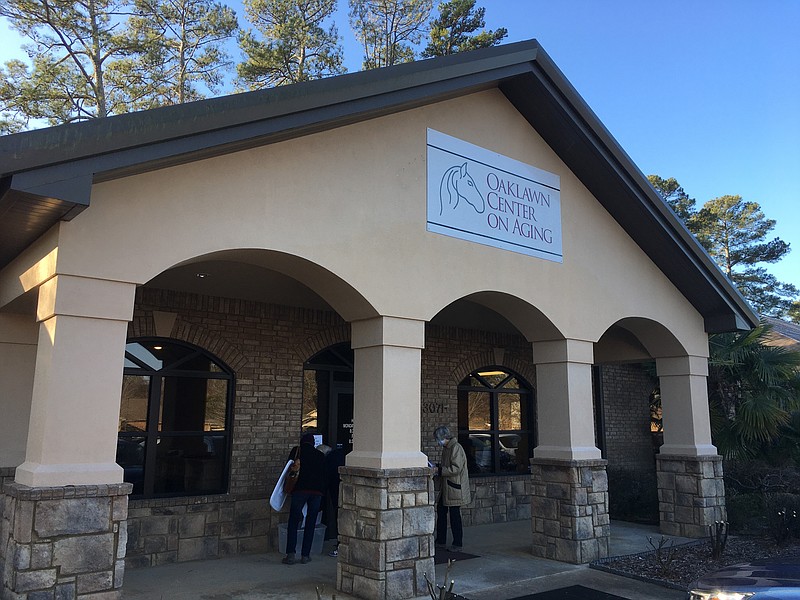 The Oaklawn Center on Aging, 307-F Carpenter Dam Road. - Photo by Richard Rasmussen of The Sentinel-Record
UPDATE
A representative of the Oaklawn Center on Aging, 307-F Carpenter Dam Road, said Wednesday that the center would only accept applications at its physical address for upcoming vaccinations but would not be administering vaccinations beginning Monday as previously reported.
The representative said the information about vaccinations starting at the center on Monday, which was released Wednesday morning through another entity, was incorrect.
Vaccinations will be available at another location next week to those who complete the required paperwork available at the Oaklawn Center for Aging's website, oaklawncenteronaging.com, under the COVID-19 resource page, by Thursday.
A copy of the form is also available on the newspaper's website through this link, or by clicking here:
Document
Vaccination form
View
Forms must be completed and returned to the center's physical address.
Call 501-623-0020 for more information.
ORIGINAL ARTICLE
CHI St. Vincent physician Dr. Gregory Whorton recently used social media to urge the community to take the vaccines for COVID-19, which has claimed the life of his mother and put many of his patients in the hospital's strained intensive care unit.
Whorton spoke to The Sentinel-Record on Monday about a post he made last week on his wife's Facebook page, saying it was incited by the increased number of his patients being hospitalized for COVID-19 mixed with a "significant number" of people he spoke with, some including health care professionals, who said they would refuse or be reluctant to get the vaccine.
He said the responses he received from people showing resistance to the vaccine included reasons from feeling like they were otherwise healthy, young and low-risk, to concerns that derived from conspiracy theories with "no basis."
"Probably the most common thing I hear is, 'Well, I just don't want to do it yet. I'm going to do it, but I'm going to wait,'" Whorton said. "And that's really a problem because if we're going to get out of this situation, just like I talked about in my post, we need to get to herd immunity levels. If we've got a significant amount of people saying they're going to get it, but they want to wait around and make sure it's safe, then we're going to be stuck like this for a significant amount of time."
In an article published in Tuesday's edition of The Sentinel-Record, an Arkansas Department of Health representative also urged the public to not wait to be vaccinated.
The COVID-19 vaccine is slowly becoming available to people through a phased approach, with the most high-risk people receiving the first doses (see related article). ADH Public Information Officer Danyelle McNeill said Monday the department feels it is important to move to the next phase, making the vaccine available to the next group of people, as soon as possible.
"Unfortunately," McNeill said, "this may mean that people who are slow to accept the vaccine may miss their opportunity. ... We also have noted that some people have been reluctant to get the vaccine because they have not been able to get the type of accurate information they need to make an informed decision."
"In many cases," she said, "once someone has received the needed information, they change their minds and make the decision to get vaccinated."
Bonnie Ward, CHI St. Vincent executive director of Marketing and Communications, said Tuesday in an email the facility's health care workers need the "support of our communities," which includes getting a COVID-19 vaccine once it becomes available to them.
"CHI St. Vincent has seen a very positive response to the vaccine among our staff with only a very low number declining to receive the vaccine," Ward said. "A limited number of staff also chose to wait and see how the process goes and are now opting to receive the vaccine. CHI St. Vincent encourages vaccination against COVID-19 among our staff and has so far vaccinated more than 3,800 across our ministry with the vaccination effort continuing."
"The efforts that went into making this vaccine were global, and what we saw was unprecedented, which was governments around the world, scientists around the world, pharmaceutical companies around the world, that collaborated to get this vaccine out," Whorton told The Sentinel-Record.
"So rather than normal day-to-day business where all these governments and companies are doing their own thing and working on their own projects, fortunately, there was a global consensus that this needed to happen, and based on how things were looking and the way this virus was spreading that we needed to get a vaccine out."
The global participation, he said, is what decreased "red tape" and allowed the process of the vaccine's creation to be accelerated.
"And, you know, the biotechnology that led to this vaccine was not just brand newly invented last year," Whorton said. "I mean we use techniques that had actually been studied and in development for years and COVID just happened to be the perfect candidate to finally put some of this new technology to use. ... (It) has been shown to be very safe, so I have total confidence in the safety of this vaccine."
He noted "that's not to say there aren't going to be occasional adverse events," similar to other vaccines.
"I see patients have occasional adverse events just from a flu shot," Whorton said. "We know that there have been some allergic reactions to the COVID vaccine, but those still appear to be infrequent, and frankly most COVID vaccine facilities are equipped to deal with an allergic reaction. So I still think the benefits of this vaccine far outweigh the risks, even factoring in the potential for adverse events."
As of Tuesday, Whorton's message posted to his wife's Facebook page had been shared across 424 Facebook pages.
"It's 11:30 pm, and I am performing my usual nightly ritual of documenting and charting from the past few days office visits on my computer," the post said.
"Once again, I receive notification that a patient of mine has been transported to the CHI ER by ambulance due to Covid, he is elderly, is on day 10 of his illness, and cannot breathe. His oxygen saturations are in the 70s upon arrival to the ER," it said.
"Back in the spring, after Covid took the life of my own mother, I might have one patient every month or two who became sick enough to be hospitalized due to Covid. Now, this is occurring weekly, if not daily, and two of my patients were transported to the ER just today due to Covid.
"The primary purpose of this message is to plead with our community to please take the Covid vaccine. Our hospital, much like the rest of the country, is overwhelmed. Sadly, a significant portion of the community, including many health care workers, are refusing the vaccine, and this same problem is playing out across the country," the post said.
"Simultaneously, we have elderly patients who are not yet eligible to get the vaccine, who are sick and dying. Unbelievably, this means that we have life-saving vaccines in our community, in our state, and across our nation, reserved for health care workers, which are sitting in freezers, unutilized. This vaccine is safe. This vaccine will save lives. I received my first dose nearly 3 weeks ago and have had no side effects.
"For those of you who refuse the vaccine, I ask you, are you tired of masking, and closures, and online school? The concept of 'herd immunity' goes back over 100 years ago. This is a well studied and proven phenomenon. Once a group, herd, or populace achieves 75-80% immunity (by natural infection or vaccination), the offending germ (in this case Covid 19) runs out of potential victims and fizzles out," it said.
"With the current rate of vaccine refusal, it will take us years to reach herd immunity. I ask that we all consider and put the needs of others, the elderly, the chronically ill, above our own personal wants and needs, and that we consider what's best for the greater good. The faster we reach herd immunity ... the faster this nightmare will end, the faster that restaurants and small business will be able to reopen, the faster that schools and colleges will return to usual methods of instruction, and most importantly, the suffering and death due to Covid will end."
Sponsor Content
Comments