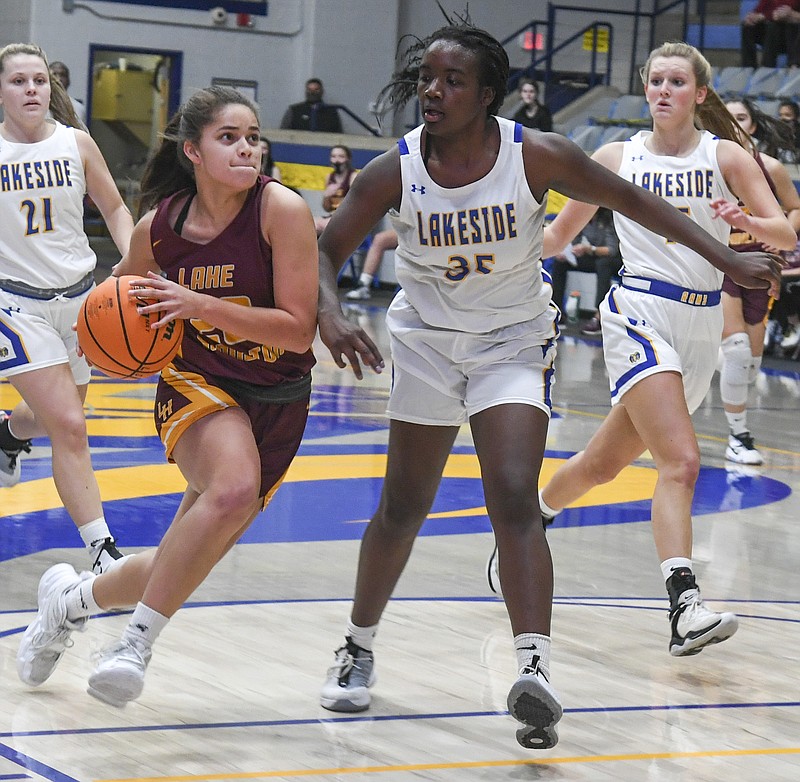 Lake Hamilton's Hayleigh Wyrick (23) goes for a basket as Lakeside's Adachi Igbokidi (35) defends during Tuesday's game at Lakeside Athletic Complex. - Photo by Grace Brown of The Sentinel-Record
Lake Hamilton jumped out to a quick lead en route to a 48-29 rout of Lakeside Tuesday night at Lakeside Athletic Complex.
The Lady Wolves (11-3, 2-0 5A-South) took a 27-10 lead into intermission before the Lady Rams (8-5, 1-1) made a run for a comeback.
"You know, there's a lot of little things we've been working on defensively, and I was really proud of the girls and their execution of that tonight," said Lake Hamilton head coach Blake Condley. "I thought we did some really good things on the defensive end, and, you know, like I said, try to take those things in practice and being able to see them in the game, it was nice to see."
Senior point guard Aspen Thornton nailed a pull-up jumper to keep the momentum in Lake Hamilton's favor to start the second half. Lakeside junior Sarah Porter answered with a floater in the paint as the Lady Rams went on a 10-0 run. Senior Adachi Igbokidi had a big block that led to a long 3-pointer from junior Ronni Formby to pull Lakeside within 29-17 with 4:42 remaining in the third.
Igbokidi had another block late in the period that led to another trey from Formby, cutting the team's deficit down to 7. Senior Taylor Humphreys answered for the Lady Wolves with a 3-pointer of her own before junior Ginny Higginbotham sank a free throw and senior Tia Mullenix added a 3-pointer at the buzzer to give the Lady Wolves a 36-22 advantage going into the final eight minutes.
Junior Audri Winfrey kept the momentum rolling for Lake Hamilton in the fourth with a steal and bucket on the first possession. Sophomore Allie Pollock got hot inside to hit several in the paint for Lakeside with Formby hitting a trey in transition to pull within 39-27, prompting the Lady Wolves to call timeout with 5:17 remaining.
Lake Hamilton began to slow down the game in the final four minutes. Winfrey sank four back-to-back from the line before Wyrick iced it with two more in the closing seconds.
"I was super proud of our girls," said Lakeside head coach Chris Brock. "We wanted them to compete every trip. We know how good Lake Hamilton is. They're really well-coached. They're good at every position, and so we wanted our girls to compete as they could compete the entire time. I thought in the first half, they got a little more transition than they got in the second half. And the second half, we made it more five-on-five the whole time, and that benefited us. And it's a credit to them. They're just a super high-level team and really well-coached."
Thornton put the Lady Wolves on the board first with a free throw before a steal and drive to the iron by Wyrick gave the visiting team a 3-0 lead with just over a minute off the clock. After Thornton found Wyrick under the basket to make it 5-0, senior Erika Bittinger got the Lady Rams on the board with a bucket with less than three minutes gone.
Mullenix responded with a 3-pointer for an 8-2 lead with 3:31 to go. The Lady Wolves closed out the frame on an 8-2 run to take a 16-4 lead into the second quarter.
Higginbotham drained the first of her three treys of the second quarter before Formby found Igbokidi under the hoop for a bucket. Higginbotham responded with her second 3-pointer, prompting the Lady Rams to call a timeout.
Lakeside started pushing the ball inside to Igbokidi before a steal by Thornton led to a jumper by Wyrick in the lane. Pollock answered with a pair of turnaround shots in the paint, but Higginbotham's third trey with 2 seconds on the clock gave the Lady Wolves a 17-point lead at the break.
"Really, it was our half-court man," said Condley of the Lady Wolves' first half defensive performance. "That's really what we hang our hat on, and that's kind of what we try to build our program on, and that's what I feel like was better. We tried to mix in some other things, you know, to try to throw them off a little bit and just give a different look. But setting the tone intensity-wise, I think that's where the big key (was)."
Winfrey led the way for the Lady Wolves with 13 points, six rebounds and a steal. Higginbotham and Wyrick had 10 points apiece as Higginbotham added four rebounds, two assists and a steal and Wyrick three steals and two rebounds. Mullenix had 9 points and one rebound, Thornton added 3 points with six rebounds, two assists and a steal, and Humphreys had 3 points and a rebound.
Formby led Lakeside with 9 points and two rebounds while Pollock finished with 8 points and four rebounds. Igbokidi had 4 points, four rebounds, three blocks and an assist, Bittinger had 4 points, one rebound and a steal, junior Mady Davenport had 2 points, five rebounds and an assist and Porter had 2 points and three rebounds.
The Lady Wolves hosts Hot Springs (6-4) on Jan. 19 at Wolf Arena while the Lady Rams play White Hall (4-4) on the road Friday at 6 p.m.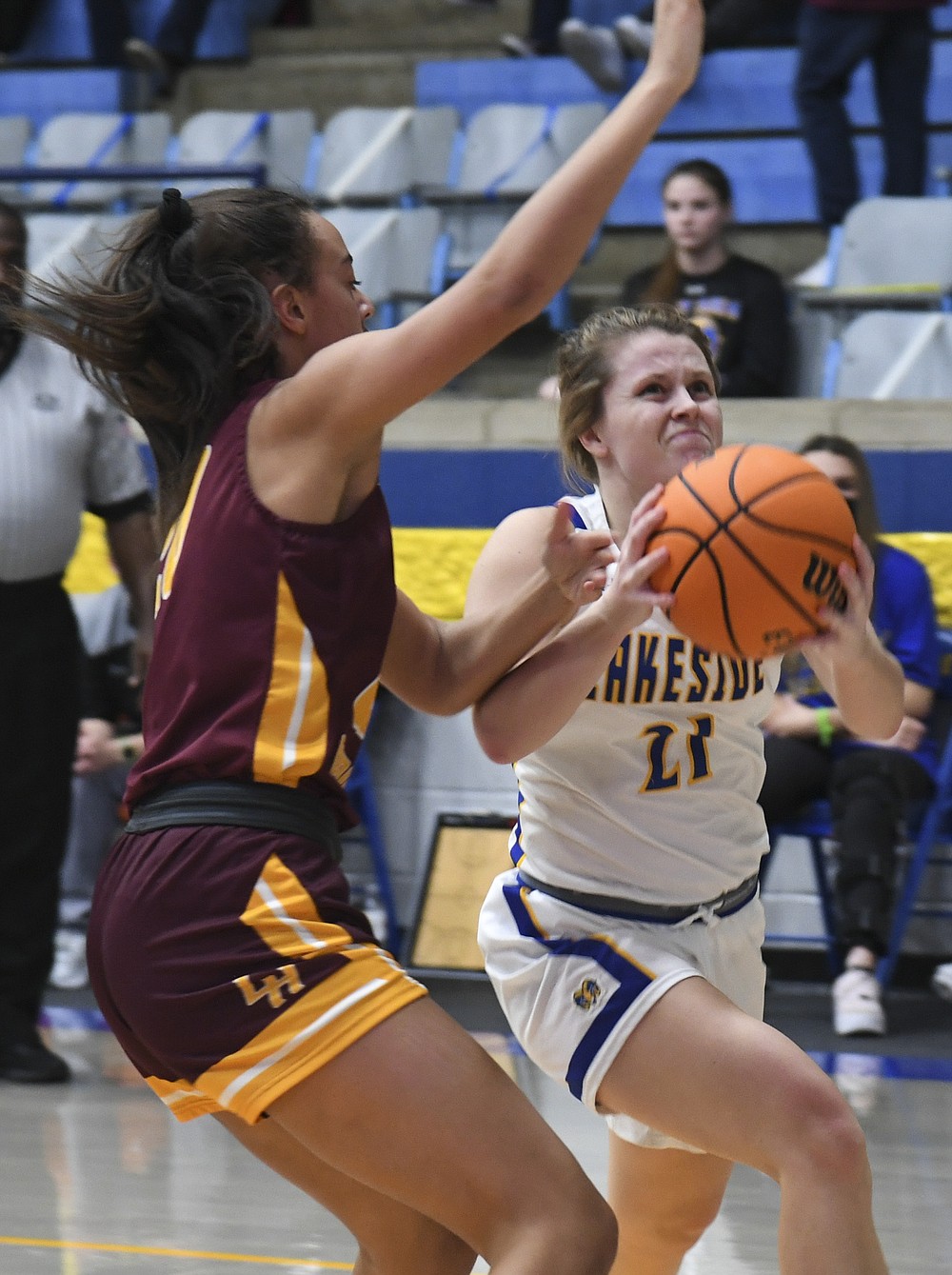 Lakeside's Erika Bittinger (21) goes for a basket as Lake Hamilton's Audri Winfrey (20) defends during Tuesday's game at Lakeside Athletic Complex. - Photo by Grace Brown of The Sentinel-Record
Sponsor Content
Comments