A combined 47 years of service to the Hot Springs Community Foundation has not gone unnoticed; three members of its board of directors were recently recognized for their "service and dedication" to the local affiliate of the Arkansas Community Foundation.
Each board member was presented with a special gift from the foundation.
"Robert Zunick shared the vision of a group of local citizens concerned about providing permanent charitable dollars for their community and was among the founders and the first presiding chairman of the Hot Springs Area Community Foundation board of directors established in 1991," a news release said.
"Robert was also instrumental in 2002 with the development and success of the Hot Springs Youth Advisory Council, a component fund of HSACF," it said.
Zunick has continued to hold numerous committee assignments until his retirement from the local board in May. During his tenure with HSACF, Zunick also served as a past chairman and member of the Arkansas Community Foundation board of directors.
A longtime Hot Springs resident and career financial adviser, Zunick is currently the branch manager and managing director-investments for the Hot Springs office of Wells Fargo Advisors, having been in the profession since 1987.
Zunick has served on numerous other nonprofits and civic boards for many years, such as the Hot Springs Sister City Foundation, the Hot Springs Documentary Film Festival, and the Rosenzweig Fund for Interfaith Activities. He enjoys music and is a member of the First United Methodist Church Connexion Praise Band.
Ashley Naramore, a practicing estate planning and elder law attorney and a partner in the Baim Reagler Naramore PLLC law firm in Hot Springs, is a graduate of Lakeside High School and earned her bachelor's and law degrees from the University of Arkansas.
Naramore became a member of the Hot Springs Area board of directors in 2014. Prior to serving as a board member of HSACF, she served as an adult adviser for the Hot Springs Youth Advisory Council, an organization for teaching local high school students the art of philanthropy. Following seven years of active service, Naramore has chosen to retire from the board and, when not working, focus on family and enjoying adventures with her husband and young children. She enjoys participating in community events, calling the Hogs, and spending time on the lake.
Charleen Copeland was awarded a 10-year service award and will be continuing her service on the board. Copeland has served since 2011, after having relocated from Pine Bluff where she also served on the Pine Bluff Community Foundation board of directors. While on the Hot Springs board, she has served several terms on the grant committee, special events committees and was board chairman for 2016-18. She currently serves as the board liaison with the Oaklawn Foundation and the Arkansas Community Foundation and is a member of First United Methodist Church.
"These three individuals' many years of service speaks highly for each one of their individual desires to improve our community. Our city needs many more like these three individuals who have willingly given back and worked to make a difference in the lives of others. The Hot Springs board of directors is indebted to each of these outstanding individuals," the release said.
For more information about the community foundation, call Joyce Whitfield, Hot Springs Area executive director, at 501-620-4008 or email [email protected]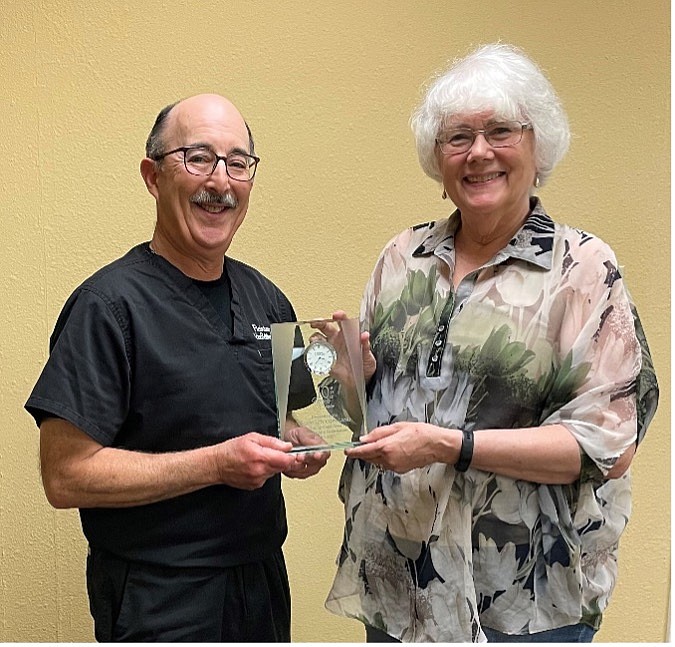 Stuart Fleischner, left, and Charleen Copeland. - Submitted photo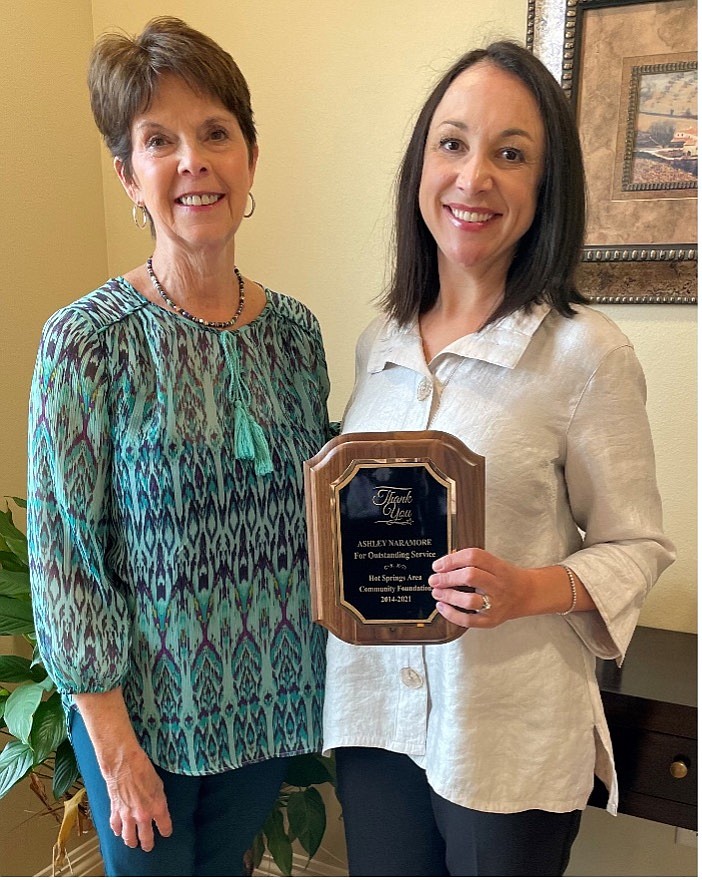 Joyce Whitfield, left, and Ashley Naramore. - Submitted photo