Jessieville School District 2021-2022 student registration:
New student registration will be held Aug. 4-5 from 10 a.m. to 6 p.m. and on Aug. 6 from 8 a.m. to noon. Open house will be held on Aug. 16 from 3:30 to 7:30 p.m. The first day of school will be Aug. 18.
The Jessieville School District exists on the foundation that all students are lifelong learners and strives to strengthen students' integrity, engagement, and success in a safe and orderly environment. The district will produce confident 21st-century global citizens through high-quality instruction and an involved community. "Failure is not an option!"
Student achievement and citizenship: Every school will work to strengthen student integrity, engagement, and success in a safe and orderly environment. The percentage of all students who demonstrate the ability to reason, solve problems, apply knowledge, and write and communicate effectively will increase substantially. The academic performance of all students at the elementary and secondary level will increase significantly in every quartile. All students will be involved in activities that promote and demonstrate good citizenship, good health, community service, and personal responsibility. All students will be knowledgeable about the diverse cultural heritage of this Nation and about the world community.
Effective instruction: Every school will work to Increase the relevance and rigor of instruction by using evidence and research-based instructional strategies that will increase student learning.
Objectives: Every school will employ and retain only highly qualified teachers. Each school will provide professional development training to teachers on effective instructional strategies. The district will partner with Arkansas Rural Education Network to increase the leadership capacity of district and building administrators and teachers.
Parental participation: Every school will promote partnerships that will increase parental involvement and participation in promoting the social, emotional, and academic growth of children.
Objectives: Every school will develop policies to establish programs for increasing partnerships that respond to the varying needs of parents and the home, including parents of children who are disadvantaged or bilingual, or parents of children with disabilities. Every school will actively engage parents and families in a partnership that supports the academic work of children at home and shared educational decision-making at school. Parents and families will help to ensure that schools are adequately supported and will hold schools and teachers to high standards of accountability.
Jessieville School District is located at 7900 Highway 7 north, Jessieville. Call 501-984-5381.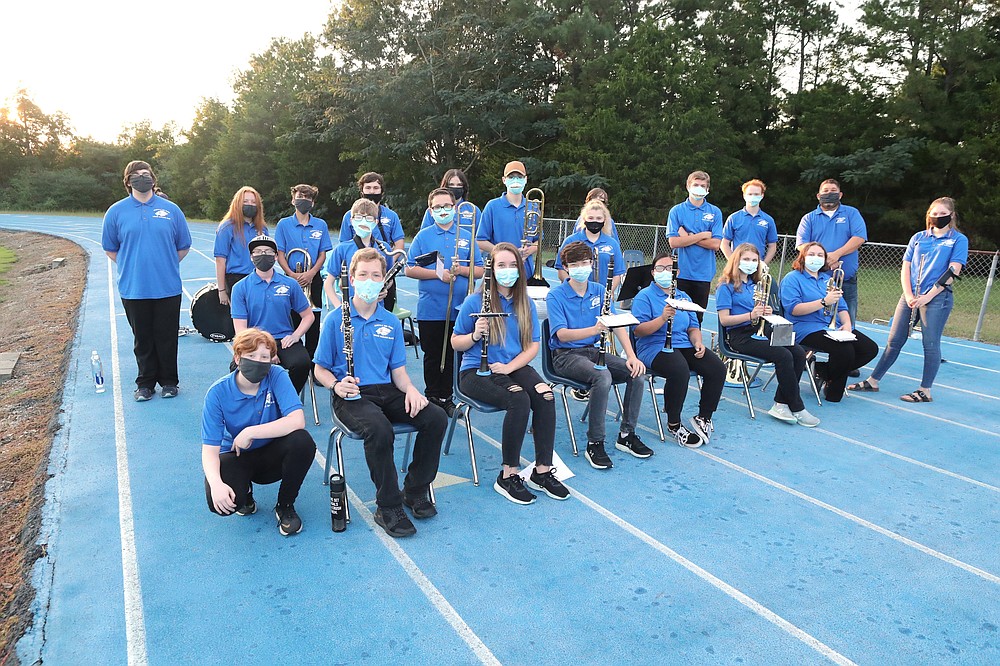 The Jessieville band at a game. - File photo by The Sentinel-Record