A staple of Hot Springs since 1979, Mid-America Science Museum continues to enthrall visitors and facilitate informal education behind the experience and expertise of its executive director.
Searching for a change, Mid-America Science Museum Executive Director Diane LaFollette moved from Little Rock to Hot Springs in 2013 after spending 16 years at the Museum of Discovery.
After having a great experience renovating the Museum of Discovery with a $9.2 million grant from the now sunsetted Donald W. Reynolds Foundation, LaFollette learned Mid-America received a $7.8 million renovation grant from the same organization.
"I jumped at the chance to do that," LaFollette said. "I have to say it was even more fun than at Little Rock. This museum has such a legacy of love in this community. When I was moving from Little Rock to Hot Springs I had friends that I told and they said, 'I love Mid-America Science Museum.' I've never heard anybody talk about a museum like that."
LaFollette's motivations throughout her career centered around the importance of informal education and her passion for seeing others love to learn about science. LaFollette's efforts in Hot Springs have won Mid-America multiple awards and moving forward she plans to increase the reach of the museum.
Growing up in Missouri, LaFollette was always interested in science, especially nature. She spent time on her grandparents' farm as she experienced growing and harvesting crops, fishing and being around livestock until around fourth grade.
"I was exposed to nature and the cycle of life and the harsh realities of life but also the interesting parts about how nature takes care of itself and I was always intrigued by it," LaFollette said. "It also fostered a sense of environmentalism in me growing up that nature is very important and we need to be good stewards of it."
LaFollette originally dreamed of being a ballet dancer but as she took more classes in high school, she decided she wanted to be a medical technologist.
In ninth grade, LaFollette drew inspiration from a cool science teacher who students emulated and loved.
"She actually encouraged me to pursue science because she saw that aptitude in me," LaFollette said. "I think it's very important that we all have that in our lives in some capacity where we have someone that encourages you. She loved science, she loved teaching, she loved working with kids. It just made me really recognize the love for science in myself."
Destined for a career in a lab as a medical technologist, LaFollette realized she really liked being around people.
"When I was taking those classes in college I had so many ah ha moments about science when we were learning more and more about nature that I loved as a child," LaFollette said. "I started learning more about the scientific aspects of it and really wanted to get other people excited about science and I knew I couldn't do that in the lab."
LaFollette changed her major to secondary education and became a teacher.
"I was raised with a feeling that we should all participate in making this world a better place," she said. "Whatever way we feel is our best path to do that. Everybody has a different way to contribute to the world in their own capacity. For me it was inspiring people to follow their own dreams."
After she spent time teaching high school, LaFollette spent 10 years at home with her three sons. When she started to look for work again, she accidentally landed in a field she would stay in for over 20 years.
Looking for jobs in education, LaFollette took a part time teaching job at the Museum of Discovery in Little Rock.
This is where she learned the importance of informal education. Informal education is the type of education that drives learning at museums compared to formal education in schools.
While in school one is told what to learn and is then tested on that material, learning in museums is more flexible.
"Where in museums it's more organic than that and you can choose what you want to learn," LaFollette said. "So you're driven by your own interests and your own desires. That's a very meaningful way to learn."
In LaFollette's mind, informal education is just as important as formal education. While formal education might stop once one leaves school, informal education happens throughout life.
When she started at the Museum of Discovery, LaFollette had to learn a new way of instruction. She was trained in the art of formal education but had to adapt her style to make an impact on children she only had for a short time.
While a schoolteacher may get a full semester or even a full year with students, LaFollette was lucky to get a full afternoon with those coming through the museum. Every minute spent with students had to be impactful.
"So the classes that we developed were short but they were content heavy," LaFollette said. "They had specific goals that we wanted the kids to walk away from. One of those goals being, 'Wow that was amazing! I want to know more.' We wanted those kids to walk out feeling that way. That was a great intro for me into informal education and the importance of fostering that organic desire inside of people."
During her time at the Museum of Discovery, LaFollette got the opportunity to run the Arkansas Discovery Network. Working with the Donald W. Reynolds Foundation, the network brought together multiple museums that pooled their money together to have an impact across Arkansas.
"We put together a network of seven museums that shared exhibits and programs and professional development and I led that network for 10 years," LaFollette said. "I got a total of $14 million in grants from the Reynolds Foundation to support that."
After 16 years at the Museum of Discovery and reaching the position of Chief Operations Officer, LaFollette was ready for a change. Once she learned she would get to be a part of the renovation at Mid-America, she leapt at the opportunity.
Since opening in 1979, the Mid-America Science Museum had not been renovated before LaFollette arrived. During its 2014 renovation, LaFollette had to keep in mind the legacy of the museum and why it was so loved.
"We had to pay attention to that legacy," LaFollette said. "We also wanted to make sure people felt like this was still their museum. They could still recognize it. We wouldn't change it so much they would be like, 'What have you done to my museum?' We were very sensitive to that."
With that in mind, the museum left some legacy pieces on the floor. Mid-America collaborated with the Exploratorium in San Francisco and others during the renovation.
"Everybody was just so kind and creative," LaFollette said. "The staff got to participate and imagine the museum in a new way. It was just a fabulous experience."
Gaining so much experience at the Museum of Discovery, LaFollette thought she would be able to apply all her tricks to the Mid-America Science Museum.
"What I did not count on was even though we're only about 50 miles apart, we're two completely different communities, two completely different museums," she said. "What will work in one community won't work in another."
LaFollette surprisingly learned things that worked in Little Rock did not necessarily work in Hot Springs and vice versa.
"So I had to stop and come down off my high horse and say, 'OK, let me learn this community, let me figure out what this community needs,'" LaFollette said. "While I still have the knowledge that I have from my experience in Little Rock that doesn't mean we can be a carbon copy of any other museum in the state."
LaFollette emphasized the amount of love flowing through Mid-America from the staff that works there. To her, Mid-America exudes a uniqueness museum goers will not get anywhere else.
She remembers when exhibit designers from Germany traveled across the United States from San Francisco to New York looking at different museums.
"They stopped by here and said it was one of the best museums they'd ever seen," she said. "Because it's more about that phenomena of science. It doesn't tell you what you need to know. And the way it's laid out with the 21 acres and how large the museum is and the space. It's just a very remarkable museum."
In her time at Mid-America, the museum has won many awards. In 2016, the museum won The Greater Hot Springs Chamber of Commerce Organization of the Year award. Mid-America also won the National Medal for Community Service from the Institute of Museum and Library Services in 2016.
LaFollette and another Mid-America employee earned the opportunity to travel to Washington, D.C. to be presented with a national medal by Michelle Obama in the White House.
"So that was fun," LaFollette said. "That was very humbling and we were all very proud. That was a medal to not only the museum but also to the entire community of Hot Springs."
Currently, LaFollette and the museum staff are developing a strategic plan. Combined with knowledge gained during the pandemic, the museum also conducted many surveys and focus groups to build the new plan.
The museum is also beginning to undergo accreditation with the American Alliance of Museums. Accreditation includes a self study where the museum looks at everything including operations, policies, finances and diversity.
As a member of the American Alliance of Museums, Mid-America will adopt the Alliance's new diversity, equity, access and inclusion policy.
"We realized that while we have great love and a great legacy in this museum, we could do better at reaching other communities in Hot Springs," LaFollette said.
LaFollette leads a museum where visitors go to enjoy learning. Through her work with informal education, LaFollette continues to prove that learning can be fun.
"It's a different diversion for people that come to Hot Springs but I also know it's a different experience for those people that love to go to museums too," LaFollette said. "I think my role is to make the museum the best that it can be during my tenure here and to empower the staff to be the best that they can be and provide the best experience to our visitors while they're here."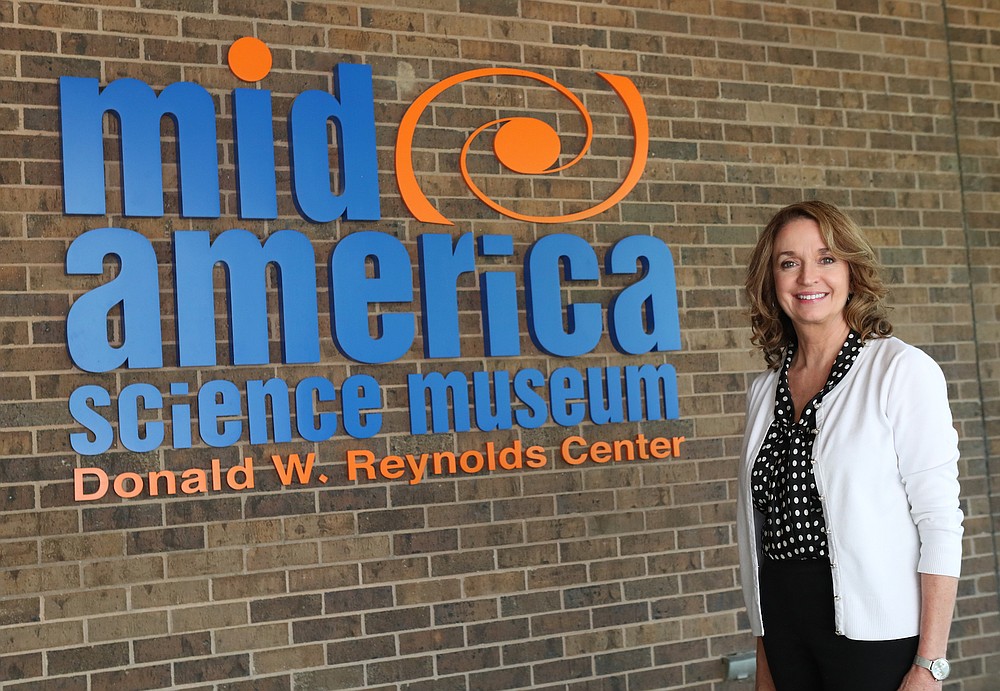 Diane LaFollette, executive director of Mid-America Science Museum, poses at the museum. In 2014, the museum started its renovation behind a grant from the Donald W. Reynolds Foundation. Photo by Richard Rasmussen of The Sentinel-Record
Diane LaFollette, executive director of Mid-America Science Museum, stands in front of an exhibit at the museum. Photo by Richard Rasmussen of The Sentinel-Record