Violet Mendez essentially entered the world with a glove on one hand and a ball in the other hand.
However, unlike most girls, the ball in her hand was a baseball, not a softball.
The Jessieville catcher Mendez has been a baseball star all her life.
The soon-to-be junior faced challenges throughout her career, but she continues on the path to one day reach her dream of playing on the United States women's national baseball team.
"I was just born into it," Mendez said. "It was more my parents' idea to put me in baseball, so I'd be tougher when I switched over to softball. But I just grew more stronger toward baseball than I did softball, so I stayed playing baseball."
The sport runs deep in the Mendez family as her brothers -- Panama and Gabriel -- have had success in their baseball careers. Mendez described watching her brothers play together as like viewing a moving painting.
Her father, Orlando, was a successful baseball player when he was younger and is also a longtime coach.
"She saw nothing but baseball," he said. "I've been coaching for 35 years and running summer camps. From the age of 4 in Florida, she was with the kids doing baseball. She didn't see anything other than baseball."
In Florida, Mendez played for both the Miami Marlins RBI baseball and softball teams. The culture surrounding youth sports in Florida differs from the culture in Arkansas.
"It's not like Arkansas, for example, where everybody plays four sports -- you play baseball, you play football, you play basketball," her father said. "You stay becoming great at one level. It's 365 days a year that you're playing that sport. You started Jan. 2, and you finished for Christmas. Took a week off, and it was baseball again."
Mendez faced a lot of pushback from teammates, coaches, administration and even parents along the way in her baseball career.
"Even kids I played with didn't like me," she said. "They called me names. Parents -- every time I went up to bat it was always something. It was just awful, but I wanted to prove everyone wrong that I could succeed in the game."
In Florida, the family even had to hire a lawyer for her to be able to play on her middle school team.
Throughout her career, Mendez received mixed reactions from the boys she played with on various teams.
"Some acted hateful toward me because I was better than them," she said. "Some accepted me. I had a few that were like, 'You're an awesome inspiration for my sister,' and things like that. That was awesome to hear, but I don't get that a lot."
Her favorite baseball memory happened when she was 8 years old. She was playing for a team in Palm Beach, Florida, where she said a coach who did not like her tried to keep her from making the all-star team. She was playing two years up at the time.
"My mom was talking to them, and they said they didn't want me on the team because I'm a girl and too young," Mendez said. "My mom came over and told me, 'Hey, they're trying to stop you from making the all-star team. Put this ball so far over that wall.' I just was so mad and fed up. I went up to bat, first ball I see come, I took it center field. My mom, after running the bases, she was shocked."
Her father said he was shocked, too.
"Honestly I was just more mad than anything," she said. "I didn't know where the ball went until after. My brothers always told me there's a moment in time where you see the ball just go slow. I saw everything in slow motion, and I just knew it was right. I hit the ball, and it was an amazing feeling."
When Mendez originally moved to Jessieville, she started playing for the Lady Lions' softball team. However, her slugging percentage, batting average and total stolen bases were all incredibly high, according to Orlando, so Violet made the transition to baseball.
Despite the pushback from many throughout her career, both Violet and Orlando noted Arkansas has been a breath of fresh air compared to Florida when it comes to support for her.
"It was actually surprising," Mendez said. "They took to me pretty well. They were a little nervous at first. They didn't know how to react around me because I am a girl. But they eventually got used to me, and I was just like everyone else."
She said Jessieville head coach Ryan O'Neal wasn't sure of her at first, but once she earned her spot, he accepted her right away. While she has spent time at shortstop and pitcher in her career, Mendez fell into the role of catcher for the Lions.
"Catcher is a different world," Orlando Mendez said. "You're taking the hit. When you find a catcher that smiles after every time they get hit, you know you've got something special there."
For Mendez, baseball is 365 days a year. She's home-schooled to allow for greater flexibility in practicing 10 hours a day, and she also coaches.
"We also work at D-Bat in Little Rock," Orlando Mendez said. "That's my main helper. We start now in summer. There's summer camp mornings, summer camp afternoons. The minute that's over, we'll do private lessons then we go to our training. This is a 365, maybe one day off every month, routine for her. She has grown into it with love, dedication, and her biggest asset is the knowledge that she has, the responsibility that she carries and the dedication to the sport."
Mendez said being home-schooled helps because she can do her homework later at night, and her routine isn't stressful.
The young coach said she likes how she gets to help young kids understand the game, and it teaches her how to be a leader. Orlando Mendez emphasized how she can take a young athlete and mold them into a better ballplayer.
"I can remember why I wanted her as part of my coaching staff," he said. "I had 7- and 8-year-olds they dropped off for summer camp. What the heck am I going to do with this kid who is crying for mommy who is driving away? My daughter came up with the idea -- in Miami we have a lot of lakes, came up with the idea of rolling bread and throwing it the farthest to see if the ducks would go catch it. All of a sudden a star was born. She got these 8-year-olds to learn to play, and she was doing a great job."
Despite his daughter's success in baseball, Orlando wants Violet to play softball.
"I don't want her to play (baseball)," he said. "I want her to go to the plan that we had, which was play softball in high school. The thing is I never expected her to keep progressing and not peaking. The men are going to have testosterone, they're going to spurt, they're going to be monsters."
Before they left Florida, she was hit in the chest area by a 92 mph baseball. Orlando Mendez said that's when he really questioned why he was letting her play the sport.
"I tried pulling some strings, but I've lost so far," he said. "I'd have to get her kidnapped or something. So far my feeling is she needs to go to softball, but I can't take her dream away."
Looking toward the future, Mendez said she wants to become an FBI agent. Orlando Mendez noted the importance of earning a scholarship to cover the cost of her future education.
"You must take that dinner plate home with you," he said. "That pitcher is trying to take it away. This is a war. A 9-year-old war, a 10-year-old war. You smile, you're buddies. You hug the opponents if they're your friends. When the umpire says, 'Play ball,' they're trying to take your scholarship away."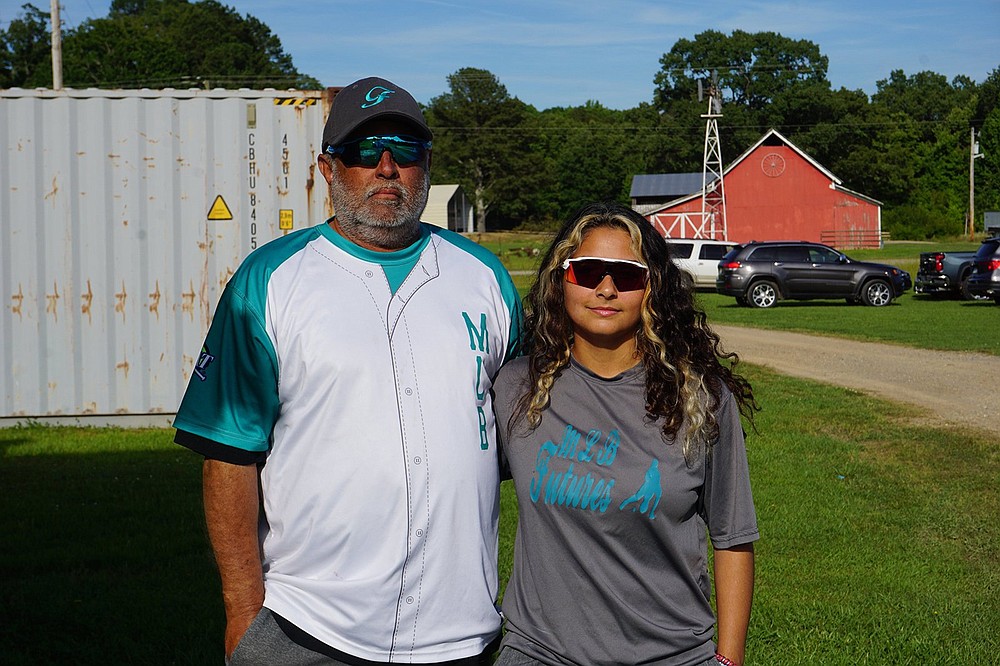 Orlando Mendez stands with his daughter Violet Mendez just outside a baseball field in Lonsdale. Violet Mendez plays baseball for Jessieville High School. - Photo by Krishnan Collins of The Sentinel-Record