The 15th Stueart Pennington World Championship Running of the Tubs returned to the Spa City on Saturday, after last year's races were canceled due to the COVID-19 pandemic.
Bill Solleder, director of marketing for Visit Hot Springs, said that despite the rainy weather, the crowd for this year's event looked at least as big as the last one in 2019, which he said was a record year.
"This year we're opened up and I can't be more excited to have the tubs back," he said.
Video not playing? Click here https://www.youtube.com/embed/KWOr0hp1p7o
The races involve teams in costumes pushing decorated bathtubs on wheels along Central Avenue through downtown Hot Springs in front of the historic bath houses on Bathhouse Row, as onlookers soak the teams with water guns or buckets of water. One team member steers while the others push.
The teams have to stop at different "obstacles" throughout the race, in which they'll have to complete a task decided on by one of the judges. This can be anything from jumping jacks to a ring-around-the-tub. One of the most original obstacles, said Solleder, involved a bath bomb in the shape of a duck.
Gallery: Running of the Tubs
Gallery not showing? Click here https://www.hotsr.com/photos/galleries/2021/jun/05/running-tubs/
"You had to drop it into your bathtub, which is filled with water, let it dissolve, and inside there, there's another duck. If it was a certain color duck, you can go. If it was another certain colored duck, you had to do jumping jacks and then you could go," he said.
The races kicked off with the Battle of the Badge, a race between the Hot Springs fire and police departments, in which the police department came out victorious.
The two departments later faced off again in the Modified Division, with the Hot Springs Fire Department taking the championship.
The Riser Ford team won the Traditional Division.
"We've got a really good team and we actually take it pretty seriously," said Riser Ford tub driver, Matt Barrett.
The team had some trouble at the start, with the tub having flat tires right before the race began, despite them having brand-new tires on the tub, according to Barrett. Despite the setback, which Barrett said he suspects may be due to sabotage, they were able to get a "pit crew" to air up the tires, eventually winning the division and taking their fourth championship.
Barrett said it feels awesome to be able to race again this year.
"I'm from here and love this town and it's just really neat to watch the whole community come out, the different businesses, different organizations get out and compete. It's just really fun, really good camaraderie. It's great for the city," he said.
The Traditional Division consists of tubs made of cast iron, while Modified Division tubs are made from fiberglass, according to Solleder.
The race was the idea of late Hot Springs businessman Stueart Pennington, Solleder previously told The Sentinel-Record. Having a bathtub race downtown was something he always wanted to do, Solleder said.
"Honestly, I think at the time everybody thought he was maybe a little bit crazy, but after he passed, everybody was like, 'Actually, that's a pretty great idea,'" Solleder said earlier.
The event has even drawn teams from outside the state, as well. The last event saw a team from both Louisiana as well as Austin, Texas, according to Solleder. The Texas team, known as The Austin Weirdos, returned this year dressed as what appeared to be Girl Scouts, taking home the award for Most Original Tub.
Solleder said it feels great to have people out and about again, both during Saturday's races as well as during Thursday's Bridge Street Live block party.
"You can see it in people's eyes. They're happy to be outside. They're happy to see friends they haven't seen in a year, and to think if they're vaccinated they're doing it safely," he said.
Other winners included Stock Division, Spa City Pacers; Overall Best Tub, Visit Hot Springs; and Most Spirited Tub, Hale Entertainment.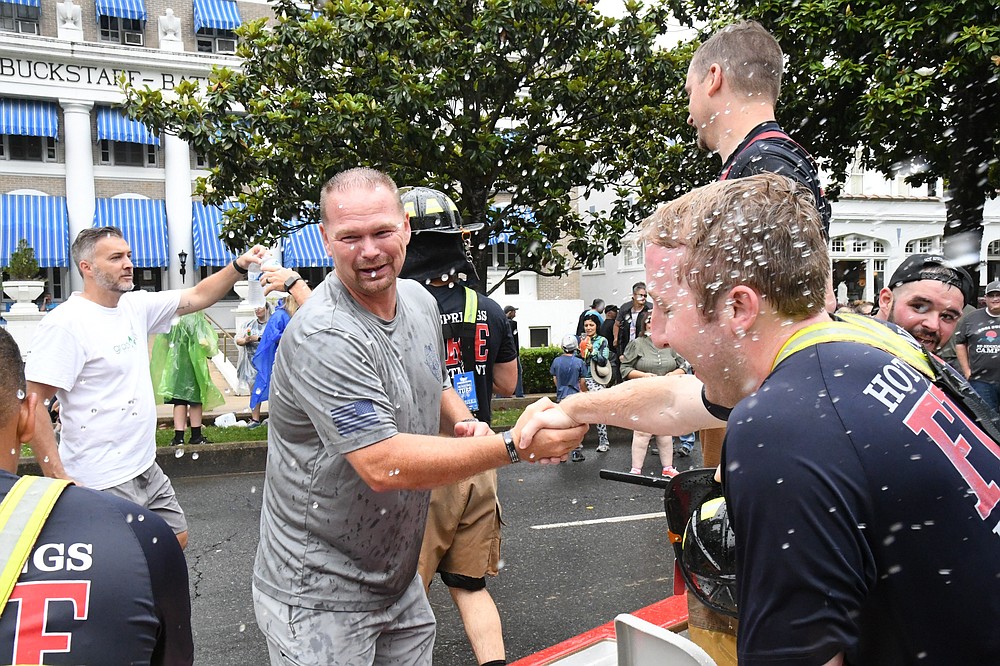 Hot Springs Police Chief Chris Champond is gracious in defeat and shakes hands with the Hot Springs Fire Department after it won the Modified Division. The police department, however, won the Battle of the Badge this year. - Photo by Tanner Newton of The Sentinel-Record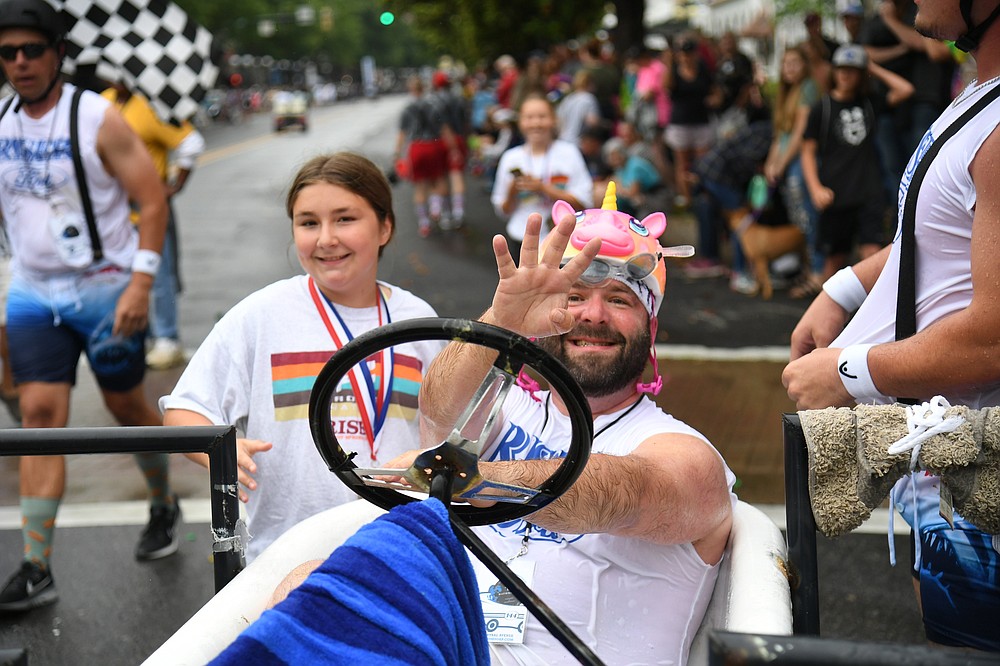 Riser Ford wins the Traditional Tub championship for the fourth time. - Photo by Tanner Newton of The Sentinel-Record
The Austin Weirdos, as "Troop 512," run for a shot at a second championship. They won Most Original Tub. - Photo by Tanner Newton of The Sentinel-Record