BUCKVILLE -- The former community of Buckville will be honored and remembered at the 79th annual Buckville Homecoming on Sunday.
Buckville, formerly located along the Ouachita River, was submerged with the creation of Lake Ouachita. Buckville Baptist Church, which was moved to higher ground before Blakely Mountain Dam was finished, and Buckville Cemetery are the only parts of the former town that still exist above the water.
According to a historical marker at the site, the church and cemetery stand as the only visible reminders of the communities that once stood on the lands now covered by Lake Ouachita.
The church was moved in the summer of 1951, and the cemetery is the only portion of the Buckville community that remains in its original location.
The cemetery was listed on the National Register of Historic Places in 2007.
The church and cemetery host the homecoming each June for the "hundreds of people who once lived in the area, their families and friends."
"We all gather here and we decorate the graves, and then we have a meeting," said Kim Wyles, a Buckville descendant.
"It's the only time that we meet," said Cindy Brown Borden, treasurer of the Buckville Cemetery Church Association. She noted those in attendance "are all the descendants from the people that were from this area."
Video not playing? Click here https://www.youtube.com/embed/0mnBVSu0-3I
Borden said her grandparents lived in Buckville. "Lake Ouachita covered where the original Buckville was, and also ... my grandparents' farm is under Lake Ouachita."
The church "is really the only thing that's left and I know that was a real big deal to my dad because where he couldn't go back and see where he grew up, the farm, and so this always meant a lot to him to come back here," Borden said.
"My dad used to take us by boat and show us where he thought their farm was," Borden said. "It was interesting but it was kind of sad, too, because it would have been neat to go back to that ... my dad would cry every time he would go out (boating). He would try to explain how it was; he would just start crying."
Wyles said the reunion is important because "I've always done it with my dad, and my grandparents, they've always come up here, and we've always decorated the graves, and I guess it's just showing respect for our elders."
Wyles said "we are trying to get more people to come because our older people have died off and the younger generation, I don't think they really understand what it's all about."
"I've been coming here since I was a baby. My parents, it was a big deal every year to come, and there would be hundreds of people, and politicians and governors," Borden said.
"As people started to die off, it just dwindled, but we're trying to keep it going," Borden said.
Despite the COVID-19 pandemic, and the dwindling attendees, Borden said "last year was a good year. There was probably 75" attendees.
In addition to honoring the lives of the people who lived in Buckville, Borden said the group is also dedicated to keeping the old church in good condition.
"We're trying, as you can see there's hail damage that just happened in the last few months, and we are working on that," Borden said. "We want to keep this building, and we are trying to raise funds, and we are working on possibly some kind of trust or endowment and we are also working on trying to get some grants to restore the church," she said.
The reunion starts at 10:30 a.m., and attendees are encouraged to bring their own meals.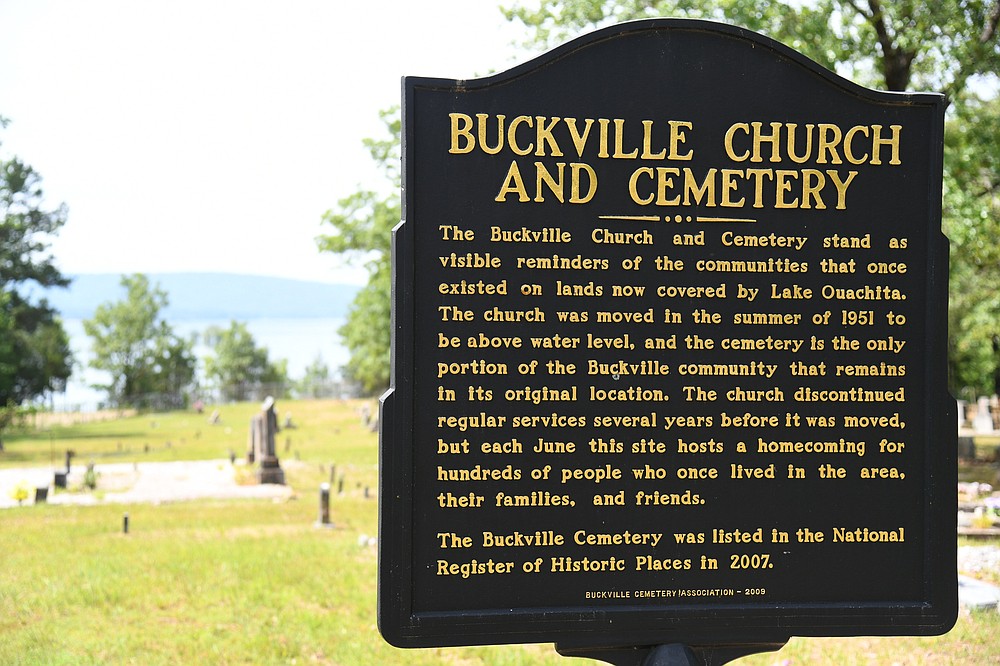 The Buckville Church and Cemetery are the only remaining relics of the community of Buckville. - The Sentinel-Record/Tanner Newton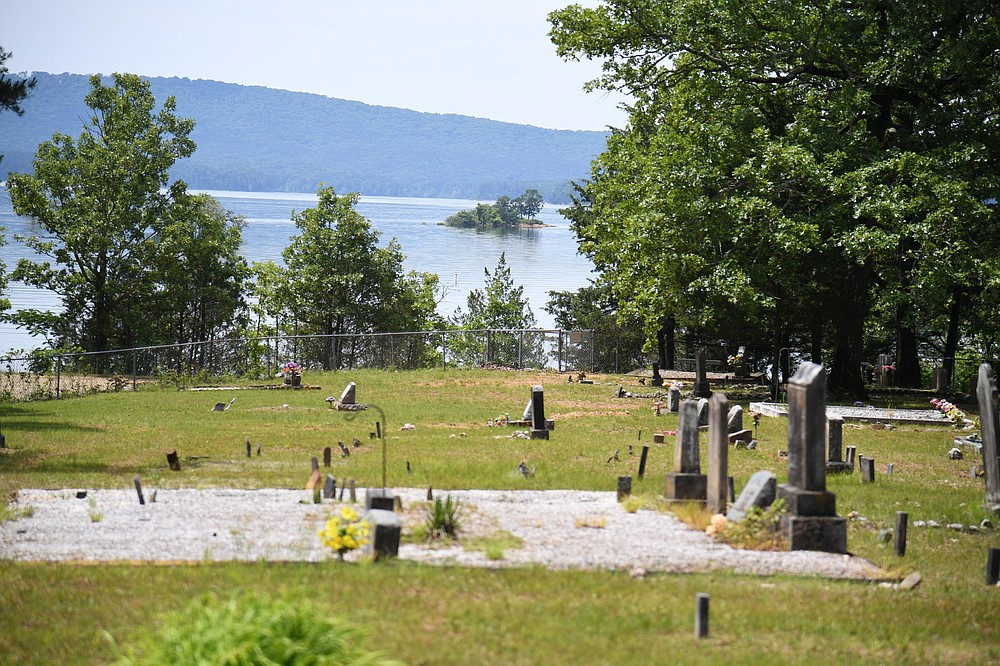 Buckville cemetery overlooks Lake Ouachita, where Buckville once stood. - The Sentinel-Record/Tanner Newton