Ozark Mission Project began its summer youth ministry day camps this week as local groups of young people seek to provide a helping hand to those in need in the community.
Day camp volunteers, who serve individuals in need of minor home repair projects, were on Locust Loop Wednesday morning constructing a wheelchair ramp for the Osvaldo Vasquez family.
"I am very grateful for all the help for building a ramp," said Osvaldo's mother, Ester Rodriguez. "It is going to be a lot of help for me and it's going to be a lot easier for me to take Osvaldo out and back inside the house."
Ozark Mission Project, now in its 35th year of "hands-on mission" in Arkansas, is a nonprofit ministry that brings youth groups to communities across the state each summer to serve individuals and families. According to OMP, home repair projects cover everything from yard work and house painting to more challenging tasks such as porch and wheelchair ramp construction -- striving to meet the needs of the community through projects while also building relationships with those it serves.
OMP camp director for Hot Springs, Justin Nicklas, who has been with the group a little over 10 years, said they typically host seven or eight camps around the state every summer. Because of pandemic restrictions, however, he said this summer is a little bit different.
Video not playing? Click here https://www.youtube.com/embed/NvC5QbTvPlM
"We're using kind of a hybrid model this summer with the camp situation," he said. "The campers aren't actually spending the night in the town, so the groups, the youth groups, are more local. They're from Arkadelphia, Honey Grove, First United Methodist here in Hot Springs ... they're coming together and building these ramps."
Nicklas said they have 10 construction projects in Hot Springs this summer along with five or six painting and yard work jobs around the city.
"These campers have come in and they're really doing an amazing job getting this together, especially with the weather that we've had the last two days," he said. "And they're on schedule completing these projects, and just an amazing thing. There are some COVID restrictions that we've had to take this summer even though some things have loosened up.
"We try to keep most of the groups together instead of mixing them up in the evenings. Now instead of coming back to a camp or a church host and doing evening activities and doing worship, some of that is done on Zoom now and it's done, you know, from their homes and they're actually not spending the night at the churches. So they work on the projects here, they're just coming with each other, and then they leave," he said.
Various college staff around the state build relationships with campers throughout the year and they, in turn, build relationships with the "neighbors," Nicklas said.
"We call our clients, our people that we work for -- they're our neighbors," he said. "And the relationships that we've built between the neighbors and campers and the staff -- it's just amazing to watch the rapport. And, you know, before this week, most of them didn't know each other. And now they're so close that it's just incredible."
OMP Executive Director Bailey Faulkner also referenced the relationship value in a recent news release.
"OMP strives to be a helping hand to Arkansans who, for financial or physical reasons, cannot maintain their homes," she said. "It's not just about the work our teams are doing, it's about the relationships being built. With lumber cost being a record high, none of this would have been possible without our donors."
According to OMP, age, income and religion are not requirements to apply for service projects and, because of donations, they're able to provide service projects at no cost to individuals and families. Campers began this summer's projects on Monday in Hot Springs while others started theirs in North Little Rock, Conway and Fayetteville.
OMP began in 1986 with a vision to be a Christ-led mission opportunity, offering a diverse cultural experience that equips youth to make a global difference. Due to COVID-19, OMP is only hosting day camps this summer. For additional information and questions, email [email protected] or call 501- 607-3232.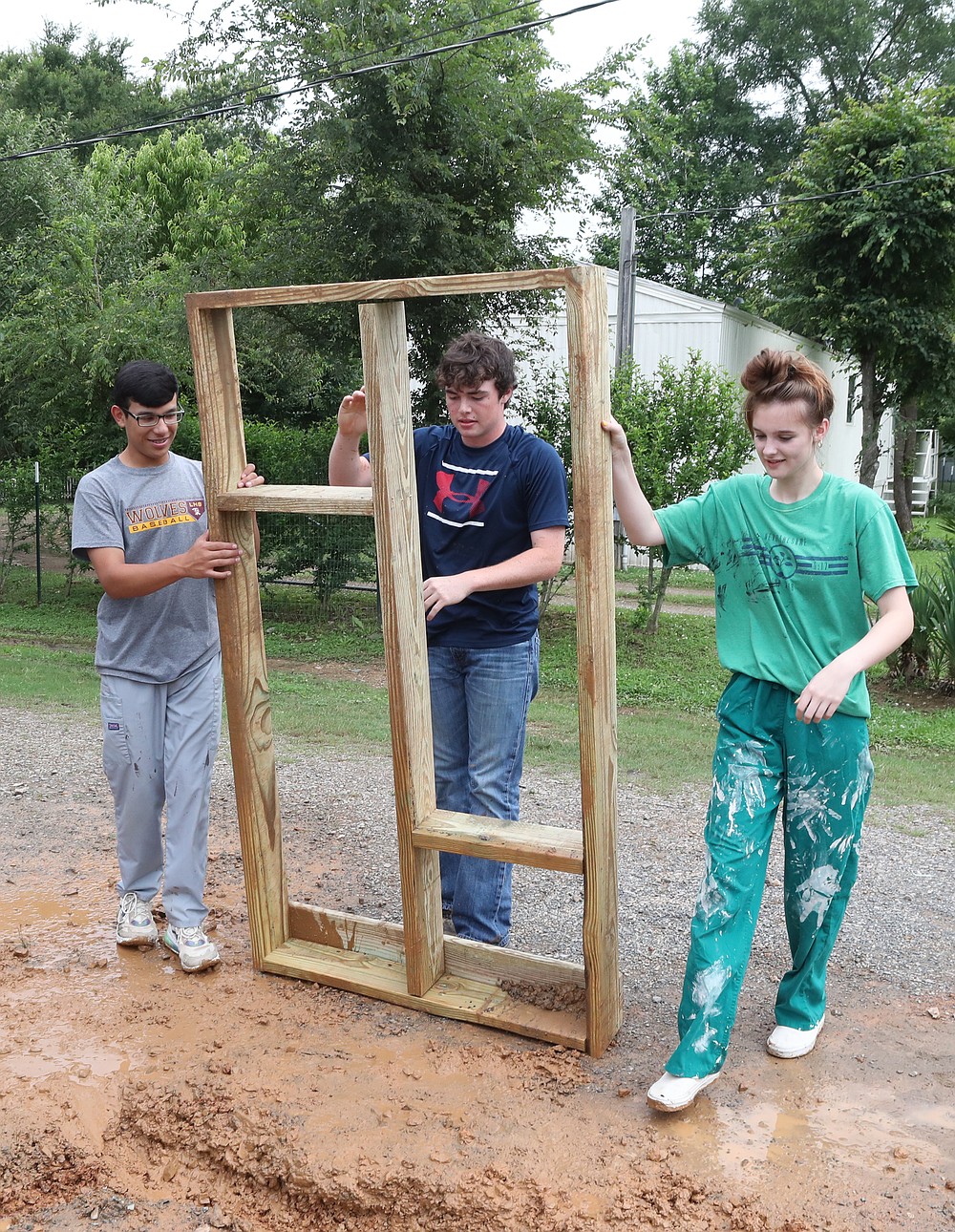 From left, Ozark Mission Project volunteers Hayden Estrada, Ben Varner and Sophia Shunk, all of Hot Springs, work on a wheelchair ramp at the Garland County home of Ester Rodriguez and Osvaldo Vasquez on Wednesday. - Photo by Richard Rasmussen of The Sentinel-Record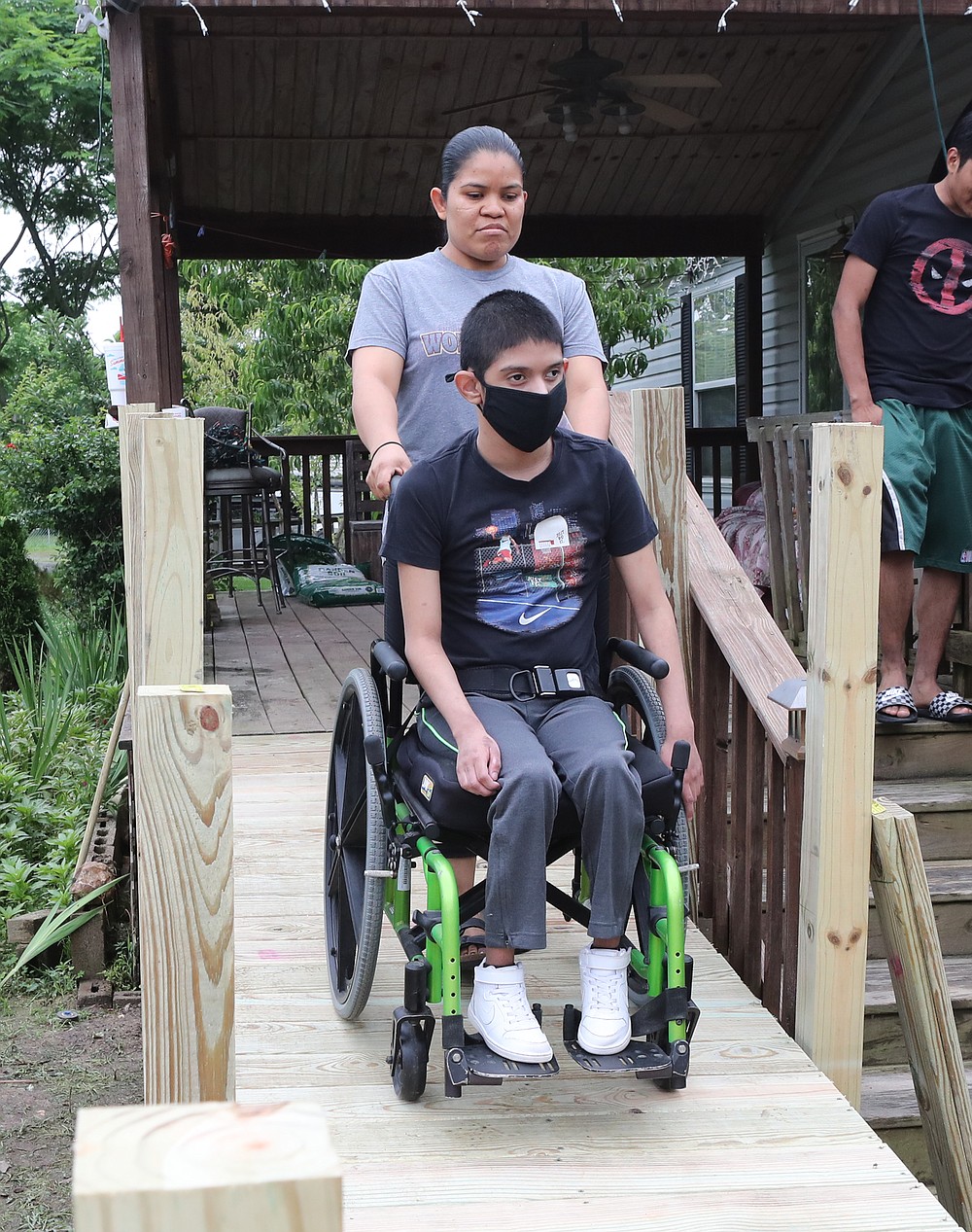 Ester Rodriguez, back, and her son, Osvaldo Vasquez, use a new wheelchair ramp volunteers with the Ozark Mission Project are building Wednesday. - Photo by Richard Rasmussen of The Sentinel-Record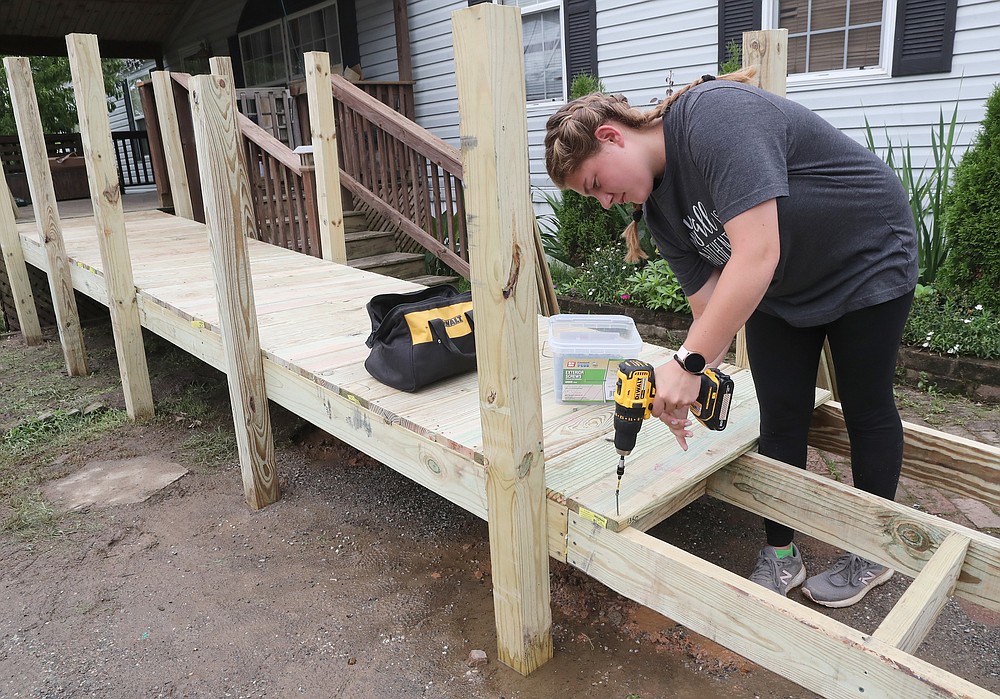 Ozark Mission Project volunteer Ellison Felgate, of Hot Springs, works on a wheelchair ramp at the Garland County home of Ester Rodriguez and Osvaldo Vasquez on Wednesday. - Photo by Richard Rasmussen of The Sentinel-Record