The National Park Photography Club will present a photo exhibition at the Garland County Library through July 31.
The public is welcome to attend a reception on June 26 starting at 1 p.m.
"Come view the images and meet with members of our camera club," a news release said.
Members' works on display will include the images of Kathy Robicheaux, a longtime resident of Hot Springs.
"Her superb works embody the soft side of Nature, and she specializes in flowers found near the Hot Springs area. She is also an accomplished commercial photographer and has captured events for many local residents and organizations in the past two decades," the release said.
"Kathy found her passion for photography at a young age, eventually working in the industry for Kodak, becoming a pioneer in mechanized image conversion from negatives to digital for large commercial clients. She has been a studio and wedding photographer for many years, using early Photoshop versions for retouching images, and eventually managing several photo facilities. She is also licensed to handle police photography."
After a brief sojourn away from photography, "she jumped back in when digital cameras became available to the public, and rekindled her passion for shooting. Opportunities grew, and she became expert at photographing sports, high school seniors, families, and much more. As one woman among 16 male photographers for a major national photo lab, she pulled in the top photo sales because of her natural light, soft-touch images."
Her work schedule limited time for her own style. "She waited many years for the opportunity to devote herself to full-time capture of her favorite subjects. She finally took that leap, and has not looked back. Her works have been sold in local markets as well as other states. She has a well-known presence online, and is the go-to person when other club members need to find great Nature subjects in Arkansas," the release said.
"Come enjoy refreshments and learn about club activities and how you can sharpen your photo skills through interaction with great photographers like Kathy," it said.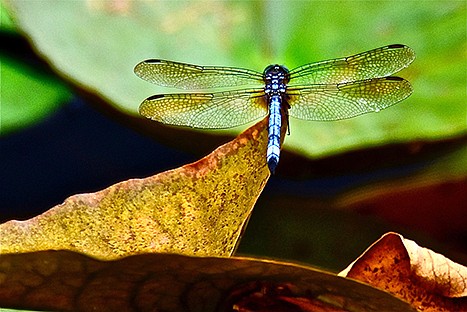 "Dragonfly on Brown Leaf." - Submitted photo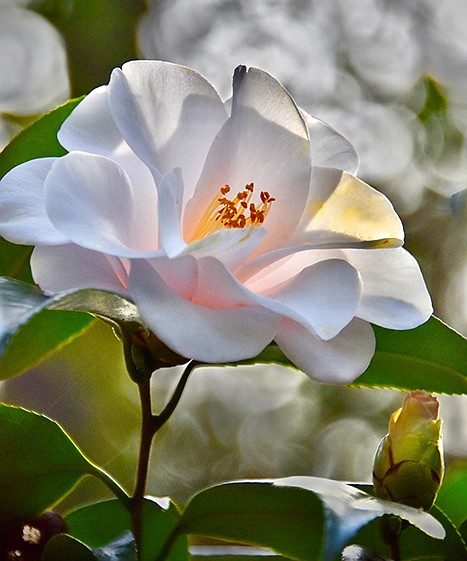 "Bokeh Camilia." - Submitted photo