A series of paintings by a Hot Springs artist related to the assassination of President John F. Kennedy is currently on display at the Sixth Floor Museum at Dealey Plaza in Dallas, the site of the assassination.
Tansil Stough-Anthony created the paintings in 2013 and the museum acquired the series years ago, and the works are now on display as part of the museum's "Art Reframes History" exhibit until May 9.
On March 16, Stough-Anthony met with the museum's curator, Stephen Fagin, via Zoom and the two discussed her series of paintings, and she also did a brief painting technique demonstration in the video. The nearly 50-minute discussion was uploaded to the museum's YouTube page on April 22.
The museum will record interviews with multiple other artists featured in the collection.
"A few years back they acquired my paintings that were about JFK," Stough-Anthony said, noting her paintings are "of historical events or historical memories."
Eight of her paintings are at the museum, and in her interview with Fagin, she discussed how the series came to be.
She noted she has since created two more paintings related to the series. One is of Kennedy meeting future President Bill Clinton, and the other is of Hillary Clinton.
"It just touches on some of the life of (Kennedy) while the president was in office," she said, noting "most of them are taken from photographs."
Video not playing? Click here https://www.youtube.com/embed/xa1w3HWKDNM
Several of the paintings depict Kennedy's funeral, including one depicting John F. Kennedy Jr's famous salute.
"His dad had shown him how to salute correctly," Stough-Anthony said. "And that was just very endearing to me."
The first painting in the series was of Jacqueline Kennedy, she said, which was inspired by the work of Gerhard Richter.
"I like abstract but I also like to try to combine it with something that I can grasp, and Gerhard Richter, a real famous abstract artist, does a lot of just wiping off. Just wiping back and forth, and that frustrated me because I really wanted -- it gave me an eerie feeling, but I wanted something there," Stough-Anthony said.
She painted a black and white portrait of Jackie Kennedy, and then did Richter's method of wiping it.
"Because once I wiped over it, I went 'Oh, that's the effect I'm trying to get,'" she said, noting it causes the painting to look "in the past. It's like a hazy memory."
Not all of the paintings in the series have this effect, such as a painting of Kennedy's daughter, Caroline Kennedy. "I didn't do that because she's still alive, so I didn't blur it into the past," Stough-Anthony said.
The last painting she made for the series, which shows a Black child who attended a memorial for Kennedy, was made after the museum had taken the others.
"I went through the museum a couple of times, and I thought 'There's something missing in this collection.' I came home and I thought about it," Stough-Anthony said. "I thought I didn't represent anyone in civil rights, and that's what Kennedy was about, and I didn't know how to do that."
Stough-Anthony said she eventually found a photo.
"I did try to find out who it was and I've not been able to. I would love it if I could talk to him, and he's alive today. I just think it'd be one of those things that would complete this is to know his name and give him credit," she said.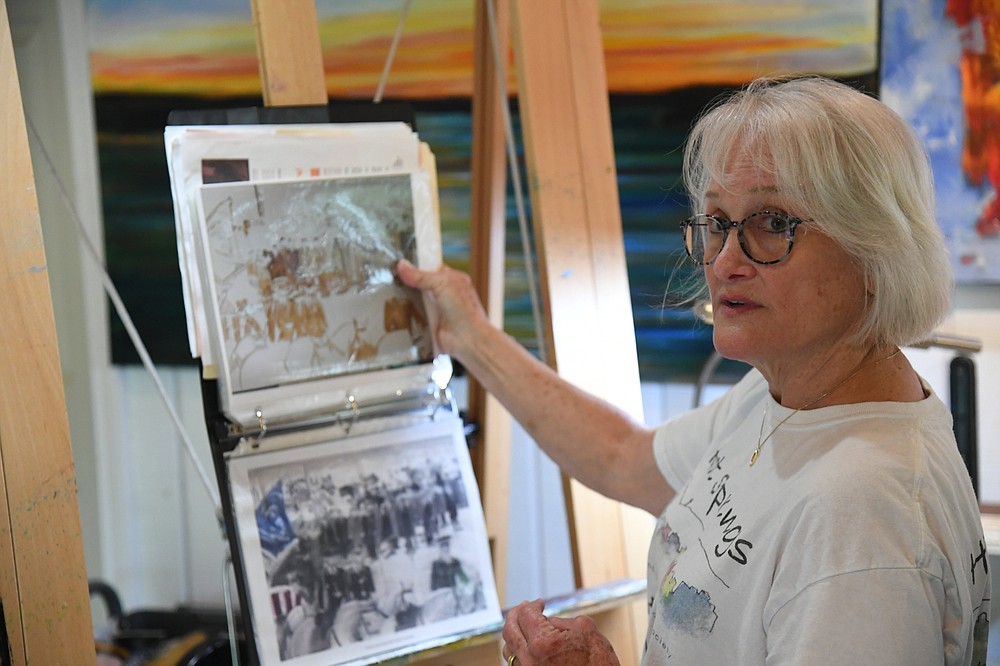 Local artist Tansill Stough-Anthony shows a print of one of her JFK paintings. - Photo by Tanner Newton of The Sentinel-Record
Local artist Tansill Stough-Anthony shows a print of a painting she did of President Kennedy meeting a young Bill Clinton. - Photo by Tanner Newton of The Sentinel-Record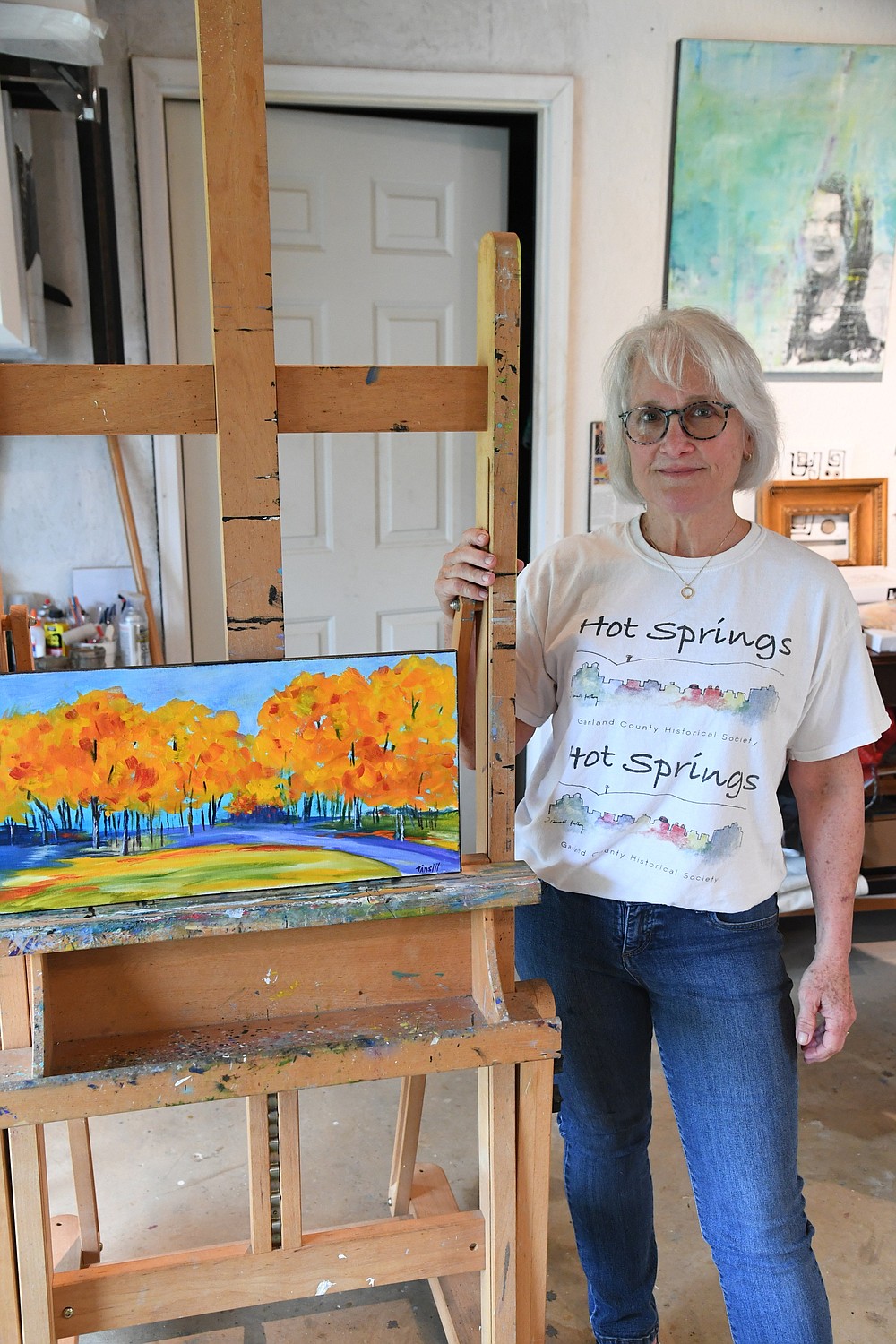 Local artist Tansill Stough-Anthony stands next to work in progress. - Photo by Tanner Newton of The Sentinel-Record