Chalk Walk returned to the sidewalks of downtown Hot Springs on Saturday with dozens of children participating in the event.
Chalk Walk, in its sixth year, was held as part of Arts & The Park, a 10-day arts festival that started on Friday. The chalk competition was held virtually last year due to COVID-19, but this year returned to the sidewalks around Hill Wheatley Plaza.
Also for the sixth year, students from Hot Springs World Class High School participated in the competition. Art teacher Shirley Tipton said 22 of the school's students were participating, and 17 were members of the school's art club.
Tipton said the school participates in the event for several reasons.
"They learn to work together in teams for one thing. They are also learning about field experience," she said.
Working as a visual artist "is hard, hot work," she said.
Video not playing? Click here https://www.youtube.com/embed/VzCeElWsVMY
"They do amazing work," Tipton said, noting the school had eight teams working, and with two exceptions, each of those teams had to work out their projects before starting.
Two groups missed their opportunity to plan out their artwork and had to improvise. One of those groups ended up making artwork representing a meeting between good and evil. Student Christian Warren said the artwork started out as just two hands touching, but they added the theme of the "Endless Battle."
"First was going with hands. Let's add a meaning to it," he said.
The other group that had to improvise created artwork inspired by "Alice in Wonderland." Student Angelica Hurtado said the school was going to hold an "Alice in Wonderland" play, but the pandemic canceled the production. The group honored the canceled event by depicting "Alice" in chalk.
Fellow group member Yasmin Pacheco said she was happy with their results.
"Considering we didn't plan it out, I think we did pretty good," she said.
Ana Vasquez, another student who helped with the "Alice in Wonderland" piece, noted small children would see the work, so they wanted to make something that would appeal to them.
Layla Simpson, who was recently elected president of the art club, said the event was a success.
"I think it's really good to see everyone" working with chalk, she said.
"The instruction is to have fun, mostly to have fun together," Tipton said.
"This is a very fun event. I like it, I enjoy it," said student Ariel Ward, who was participating for a second time. The group she was in created artwork of "Garfield."
Ward said she chose to create chalk art of the Monday-hating-cat because her father is a fan of "Garfield." Helping her was fellow student Mia Brey, who said the two of them worked together last year on a "Great Gatsby" chalk art submission.
Tipton said the school will return next year for the seventh annual Chalk Walk. "It's a commitment. At this point with my administrators it's an expectation. They like the fact that I'm involved with the community. The arts community downtown has a relationship with our high school now, and that's one of those very big expectations from the top down," she said, noting, "I don't mind that expectation because I find all the fun in it."
The volunteers who helped run the show said they were impressed with the artwork that was created.
Volunteer Jen Williams noted all the participants -- which ranged from kindergarten through 12th grade -- did a good job. "I'm blown away by the talent," she said, noting she was impressed with "just the variation of design and complexity."
Williams said attendance and participation from the public had been good. Members of the public could vote for the people's choice award.
"It has been amazing. Just seeing the teachers and students come together," Gina Rockwell, chairperson of the event, said, noting she hopes the event will still be held in Hot Springs for the next "100 years to come."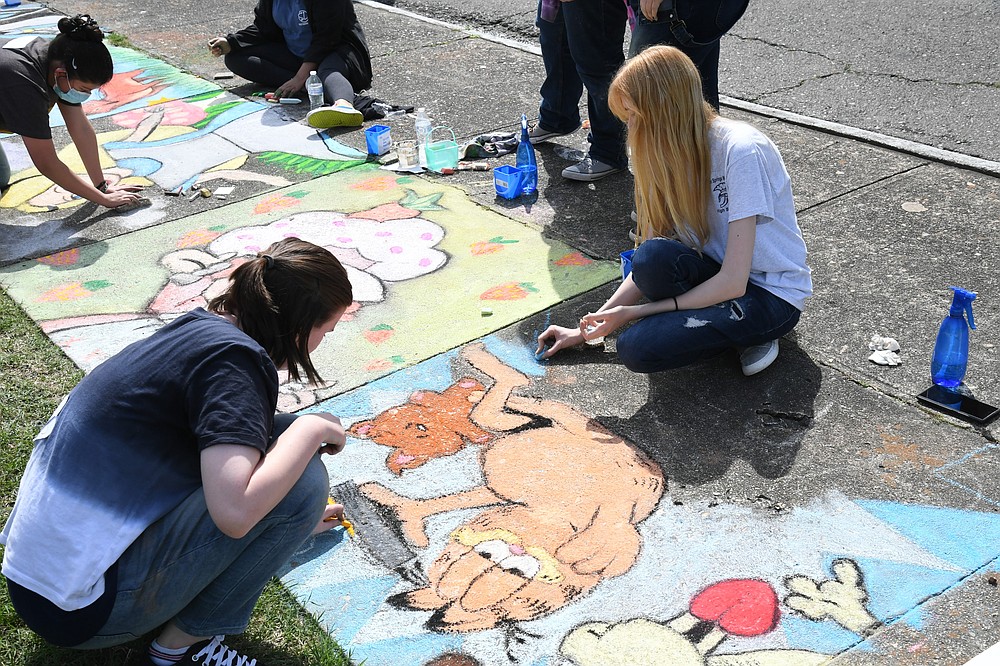 Ariel Ward, left, and Mia Brey, both of Hot Springs World Class High School, picked "Garfield" as their project for Chalk Walk. - Photo by Tanner Newton of The Sentinel-Record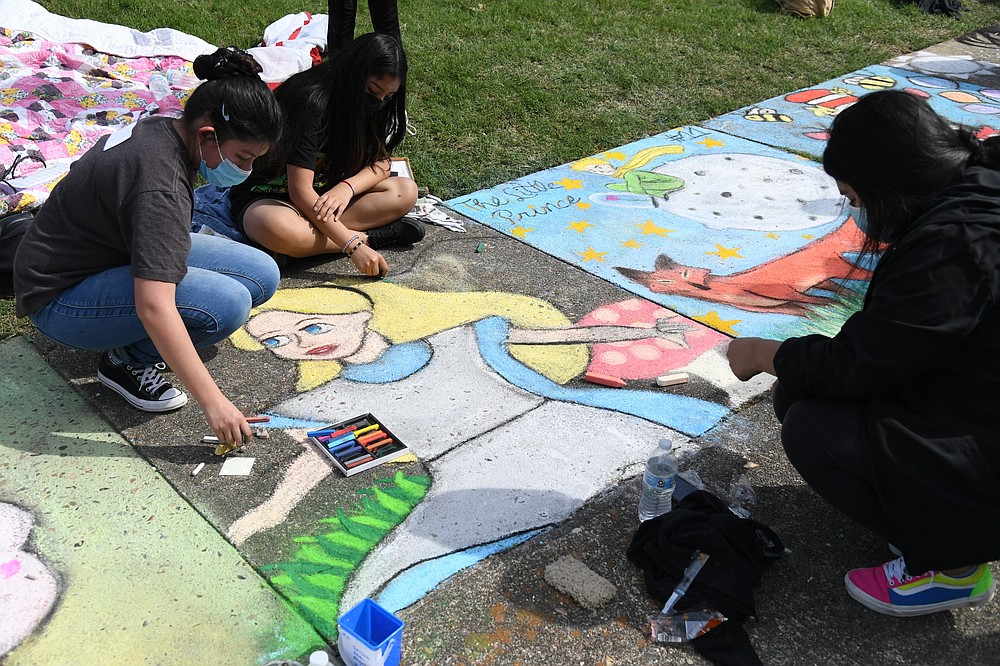 Hot Springs World Class High School was set to do a performance of "Alice in Wonderland," but was forced to cancel it due to COVID-19. The students decided to honor the canceled play by making "Alice" their Chalk Walk project. - Photo by Tanner Newton of The Sentinel-Record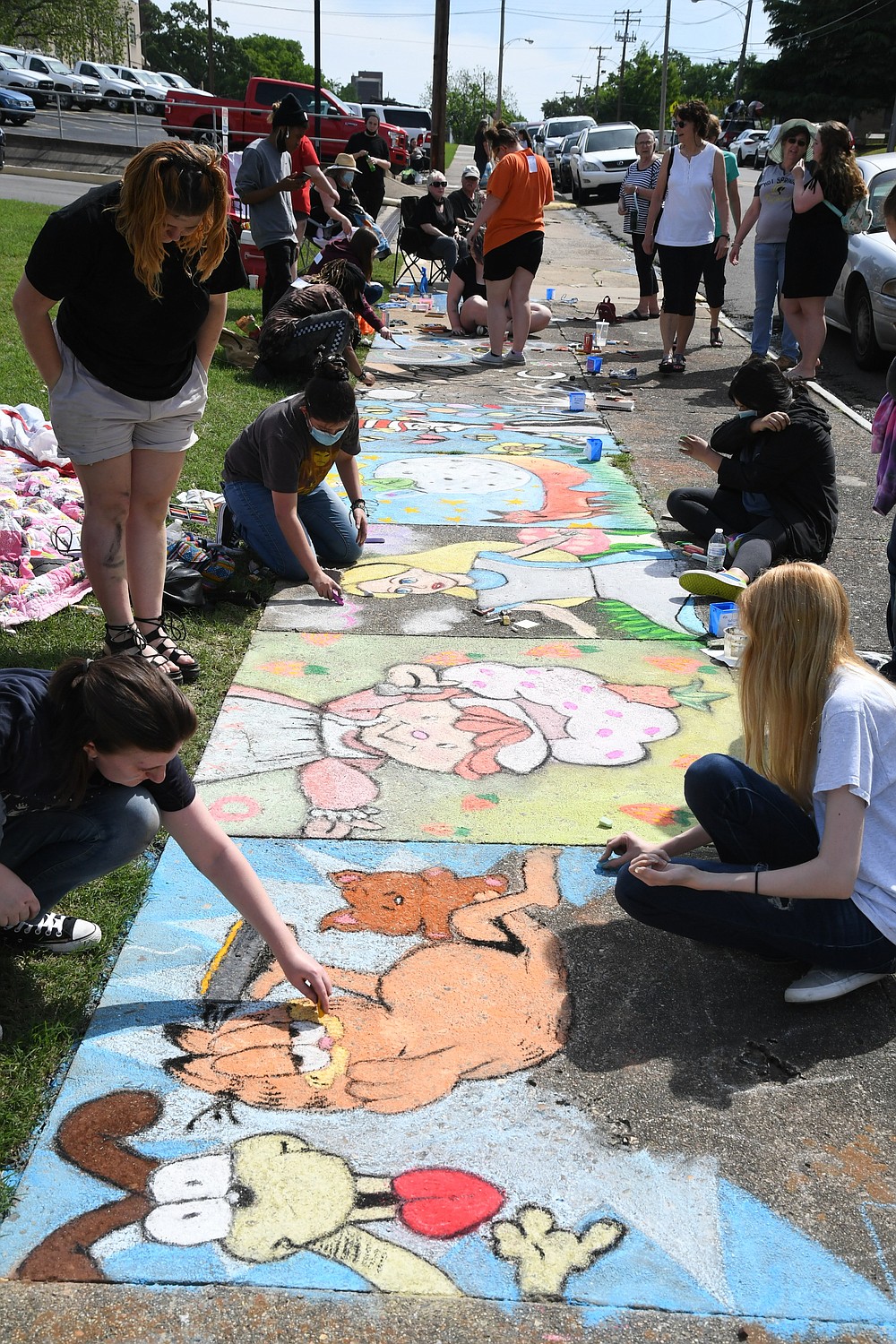 Twenty-two Hot Springs World Class High School students participated in Chalk Walk this year. - Photo by Tanner Newton of The Sentinel-Record