After a year largely deprived of live performances, Low Key Arts will return to its roots this month when it starts a concert series in collaboration with Hot Springs National Park.
The "Notes in Nature Ranger-Guided Trail Concert Series" will feature a National Park Service ranger leading short hikes along park trails, with a full concert at the end of the hike. The first event will be held on Sunday, May 16, with a hike on Pullman Trail followed by a performance by singer Brian Martin.
This will not be the first time Low Key Arts has held a group hike.
"The idea for this series grew out of some trail shows that were a part of (Valley of the Vapors) a few years back, part of our secret shows that would be announced in the morning a few hours ahead of time. Those were a little bit more guerrilla in their nature and sort of a little bit below the radar," Sonny Kay, executive director of LKA, said.
Video not playing? Click here https://www.youtube.com/embed/ztqE_5NiNt4
"This year, the national park is a lot more receptive to the idea of events in the park as a way of celebrating the park's centennial," Kay said, noting this series will take place monthly "throughout the summer and fall, and hopefully annually here on out."
The first hike will start at Pullman Trailhead, 800 Pullman Ave., and will be led by a ranger who will "periodically along the way sort of explain noteworthy things or answer things for people," Kay said.
The first concerts will feature acoustic artists "because it makes the most sense logically," Kay said, "but I am really hoping that we evolve into shows with artists who aren't traditionally acoustic."
"We're not at all trying to drag PA speakers or anything like that into the park at all, we are trying to have this be as absolutely minimal as possible, as least invasive as possible," he said.
"We definitely don't want to mar the experience of enjoying the park" for those who might be hiking, but not attending the concert, Kay said.
While the first event will be held on a Sunday, the June event will be held on a Saturday, Kay said, noting, "It's a little bit of an experiment at this point as to which days might be better."
Kay said they chose Martin as the first performer because "he is very well known here in Hot Springs" and "has a formidable fan base" in the area.
"Right before the pandemic he was performing at SQZBX fairly regularly," he said.
These will be the first concerts LKA has held since the pandemic started. Kay said they held a few performances as part of the drive-in movie screenings over the last year, but this will be the first full concert.
"It feels great, man, it feels invigorating to be back," he said. "Live music's the bedrock of what Low Key Arts does and why we even exist here in Hot Springs, so to be back rolling up our sleeves with that again feels really good. It feels like getting back to what we're meant to be doing."
Kay said they intend to do monthly shows through October. The concert will be held at Bethel Lake. Those wishing to skip the hike and just attend the concert can drive to the parking lot at 300 Pineland Drive.
The hikes will go through the national park. Pullman trail features numerous artifacts such as an old car and any items found in the park are federally protected and must be left where found.
Referring to the vehicle, HSNP Museum Curator Tom Hill said "that it is an archaeological site on the park, so it is protected by federal law. It is a cultural resource that helps us tell the human story of that area of the park."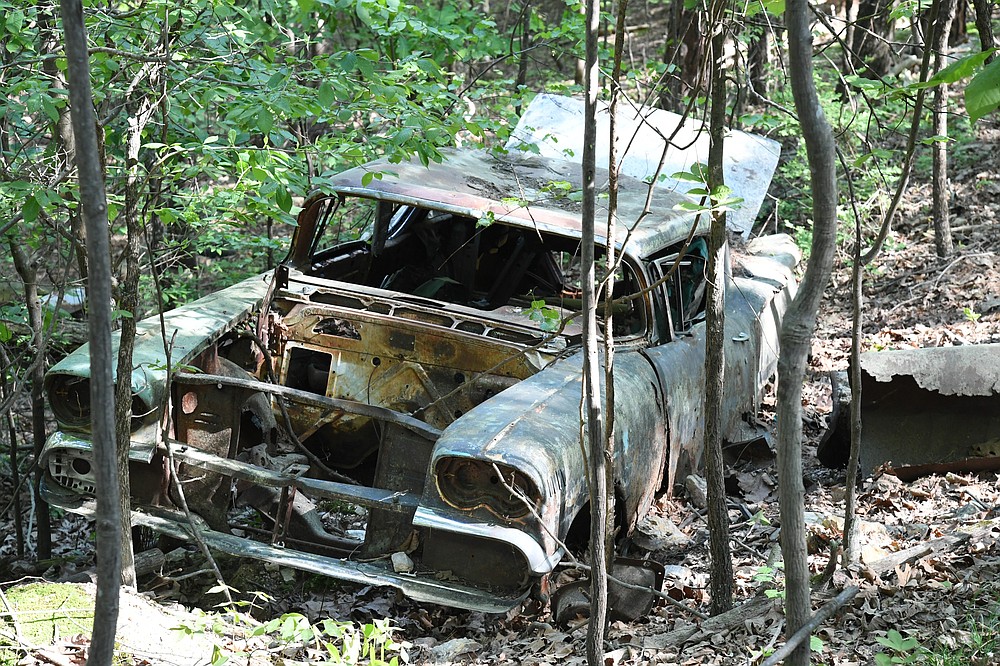 An old car sits in the woods off Pullman Trail. Low Key Arts will partner with Hot Springs National Park to hold a group hike on the trail, where a park ranger will tell the history of the park. - Photo by Tanner Newton of The Sentinel-Record